Modern Era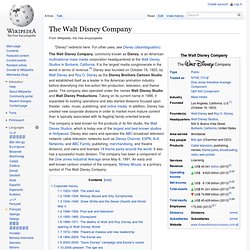 The Walt Disney Company ( NYSE : DIS ), commonly referred to as Disney , is an American diversified multinational mass media corporation headquartered in Walt Disney Studios , Burbank , California, United States. It is the largest media conglomerate in the world in terms of revenue. [ 3 ] Founded on October 16, 1923, by Walt and Roy Disney as the Disney Brothers Cartoon Studio , Walt Disney Productions established itself as a leader in the American animation industry before diversifying into live-action film production, television, and travel. Taking on its current name in 1986, The Walt Disney Company expanded its existing operations and also started divisions focused upon theatre, radio, music, publishing, and online media .
The American Broadcasting Company ( ABC ) is an American commercial broadcasting television network . Created in 1943 from the former NBC Blue radio network , ABC is owned by The Walt Disney Company as of 1996 and is part of Disney–ABC Television Group , formerly ABC-TV. Its first broadcast on television was in 1948. It is the largest broadcaster in the world by revenues.
ABC American Broadcasting Company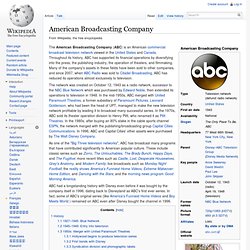 Walt Disney Motion Pictures Group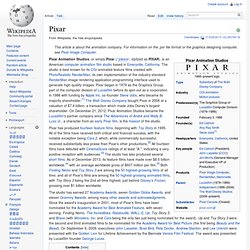 Pixar
Pixar Animation Studios , or simply Pixar ( / ˈ p ɪ k s ɑr / , stylized PIXAR ), is an American computer animation film studio based in Emeryville, California . The studio is best known for its CGI -animated feature films created with PhotoRealistic RenderMan , its own implementation of the industry-standard RenderMan image-rendering application programming interface used to generate high-quality images. Pixar began in 1979 as the Graphics Group, part of the computer division of Lucasfilm before its spin-out as a corporation in 1986 with funding by Apple Inc. co-founder Steve Jobs , who became its majority shareholder. [ 1 ] The Walt Disney Company bought Pixar in 2006 at a valuation of $7.4 billion, a transaction which made Jobs Disney's largest shareholder. Pixar has produced thirteen feature films , beginning with Toy Story (1995).
Touchstone Pictures
Touchstone Pictures is an American film studio and one of several alternate film labels of The Walt Disney Studios , owned by The Walt Disney Company . Established in 1984 as Touchstone Films , it typically releases films that feature more mature themes and darker tones than those that are released under the Walt Disney Pictures imprint. Touchstone Pictures is merely a label (similar to a record label ) and does not exist as a separate company: the two companies behind it are the The Walt Disney Studios and Walt Disney Pictures and Television . [ 1 ]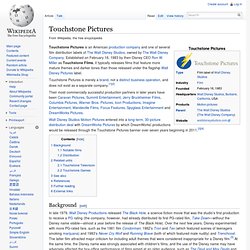 News Corporation or News Corp. is an American diversified multinational mass media corporation headquartered in New York City, United States. It is the world's second-largest media group as of 2011 in terms of revenue, and the world's third largest in entertainment as of 2009. [ 5 ] [ 6 ] [ 7 ] [ 8 ] The company is controlled by Rupert Murdoch and his family members. [ 9 ] News Corporation is a publicly traded company listed on the NASDAQ , with secondary listings on the Australian Securities Exchange .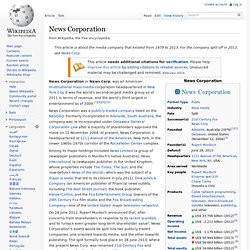 20th Century Fox
20th Century Fox Film Corporation ( Twentieth Century-Fox Film Corporation , with hyphen, from 1935 to 1985)—also known as 20th Century Fox , or 20th Century Fox Pictures , is one of the six major American film studios as of 2011 [update] . Located in the Century City area of Los Angeles , just west of Beverly Hills , the studio is currently a subsidiary of Rupert Murdoch 's News Corporation . The company was founded on May 31, 1935, [ 1 ] as the result of the merger of Fox Film Corporation , founded by William Fox in 1915, and Twentieth Century Pictures , founded in 1933 by Darryl F. Zanuck , Joseph M.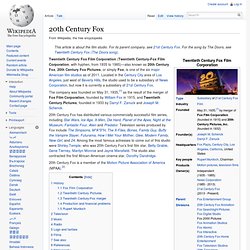 Blue Sky Studios , or simply Blue Sky , is an American CGI- animation studio which specializes in high-resolution, computer-generated character animation and rendering. It is owned by 20th Century Fox and located in Greenwich, Connecticut . In addition to their feature-length animated films , including the Ice Age series, Robots (2005), Horton Hears a Who! (2008), and Rio (2011), Blue Sky has worked on many high-profile films , primarily in the integration of live-action with computer-generated animation. [ edit ] History [ edit ] 1987–97
Blue Sky Studios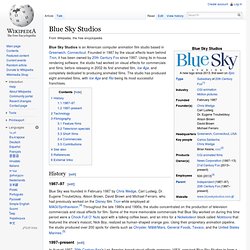 Time Warner
Time Warner Inc. (formerly AOL Time Warner ) is an American multinational media corporation headquartered in the Time Warner Center in New York City. [ 3 ] As of mid-2010, it was the world's second largest media and entertainment conglomerate in terms of revenue (behind The Walt Disney Company ), as well as the world's largest media conglomerate . [ 4 ] [ 5 ] [ 6 ] [ 7 ] Two formerly separate companies, Warner Communications , Inc. and Time Inc.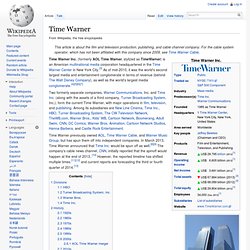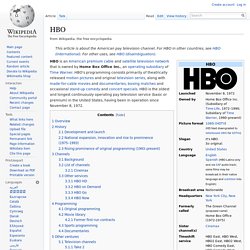 HBO
HBO (Home Box Office) is an American premium cable and satellite television network that is owned by Time Warner , under the operating subsidiary Home Box Office Inc. HBO's programming consists primarily of theatrically released motion pictures and original television series , along with made-for-cable movies and documentaries , boxing matches and occasional stand-up comedy and concert specials . [ edit ] Overview As of September 2012 [update] , HBO's programming reaches approximately 30 million pay television subscribers in the United States , [ 1 ] making it the second largest premium channel in the United States ( Encore's programming reaches 35 million pay subscribers as of March 2013 [update] ). [ 2 ] In addition to its U.S. subscriber base, HBO also broadcasts in at least 151 countries covering approximately 114 million subscribers worldwide. [ 3 ]
CNN
Cable News Network ( CNN ) is a U.S. cable news channel founded in 1980 by American media mogul Ted Turner . [ 1 ] [ 2 ] Upon its launch, CNN was the first channel to provide 24-hour television news coverage, [ 3 ] and the first all-news television channel in the United States. [ 4 ] While the news channel has numerous affiliates , CNN primarily broadcasts from its headquarters at the CNN Center in Atlanta , the Time Warner Center in New York City, and studios in Washington, D.C., and Los Angeles. CNN is owned by parent company Time Warner , and the U.S. news channel is a division of the Turner Broadcasting System . [ 5 ] CNN is sometimes referred to as CNN/U.S. to distinguish the American channel from its international counterpart, CNN International . As of August 2010, CNN is available in over 100 million U.S. households. [ 6 ] Broadcast coverage extends to over 890,000 American hotel rooms, [ 6 ] and the U.S broadcast is also shown in Canada.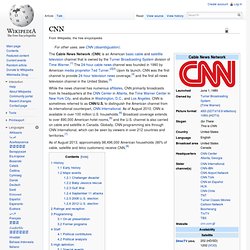 Warner Bros. Entertainment Inc. , also known as Warner Bros. Pictures , Warner Bros. , WB , and W-B (though the name was occasionally given in full form as Warner Brothers during the company's early years), is an American producer of film, television, and music entertainment.
Warner Bros.
The CW Television Network (or simply The CW ) is an American television network that launched on September 18, 2006. It is a limited liability joint venture [ 2 ] between CBS Corporation , the former owners of the United Paramount Network (UPN) , and Time Warner subsidiary Warner Bros. Entertainment , former majority owner of The WB Television Network . The "CW" name is derived from the first letters of the names of these corporations ( C BS and W arner Bros.).
The CW
Viacom (1971–2005)
Viacom Inc. (short for VI sual & A udio COM munications) was an American media conglomerate. Effective December 31, 2005, this corporate entity changed its name to CBS Corporation . The present firm known as Viacom was also established at that date and is a new spin-off company created during the CBS-Viacom split. Viacom was highly profitable during the 1970s and 1980s distributing old CBS classics to syndication, including such landmark shows as I Love Lucy , The Andy Griffith Show , The Twilight Zone and All in the Family (which was later owned by Embassy / Columbia Pictures Television , now called Sony Pictures Television ).
CBS Corporation is an American mass media corporation focused on commercial broadcasting , publishing , billboards and television production , with most of its operations in the United States. The president and chief executive of the company is Leslie Moonves . Sumner Redstone , owner of National Amusements , is CBS's majority shareholder and serves as executive chairman . The company began trading on the NYSE on January 3, 2006.
CBS Corporation
The CW
Viacom
Viacom Inc. , short for " Vi deo & A udio Com munications", is an American global mass media company with interests primarily in, but not limited to, cinema and cable television. As of 2010, it is the world's fourth-largest media conglomerate, behind The Walt Disney Company , Time Warner and News Corporation . Viacom is owned in majority by National Amusements, Inc. , a privately owned theater company based in Dedham, Massachusetts, USA. [ 2 ] [ 3 ] [ 4 ] [ 5 ] National Amusements holds another controlling stake in CBS Corporation . The current Viacom was created on December 31, 2005, as a spinoff from CBS Corporation, which changed its name from Viacom to CBS at the same time. CBS, not Viacom, retains control of the over-the-air broadcasting, TV production, outdoor advertising , subscription pay television ( Showtime ) and publishing assets ( Simon & Schuster ) formerly owned by the larger company.
Paramount Pictures
DreamWorks
NBCUniversal
Universal Studios
NBC