Modern Era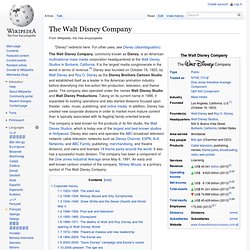 The Walt Disney Company, commonly known as Disney, is an American diversified multinational mass media corporation headquartered in Walt Disney Studios, Burbank, California. It is the largest media conglomerate in the world in terms of revenue.[3] Disney was founded on October 16, 1923, by Walt and Roy Disney as the Disney Brothers Cartoon Studio, and established itself as a leader in the American animation industry before diversifying into live-action film production, television, and travel. Taking on its current name in 1986, it expanded its existing operations and also started divisions focused upon theater, radio, music, publishing, and online media.
The Walt Disney Company
The ABC Television Network[1][2] is an American media company that owns a commercial broadcast television network, a number of specialty channels, and various independent production and distribution companies. Throughout its history and to support its financial operations, ABC has diversified into the press, the publishing industry, the operation of theaters, and filmmaking. Many of the company's assets in these fields have been sold to other companies, and since 2007, when ABC Radio was sold to Citadel Broadcasting, ABC has reduced its operations almost exclusively to television. The network was created on October 12, 1943 as a radio network, successor to the NBC Blue Network which was purchased by Edward Noble, then extended its operations to television in 1948.
ABC American Broadcasting Company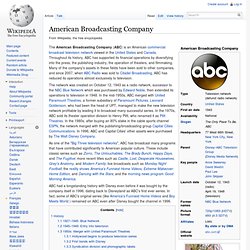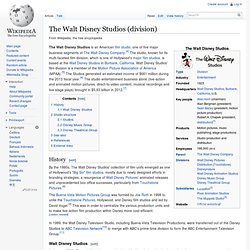 By the 1980s, The Walt Disney Studios' collection of film units emerged as one of Hollywood's "Big Six" film studios, mostly due to newly designed efforts in branding strategies, a resurgence of Walt Disney Pictures' animated releases and unprecedented box office successes, particularly from Touchstone Pictures.[8]
Walt Disney Motion Pictures Group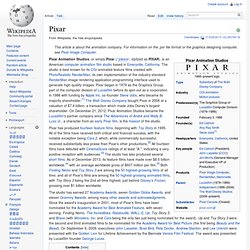 Pixar
Pixar Animation Studios, or simply Pixar (/ˈpɪksɑr/, stylized as PIXAR), is an American computer animation film studio based in Emeryville, California. The studio is best known for its CGI-animated feature films created with PhotoRealistic RenderMan, its own implementation of the industry-standard RenderMan image-rendering application programming interface used to generate high-quality images. Pixar began in 1979 as the Graphics Group, part of the computer division of Lucasfilm before its spin-out as a corporation in 1986 with funding by Apple Inc. co-founder Steve Jobs, who became its majority shareholder.[1] The Walt Disney Company bought Pixar in 2006 at a valuation of $7.4 billion, a transaction which made Jobs Disney's largest shareholder. Pixar has produced fourteen feature films, beginning with Toy Story in 1995.
Touchstone Pictures
Their most commercially successful production partners in later years have been Caravan Pictures, Summit Entertainment, Jerry Bruckheimer Films, Columbia Pictures, Icon Productions, Imagine Entertainment, Mandeville Films, Focus Features, Spyglass Entertainment and DreamWorks Pictures. Walt Disney Studios Motion Pictures entered into a long-term, 30-picture distribution deal with DreamWorks Pictures by which DreamWorks' productions would be released through the Touchstone Pictures banner over the next seven years beginning in 2011.[3][4] Background[edit]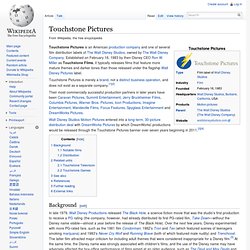 News Corporation or News Corp. was an American multinational mass media corporation headquartered in New York City. It was the world's second-largest media group as of 2011 in terms of revenue, and the world's third largest in entertainment as of 2009.[5][6][7][8] News Corporation was a publicly traded company listed on the NASDAQ.
News Corporation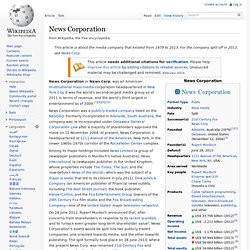 20th Century Fox
Twentieth Century Fox Film Corporation (Twentieth Century-Fox Film Corporation, with hyphen, from 1935 to 1985)—also known as 20th Century Fox, or 20th Century Fox Pictures, is one of the six major American film studios as of 2011[update]. Located in the Century City area of Los Angeles, just west of Beverly Hills, the studio used to be a subsidiary of News Corporation, but now it's currently a subsidiary of 21st Century Fox. The company was founded on May 31, 1935,[1] as the result of the merger of Fox Film Corporation, founded by William Fox in 1915, and Twentieth Century Pictures, founded in 1933 by Darryl F. Zanuck and Joseph M.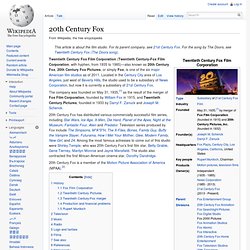 Blue Sky Studios is an American computer animation film studio based in Greenwich, Connecticut. Founded in 1987 by the visual effects team behind Tron, it is owned since 1997 by 20th Century Fox. Using its in-house rendering software, the studio had worked on visual effects for commercials and films, before releasing in 2002 its first animated film, Ice Age, and completely dedicated to producing animated films. The studio has produced eight animated films, with Ice Age and Rio being the most successful franchises. History[edit] 1987–97[edit]
Blue Sky Studios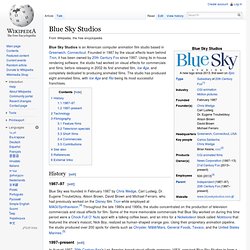 Time Warner
Time Warner previously owned AOL, Time Warner Cable, and Warner Music Group, but these have all been spun off into independent companies. In March 2013, it was announced that Time Inc. would be spun off as well, completing Time Warner's evolution into a pure-play global entertainment company.[7] The company's cable news channel, CNN, later clarified that the Time Inc. spin-off would happen at the end of 2013,[8] though this has since been delayed to early 2014.[9] It's now being reported that the planned spin-off of Time Inc from Time Warner will take place half-way through 2014[10] with the company's planned IPO being rumored to happen in late 2014.[11] Divisions[edit]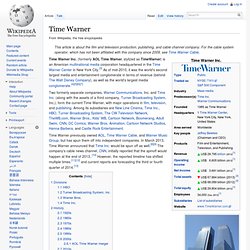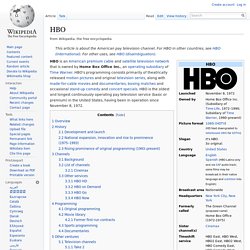 HBO
HBO (Home Box Office) is an American premium cable and satellite television network that is owned by Home Box Office Inc., an operating subsidiary of Time Warner. HBO's programming consists primarily of theatrically released motion pictures and original television series, along with made-for-cable movies and documentaries, boxing matches and occasional stand-up comedy and concert specials. Overview[edit] HBO subscribers generally pay for an extra tier of service even before paying for the channel itself (though HBO often prices all of its channels together in a single package). However, U.S. federal law requires that cable providers allow a person to get just basic cable (which includes local broadcast stations and public, educational, and government access channels) and HBO, without subscribing to expanded service.[4][5] Cable providers can require the use of a converter box – usually digital – in order to receive HBO.
CNN
The Cable News Network (commonly referred to by its initials, CNN) is an American basic cable and satellite television channel that is owned by the Turner Broadcasting System division of Time Warner.[1] The 24-hour cable news channel was founded in 1980 by American media proprietor Ted Turner.[2][3] Upon its launch, CNN was the first channel to provide 24-hour television news coverage,[4] and the first all-news television channel in the United States.[5] While the news channel has numerous affiliates, CNN primarily broadcasts from its headquarters at the CNN Center in Atlanta, the Time Warner Center in New York City, and studios in Washington, D.C., and Los Angeles. CNN is sometimes referred to as CNN/U.S. to distinguish the American channel from its international counterpart, CNN International.
Warner Bros. Entertainment Inc., formerly known as Warner Bros. Studios, commonly referred to as Warner Bros.
Warner Bros.
The CW Television Network (commonly shortened to The CW) is an American broadcast television network that launched on September 18, 2006. It is a limited liability joint venture[2] between CBS Corporation, the former owners of the United Paramount Network (UPN), and Time Warner subsidiary Warner Bros. Entertainment, former majority owner of The WB Television Network. The "CW" name is derived from the first letters of the names of these corporations (CBS and Warner Bros.).
The CW
Viacom (1971–2005)
Viacom Inc. (short for Visual & Audio Communications) was an American media conglomerate. Effective December 31, 2005, this corporate entity changed its name to CBS Corporation.
History[edit] Early years[edit] In March 2005, Viacom announced plans of looking into splitting the company into two publicly traded companies, amid issues of the stock price stagnating (although it was alleged that another main force behind the split was the Super Bowl XXXVIII halftime show controversy, which led to MTV not being allowed to produce any more halftime shows, they had also produced the show for Super Bowl XXXV, the first Super Bowl CBS aired since regaining NFL rights and becoming MTV's corporate sibling). On June 14, 2005, the Viacom board of directors approved the split of the company into two firms.
CBS Corporation
The CW
Viacom
Paramount Pictures
DreamWorks
NBCUniversal
Universal Studios
NBC