Learning
Tutorials. 10 places where anyone can learn to code. Teens, tweens and kids are often referred to as "digital natives."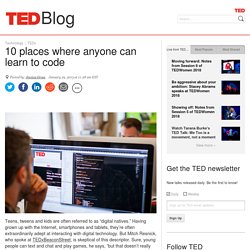 Having grown up with the Internet, smartphones and tablets, they're often extraordinarily adept at interacting with digital technology. But Mitch Resnick, who spoke at TEDxBeaconStreet in November, is skeptical of this descriptor. Sure, young people can text and chat and play games, he says, "but that doesn't really make you fluent."
Fluency, Resnick proposes in today's talk, comes not through interacting with new technologies, but through creating them. 40 websites that will make you cleverer right now. Khanacademy.org – Watch thousands of micro-lectures on topics ranging from history and medicine to chemistry and computer science. freerice.com – Help end world hunger by correctly answering multiple-choice quizzes on a wide variety of subjects. whizzpast.com- Learn about our awe inspiring past all in one wonderful place. artofmanliness.com – Blog/site dedicated to all things manly, great for learning life skills and good insights.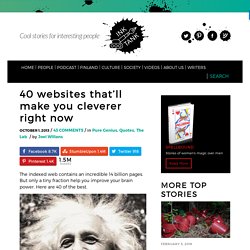 40 Places for College Students to Find Free Unabridged Books Online. Jul 11, 2011 The cost of books can add up quickly for college students.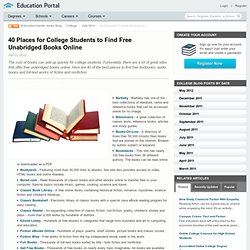 Fortunately, there are a lot of great sites that offer free unabridged books online. Here are 40 of the best places to find free textbooks, audio books and full-text works of fiction and nonfiction. Bartleby - Bartleby has one of the best collections of literature, verse and reference books that can be accessed online for no charge. Biblomania - A great collection of classic texts, reference books, articles and study guides.
Drawing
The_object_of_liberal_training.jpg (JPEG Image, 627×1004 pixels) - Scaled (69%) Online Open Courses. 20 Incredible TED Talks You Should Show Your High School Students. Study skills articles. Video Edition. Random Tutorial Generator. TIPS.
---