Sociology, critical and others
Johannes Urpelainen (Columbia) and Llewelyn Hughes (George Washington): The Domestic Political Economy of Climate Change. Tomasz Lachowski (Lodz): Climate Change and Transitional Justice: Towards the Pursuit of Justice for Climate Change Victims. Anthony E. Chavez (Northern Kentucky): A Napoleonic Approach to Climate Change: The Geoengineering Branch.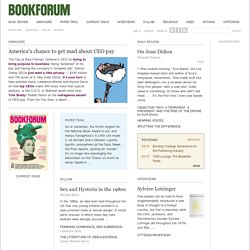 Continental Philosophy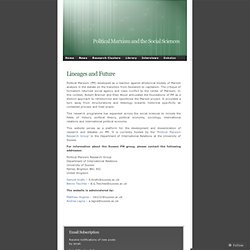 Political Marxism and the Social Sciences
Political Marxism (PM) developed as a reaction against ahistorical models of Marxist analysis in the debate on the transition from feudalism to capitalism. The critique of formalism returned social agency and class conflict to the center of Marxism. In this context, Robert Brenner and Ellen Wood articulated the foundations of PM as a distinct approach to rehistoricise and repoliticise the Marxist project.
The Top Ten Percent policy is one of the key issues in the case filed by Abigail Fisher against the University of Texas now before the Supreme Court. Fisher alleges that her rejection from the University of Texas was based on discrimination due to her race (white). One of Fisher's principal arguments is that the Top Ten Percent Rule has produced sufficient levels of diversity, i.e., that it already increases minority enrollment. A number of states such as California, Texas, and Florida have created "Top Ten Percent" (TTP) rules that guarantee admission to public universities for students who graduate in the top ten percent of their classes. In Texas, House Bill 588 created this rule in 1997 as a way to avoid the stipulations of the Hopwood v. Texas case that barred the use of affirmative action in application decisions.
racismreview.com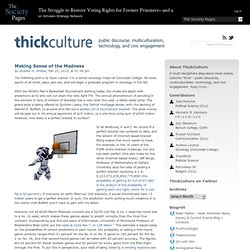 ThickCulture
The following is a guest post by Concordia College sociology major Ryan Larson '14. After graduation, Ryan intends to pursue graduate study in sociology and criminology. He is also a huge hockey fan.
Bağımsız Sosyal Bilimciler- İktisat Grubu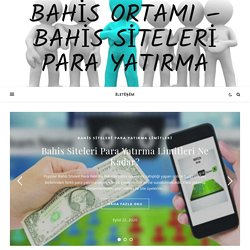 BSB 2011 Çalışması (Nisan 2011) ÜCRETLİ EMEK ve SERMAYE Bağımsız Sosyal Bilimciler , Türkiye ekonomisinin çöküşüne ve toplumsal dokunun çözülmesine sebebiyet veren neo-liberal politikalara karşı toplumu bilinçlendirmek ortak düşüncesiyle Kasım 2000'de bir araya gelen sosyal bilimciler tarafından oluşturulmuştur. BSB İktisat Grubunun amacı günümüzde uygulanan neo-liberal politikalar için öne sürülen gerekçelerin zaaflarını ve bu politikaların sonuçlarını bilimsel tahlillerle tespit etmek, toplumun çoğunluğunun -yani emekçilerin- ihtiyaçlarına uygun politika önermeleri geliştirmek ve emek örgütlerinin toplumumuz için yaşamsal önem taşır hale gelen mücadelesini bilgi ve bilim ile desteklemektir.
Alec Myers taking a seminar at the University of Liverpool c1969. Making History, developed by the Institute of Historical Research, is dedicated to the history of the study and practice of history in Britain over the last hundred years and more, following the emergence of the professional discipline in the late 19th century. Contents
Making History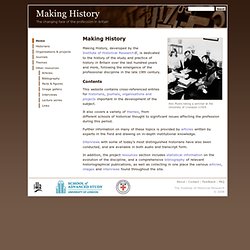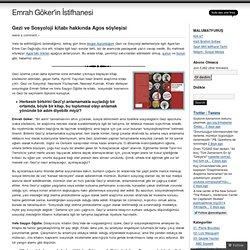 Bir dizi kısmen bağımsız hiyerarşi kurma ilkesinin varlığı, iktidar alanı içinde herkesin kendini kurtarma mücadelesini sınırlar ve rekabet sırasında, tahakküm işinin bölüşümünde sahici bir organik dayanışmanın temeli olan bir çeşit tamamlayıcılık teşvik eder. Manevî iktidar sahipleri ile maddî iktidar sahipleri arasındaki, iktidar alanındaki kutuplaşmanın kaynağı olan antagonizma, işlevsel bir dayanışmayı hükümsüz kılmaz; ki bu dayanışma, eğitim kurumundaki yakın tarihli krizlerin gösterdiği gibi hiçbir zaman, hiyerarşik düzenin tam da temeli tehdit altında olduğu zamanki kadar bâriz değildir. [Pierre Bourdieu (1996) The State Nobility: Elite Schools in the Field of Power, s. 187] Google'a "Çevik Kuvvet" yazınca en çok arananlar arasında, meslek sorgusundan sonra, Ozan Ünsal'ın faşist türküsü "Çevik Kuvvet Vur" var. [sözleri] İlgili korelasyonları bilmeden, memur olmak isteyen genç erkeklerin politik yatkınlıklarının ağırlık merkezine dair bir şey söylemek doğru değil tabii.
I am particularly interested in the idea that we can explain social outcomes by identifying the social mechanisms that (often, typically, occasionally) bring them about. I also find the evolution of science and systems of ideas to be particularly fascinating within contemporary sociology, in that this aspect of human life embraces both rationally directed thought and sociological influences. So it is very interesting to consider what we can discover about the structures, networks, and professional organizations that influence the course that a given discipline or field of research takes. It is therefore interesting to consider the role that reference to social mechanisms has played in recent works of the sociology of science and the sociology of knowledge. A particularly good example is found in the work of sociologists like Camic, Lamont, Gross, and Frickel, and Frickel and Gross's "General Theory of Scientific/Intellectual Movements" (2005) is a good place to start (link).