Middlle Class
Robert Gibbs claims Republicans can win the House - U.S. House of Representatives. President Barack Obama's chief spokesman says it's possible that Democrats could lose their majority in the House this fall.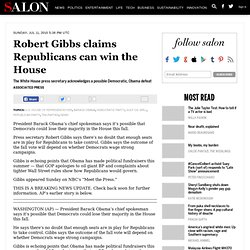 Press secretary Robert Gibbs says there's no doubt that enough seats are in play for Republicans to take control. Gibbs says the outcome of the fall vote will depend on whether Democrats wage strong campaigns. Gibbs is echoing points that Obama has made political fundraisers this summer — that GOP apologies to oil giant BP and complaints about tighter Wall Street rules show how Republicans would govern.
Gibbs appeared Sunday on NBC's "Meet the Press." Robert Gibbs: There Are Enough Close Races For GOP To Take The House. White House Press Secretary Robert Gibbs acknowledged on Sunday that there were enough closely contested congressional races that the Democrats could potentially lose their majority in the House of Representatives in the fall.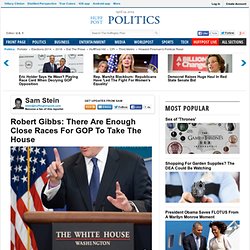 But in an appearance on NBC's "Meet The Press," Gibbs also insisted that the party had a compelling case to make to voters that might help them hold onto power come Election Day. "I think there is no doubt that there are a lot of seats that will be up, a lot of contested seats," Gibbs said.
Obama and White House
Jobs.
---