Ground Zero Mosque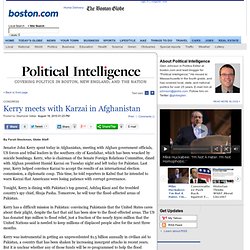 Kerry meets with Karzai in Afghanistan - Political Intelligence - A national political and campaign blog from The Boston Globe
By Farah Stockman, Globe Staff Senator John Kerry spent today in Afghanistan, meeting with Afghan government officials, US forces and tribal leaders in the southern city of Kandahar, which has been wracked by suicide bombings. Kerry, who is chairman of the Senate Foreign Relations Committee, dined with Afghan president Hamid Karzai on Tuesday night and left today for Pakistan. Last year, Kerry helped convince Karzai to accept the results of an international election commission, a diplomatic coup. This time, he told reporters in Kabul that he intended to warn Karzai that Americans were losing patience with corrupt governance.
Afghan officials challenge U.S. on aid contract abuses
KABUL -- A spokesman for Afghan President Hamid Karzai challenged the United States on Monday to clean up fraud and corruption within the hundreds of millions of dollars of aid contracts it distributes to Afghan companies each year, saying that abuse is far worse than any irregularities in the Karzai administration. Waheed Omer used his weekly news conference to take the offensive in the ongoing political battle between the Karzai government and U.S. officials over the mismanagement of international money. Of every $100 million of aid coming into the country, Omer said, 80 percent is controlled by the United States and NATO.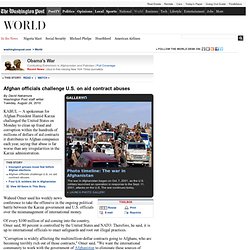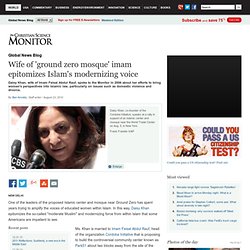 One of the leaders of the proposed Islamic center and mosque near Ground Zero has spent years trying to amplify the voices of educated women within Islam. In this way, Daisy Khan epitomizes the so-called "moderate Muslim" and modernizing force from within Islam that some Americans are impatient to see. Skip to next paragraph Recent posts
Wife of 'ground zero mosque' imam epitomizes Islam's modernizing voice
Cashing In On Ground Zero - Forbes.com
Among the prime planners of a $100 million Islamic center and mosque near Ground Zero, it's not just Imam Feisal Abdul Rauf who is visiting the Middle East this summer at U.S. taxpayer expense. The State Department is also about to send Rauf's wife and Cordoba Initiative fellow director, Daisy Khan, on her own taxpayer-funded "public diplomacy" trip to the United Arab Emirates. Khan is scheduled to visit the UAE from Aug. 29 to Sept. 2, overlapping there with Rauf, for whom it will be the final leg of a three-country trip including Bahrain and Qatar. The U.S. Embassy in the UAE capital of Abu Dhabi has posted on its website an announcement of the impending visit by this husband-wife team.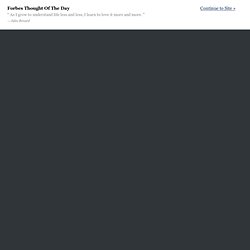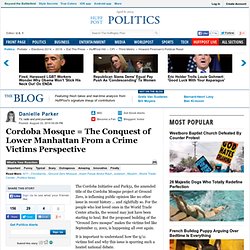 The Cordoba Initiative and Park51, the amended title of the Cordoba Mosque project at Ground Zero, is inflaming public opinion like no other issue in recent history ... and rightfully so. For the people who lost loved ones in the World Trade Center attacks, the wound may just have been starting to heal. But the proposed building of the "Ground Zero mosque" makes the victims feel like September 11, 2001, is happening all over again. It is important to understand how the 9/11 victims feel and why this issue is spurring such a heated national debate. I understand exactly why most of these families are adamantly opposed to this mosque. Why?
Danielle Parker: Cordoba Mosque = The Conquest of Lower Manhattan From a Crime Victims Perspective
India example cited for Ground Zero mosque
How The 'Ground Zero Mosque' Controversy Is Challenging Democracy - Forbes.com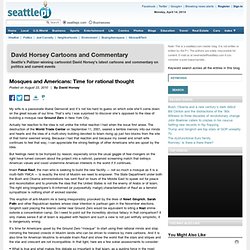 Mosques and Americans: Time for rational thought
My wife is a passionate liberal Democrat and it's not too hard to guess on which side she'll come down on the great issues of our time.
NEW YORK, Aug. 22 (Xinhua) -- Protesters representing both sides of the debate over the construction of an Islamic community center and mosque a few blocks away from the Ground Zero rallied in downtown New York City on Sunday. Hundreds of protesters braved the rain in Lower Manhattan to voice their position on the planned project amid the national debate over the facility. Firefighters, families of the 9/11 terror attacks victims, first responders and residents of the neighborhood also joined the protests. Anti-mosque protesters held banners that said, "No mosque here. Preserve the dignity of our loved ones killed on 9/11," while supporters carried signs reading, "America!
Protesters rally in New York over construction of Ground Zero mosque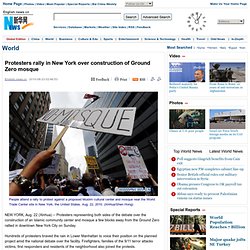 In another new twist regarding the varying opinions about the construction of the "Ground Zero mosque," Republican congressman Ron Paul has strongly condemned what he called the "grandiose demagoguery" of "sunshine patriots" who are opposed to the construction of the Islamic center in lower Manhattan. Paul expressed his opinion in a posting on his website, RonPaul.com.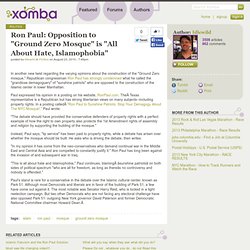 Ron Paul: Opposition to "Ground Zero Mosque" is "All About Hate, Islamophobia"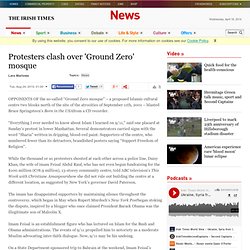 Protesters clash over 'Ground Zero' mosque - The Irish Times - Tue, Aug 24, 2010
OPPONENTS OF the so-called "Ground Zero mosque" – a proposed Islamic cultural centre two blocks north of the site of the atrocities of September 11th, 2001 – blasted Bruce Springsteen's Born in the USAfrom a CD recorder. "Everything I ever needed to know about Islam I learned on 9/11," said one placard at Sunday's protest in lower Manhattan. Several demonstrators carried signs with the word "Sharia" written in dripping, blood-red paint.
Here's what's been lost in all the screaming. The prime movers in the campaign against the "ground zero mosque" just happen to be among the last cheerleaders for America's nine-year war in Afghanistan. The wrecking ball they're wielding is not merely pounding Park51, as the project is known, but is demolishing America's already frail support for that war, which is dedicated to nation-building in a nation whose most conspicuous asset besides opium is actual mosques. So virulent is the Islamophobic hysteria of the neocon and Fox News right — abetted by the useful idiocy of the Anti-Defamation League, Harry Reid and other cowed Democrats — that it has also rendered Gen. David Petraeus's last-ditch counterinsurgency strategy for fighting the war inoperative.
Op-Ed Columnist - How Fox Betrayed Petraeus
Protesters squared off in lower Manhattan yesterday to make their feelings known about the planned Islamic cultural center two blocks from the former site of the World Trade Center that has come to be known as the "Ground Zero Mosque." And while there were plenty of striking moments at the event - check out Michelle Miller's video report here, which shows protesters opposed to the project holding signs deeming it a "victory mosque" while a smaller group counterprotested what they called bigotry - a good way to get a sense of the emotion at the scene is to check out a video posted to YouTube of a confrontation during the event.
Tension and Confrontation at Anti-"Ground Zero Mosque" Rally (Video) - Political Hotsheet
New York: While a large number of Americans oppose the proposed Muslim community centre and mosque just two blocks away from Ground Zero, the site of the fallen WTC Twin Towers, employees of the strip clubs in the neighbourhood have no problem with it. "I don't know what the big deal is," said Cassandra, a stripper at New York Dolls, as reported by The Wall Street Journal. "It's freedom of religion, you know?" said Chris, a stripper at Pussycat Lounge, also close by, who lost eight firefighter friends on 9/11. But she doesn't have particularly strong feelings towards the mosque, The Journal reported. "The people who did it are not going to the mosque.
Local strippers okay with Ground Zero mosque
After nearly a month of debate, the controversy surrounding the so-called "Ground Zero Mosque" continues to roil, both domestically and worldwide. Skip to next paragraph Recent posts Subscribe Today to the Monitor Click Here for your FREE 30 DAYS ofThe Christian Science MonitorWeekly Digital Edition
Ground Zero mosque debate swirls in world capitals