Materialist Feminism
Is there such a thing as a "woman's condition" and can that condition be explained by examining the economic dimensions of women¿s history? Is the violence that people are disproportionately exposed to based on gender, race, sex, and sexuality only a tool in the production and reproduction of economic classes or do these identities and experiences require an analytic framework that transcends economic relations? In this course we will consider a particular intellectual tradition that engages these questions: Materialist Feminism. We will begin our readings by considering texts by Marx and Engels that form the backbone of this tradition. We will then consider texts from American, British, and Italian traditions of thought and activism that include feminists working in national and transnational Women of Color traditions. Readings will include Michèle Barrett, Hazel Carby, Carolyn J. Eichner, Silvia Federici, Combahee River Collective, Mariarosa Dalla Costa and Selma James, Angela Davis, Friedrich Engels, Rosa Luxemberg, Karl Marx, Heidi Hartmann, and Denise Riley. Jan 13
Feminist History of Philosophy
First published Fri Nov 3, 2000; substantive revision Mon May 7, 2007 The past twenty-five years have seen an explosion of feminist writing on the philosophical canon, a development that has clear parallels in other disciplines like literature and art history. Since most of the writing is, in one way or another, critical of the tradition, a natural question to ask is: Why does the history of philosophy have importance for feminist philosophers? This question assumes that the history of philosophy is of importance for feminists, an assumption that is warranted by the sheer volume of recent feminist writing on the canon. This entry explores the different ways that feminist philosophers are interacting with the Western philosophical tradition. Feminist philosophers engaged in a project of re-reading and re-forming the philosophical canon have noticed two significant areas of concern.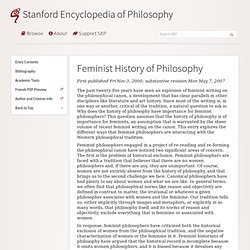 National Security and Arms Control
The Essential Feminist Reader (Modern Library Classics) (9780812974607): Estelle Freedman
Denise Riley (born 1948, Carlisle) is an English poet and philosopher who began to be published in the 1970s. Her poetry is remarkable for its paradoxical interrogation of selfhood within the lyric mode.[1] Her critical writings on motherhood, women in history, "identity", and philosophy of language, are recognised as an important contribution to feminism and contemporary philosophy. She was, until recently, Professor of Literature with Philosophy at the University of East Anglia and is currently A. D.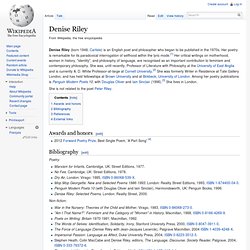 Denise Riley
Heidi Hartmann (born 1945) is a feminist economist and the founder of the Institute for Women's Policy Research (IWPR), a scientific research organization formed to meet the need for women-centered, public policy research. She is also the organization's president and a Research Professor at the The George Washington University in Washington, DC.[1] Her areas of expertise include women and the economy, workforce participation, employment, pay equity, and Social Security. She has testified many times before the U.S. Congress, and her research is cited in various media outlets. Dr.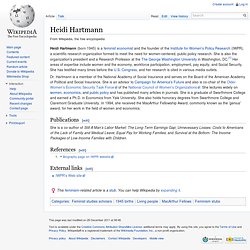 Heidi Hartmann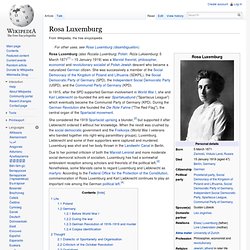 Rosa Luxemburg (also Rozalia Luxenburg; Polish: Róża Luksemburg; 5 March 1871[1] – 15 January 1919) was a Marxist theorist, philosopher, economist and revolutionary socialist of Polish Jewish descent who became a naturalized German citizen. She was successively a member of the Social Democracy of the Kingdom of Poland and Lithuania (SDKPiL), the Social Democratic Party of Germany (SPD), the Independent Social Democratic Party (USPD), and the Communist Party of Germany (KPD). In 1915, after the SPD supported German involvement in World War I, she and Karl Liebknecht co-founded the anti-war Spartakusbund ("Spartacus League") which eventually became the Communist Party of Germany (KPD). During the German Revolution she founded the Die Rote Fahne ("The Red Flag"), the central organ of the Spartacist movement. She considered the 1919 Spartacist uprising a blunder,[2] but supported it after Liebknecht ordered it without her knowledge.
Rosa Luxemburg
Angela Davis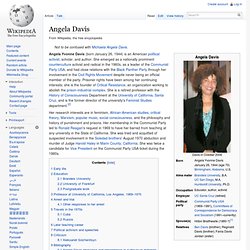 Angela Yvonne Davis (born January 26, 1944) is an American political activist, scholar, Communist and author. She emerged as a nationally prominent counterculture activist and radical in the 1960s, as a leader of the Communist Party USA, and had close relations with the Black Panther Party through her involvement in the Civil Rights Movement despite never being an official member of the party. Prisoner rights have been among her continuing interests; she is the founder of Critical Resistance, an organization working to abolish the prison-industrial complex.
Selma James (born 15 August 1930), is a co-author of the women's movement classic The Power of Women and the Subversion of the Community (with Mariarosa Dalla Costa), co-founder of the International Wages for Housework Campaign and coordinator of the Global Women's Strike.[1] Socialist activist[edit] Selma James (née Deitch)[2] was born in Brooklyn, New York, in 1930. As a young woman she worked in factories and then as a full-time housewife and mother.
Selma James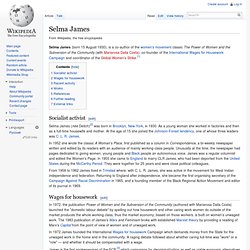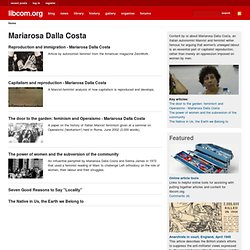 Mariarosa Dalla Costa
An influential pamphlet by Mariarosa Dalla Costa and Selma James in 1972 that used a feminist reading of Marx to challenge Left orthodoxy on the role of women, their labour and their struggles. Foreword When this book was first published three years ago, it was already clear that the international movement of women had upset basic assumptions on which this society rested.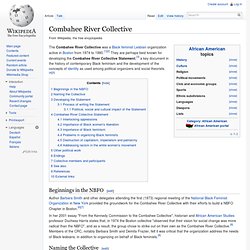 The Combahee River Collective was a Black feminist Lesbian organization active in Boston from 1974 to 1980.[1][2] They are perhaps best known for developing the Combahee River Collective Statement,[3] a key document in the history of contemporary Black feminism and the development of the concepts of identity as used among political organizers and social theorists.[4][5] Beginnings in the NBFO[edit] Author Barbara Smith and other delegates attending the first (1973) regional meeting of the National Black Feminist Organization in New York provided the groundwork for the Combahee River Collective with their efforts to build a NBFO Chapter in Boston.[6][7]
Combahee River Collective
Caliban and the witch - Silvia Federici
Silvia Federici
Federici being interviewed at MACBA museum in Barcelona. Silvia Federici (born 1942, Parma, Italy) is an American scholar, teacher, and activist from the radical autonomist feminist Marxist tradition.[1] She is a professor emerita and Teaching Fellow at Hofstra University, where she was a social science professor.[2] She worked as a teacher in Nigeria for many years, is also the co-founder of the Committee for Academic Freedom in Africa, and is a member of the Midnight Notes Collective.[3] Background[edit] Federici grew up in Italy, and came to the US in 1967 to study for a PhD in philosophy at the University at Buffalo.[4] She taught at the University of Port Harcourt in Nigeria, and was Associate Professor and later Professor of Political Philosophy and International Studies at New College of Hofstra University. She was co-founder of the International Feminist Collective, an organizer with the Wages for Housework campaign, and was involved with the Midnight Notes Collective.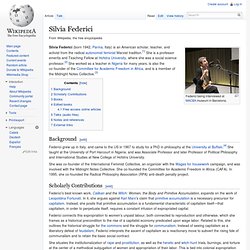 Toronto Website Design & Toronto SEO Understanding Materialist Feminism By Suzanne MacNevin - 2007. Materialist Feminism is basically a theoretical framework for studying feminist knowledge (class, divisions of labour, state/government power, economic power, gender identity, racial identity, sexual identity and national identity.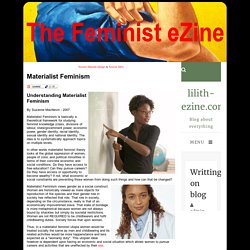 Materialist Feminism - The Feminist eZine
Hazel V. Carby is professor of African American Studies and of American Studies at Yale University. Before joining Yale University faculty, she taught English at Wesleyan University for seven years. She currently teaches courses on issues of race, gender and sexuality through the culture and literature of the Caribbean and its Diaspora; through transnational and postcolonial literature and theory; through representations of the black female body; and through the genres of science fiction. Identified as a Marxist feminist, her work primarily deals with detecting and probing discrepancies between the symbolic constructions of the black experience and the actual lives of African Americans. Dr.
Hazel Carby
Cultural Theory: Materialist Feminism (part 1)
Materialist feminism: a reader in class, difference, and women's lives - Rosemary Hennessy, Chrys Ingraham
Material feminism
Material feminism highlights capitalism and patriarchy as central in understanding women's oppression. The theory centers on social change rather than seeking transformation within the capitalist system.[1] Jennifer Wicke, defines Materialist Feminism as "a feminism that insists on examining the material conditions under which social arrangements, including those of gender hierarchy, develop... materialist feminism avoids seeing this gender hierarchy as the effect of a singular... patriarchy and instead gauges the web of social and psychic relations that make up a material, historical moment.
Introduction "Marxist Feminism / Materialist Feminism" by Martha E. Gimenez [Copyright Martha E.
Marxist / Materialist Feminism