Apps Web 2.0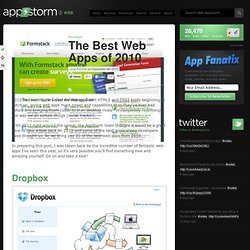 2010 has been quite a year for web apps with HTML5 and CSS3 really beginning to catch on, giving web apps more power and capabilities than they've ever had before and bringing them closer to their desktop rivals— or completely redefining the way we do certain things (social media?). With 2011 right around the corner, the AppStorm team thought it would be a great time to take a look back on 2010 and some of the best applications developers have brought us. So we bring you 20 of the best web apps from 2010.
My Joyful Jubilant Learning , colleague, David Zinger recently started an Employee Engagement alphabet . Engagement is such a hot topic in education, I thought this was a great idea for educators to follow the lead. So, here it goes: 26 Keys to Student Engagement. Authenticity: We hear it all the time, "Why do we need to know this stuff? When will I ever use this?"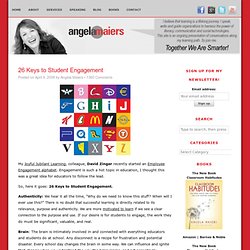 26 Keys to Student Engagement
If you want to learn a new language or if you want to know how that e-learning tool works, you have plenty of online help to reach those goals. The following list of fifty top blogs for e-learning tools and tips concentrate on technologies, resources, business strategies and more for teachers and students. We've even included a category that may inspire you to reach even further during 2010. The following links are listed alphabetically by blog title under each category.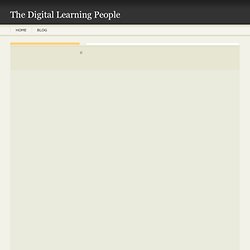 Top 50 Blogs for e-Learning Tools and Tips
Blogging can be quite a process. First you may have to do some research, then put your thoughts together, and of course add any necessary screenshots and images. Let's not forget the optimization part (SEO, keywords, etc) and sharing your content on the Web so that others will read it and hopefully share it. With all of these steps involved, blogging can be quite time-consuming and many bloggers get burnt out rather quickly doing these things on a daily basis. Lucky for us, the process doesn't have to be so difficult anymore. Thanks to the Web and technology, there are hundreds of tools out there to assist your blogging process and make it less of a headache.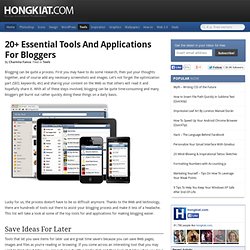 When you make the decision to go out on your own, you are faced with many choices. Should you work from home or rent a space? Bill hourly or by the job?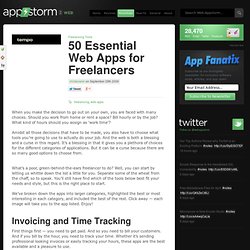 50 Essential Web Apps for Freelancers
I have created example forms for each of the different topics, follow the links in each of the ten sections. Use this form to gather some indication from your new class about their likes and dislikes, their favourite lessons or after school clubs they enjoy. It will help you to build your relationships with children as you quickly learn more about them. Get your own copy .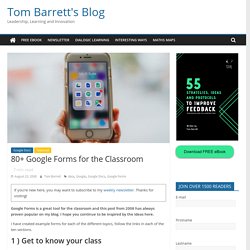 Data Protect (Password, Email...)
Audio Edit/Convert (WAV, MP3, WMA...)
Image Edit/Convert (GIF, JPG, PNG...)
Video Edit/Convert (WMV, AVI, MPG...)
Text Edit/Convert (PDF, OCR...)
theWebMind