Fotografía/ Imagen
Fucking Tourist - a set on Flickr
Moda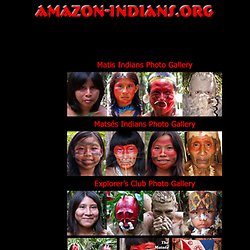 Amazon-Indians.org is a resource for photos and videos of native indigenous people of the Amazon Rainforest. It is an educational resource and an introduction to the cultures of Amazon native tribes from the South American Amazon River Basin. Furthermore, this website is a resource for information and geographic maps of the native indigenous tribes of the Amazon Rainforest. Various indigenous people of the Amazon are represented, including the Matis, Matsés-Mayoruna, Huaorani, Bora, Shipibos, Yagua, Marubo, Ticuna, Kayapó, Suyá, and Xingu Amazonian native tribes. Various ceremonies and rituals are illustrated, most importantly the Ceremony of Mariwin, Matsés-Mayoruna Poison Frog Ceremony, Dance of Queixada, Ritual of Capybara, Ticuna Indian Girls Puberty Rite of Passage, Marubo Ceremony of Aco, and the Kuarup (Kwarup) Ceremony of the Dead.
Amazon Indians Native Tribe Photos | Videos
African Tribes - Indigenous People of Africa
Figure Drawing References: Archive
Curso Fotografía
PROCESOS FOTOGRAFICOS HISTORICOS
Técnica FotográficaEl cianotipo o también conocido como blue print o ferroprussiate print, fue inventado por Sir John Herschel en 1842 en Inglaterra; quien aplicó la propiedad fotosensible de las sales de fierro, generando una imagen de color azul Prusia. Herschel bautizó a este proceso como cianotipo por las palabras en griego impresión y azul. El cianotipo comparte el principio de la sensibilidad de sales de hierro con el platinotipo y calotipo. La popularidad de los cianotipos llegó en la década de 1880´s. No solo se imprimió sobre papel, también se realizaron cianotipos en madera, piel, cerámica y fibras textiles. Su uso principal fue las copias de planos y dibujos.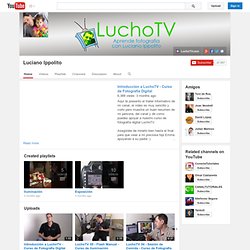 Upload LuchoTV.com Subscription preferences
Luciano Ippolito
Portrait Drawing References
Molly Strohl Photography - Work
Great International Photographers
Shane Powers Style Director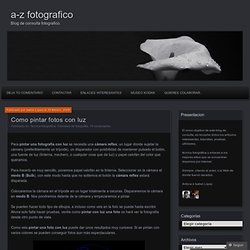 Para pintar una fotografía con luz se necesita una cámara reflex, un lugar donde sujetar la cámara (preferiblemente un trípode), un disparador con posibilidad de mantener pulsado el botón, una fuente de luz (linterna, mechero, o cualquier cosa que de luz) y papel celofán del color que queramos. Para hacerlo es muy sencillo, ponemos papel celofán en la linterna. Seleccionar en la cámara el modo B (Bulb), con este modo hasta que no soltemos el botón la cámara reflex estará disparada.
Como pintar fotos con luz « a-z fotografico
taka mayumi
Pat Pat's Photostream
Para los fotógrafos aficionados, a veces nos surgen dudas sobre si es legal hacer tal o cual foto. En este texto se te explica con mucha claridad si puedes hacer fotos a aviones, aeropuertos, agentes de la autoridad, en centros comerciales, lugares públicos… 1.- ¿Pueden las fuerzas del orden hacernos borrar las imágenes de nuestra tarjeta de memoria o velar el carrete? NO. Bajo ningún concepto. El único que puede ordenar la destrucción de la propiedad decomisada es un juez.
Artículo: ¿Puedo hacer esa fotografía? « En busca de la fotografía perfecta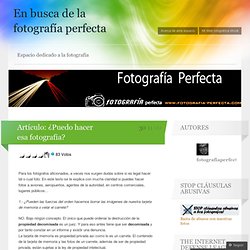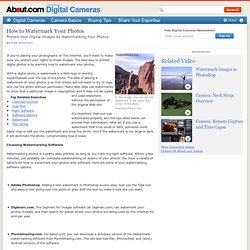 How to Watermark Your Photos - Learn Tips for Watermarking Your Photos
If you're placing your photographs on the Internet, you'll want to make sure you protect your rights to those images. The best way to protect digital photos is by learning how to watermark your photos. With a digital photo, a watermark is a faint logo or word(s) superimposed over the top of the photo.
Shooting Low Light Portraits with the Nikon Df I was invited to try out the Nikon Df for a couple of weeks to see what I think about it. I knew it received a lot of backlash from the online community when it was released, most thought it was all form and no function.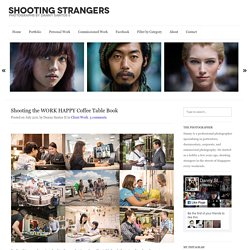 Danny Santos II - Street Photographer in Singapore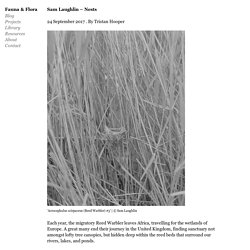 FAUNA and FLORA | a photographic approach
15 October 2012 We are proud to announce the first ever Fauna & Flora curated exhibition by Spanish photographer Jesus Monterde. The exhibition will take place at Fauna & Flora Gallery (Newport, Wales) from Thursday 8th of November 2012 to Friday 14th of December 2012.
Ensayo de Maryko Takeuchicuradora invitada de "Spotlight on Japan" para Paris Photo 2008 Part 1 Part 2 Introducción En japonés, la palabra para fotografía es "shashin". Se compone de dos ideogramas "sha", que significa reproducir o reflejar, y "shin" que significa verdad. La raíz griega de la palabra fotografía significa "escribir con luz" (graphos, escribir, y photos, luz).
Fotografía en Japón
Aliki & Ania
Riot Cinema Collective
Fotografía en Japón
FANTOMATIK
Nynewe's Photostream
Jimmy Backius photographer
olaf wipperfürth photography
Robert and Shana ParkeHarrison
Jeremy Dyer
Mozilla Firefox
Arthur Siegel, Margaret de Patta, Elsa Kula, David Pratt, Bernard Siegel, George Barford, Frederick Sommer, Raoul Hausmann, Ralph Steiner, Jaromir Funke, Eli Lissitsky, Floris Neussus, Gyorky Kepes, Franz Roh, Kurt Schwitters, Robert Heinecken, Umbo, Otto
"The shadows that things make The things that shadows make" by Les Rudnick © 2004-2011 Les Rudnick Photograms after WW II Composición fotográfica: El arte de saber mirar para crear
Saber mirar, algo que resulta difícil en fotografía pero a la vez indispensable para obtener buenas fotografías. Para ello se requiere sobre todo aprender a mirar. ¿Para qué queremos hacer buenas fotos? Pues para que sean aceptadas por el público en general.
Ellen Rogers
Andrewf photography
♞ El grupo de 10 fotógrafos del Taller FotoDoc, coordinado por Daniel Merle y Victoria Quintiero, presentará una muestra de fotografía documental que tendrá lugar en Centro Cultural Borges desde el 1º al 18 de Marzo (Sala 23, en Viamonte 525 - C.A.B.A.) La muestra se llamará "En la cama", es un ensayo colectivo el hilo conductor de esta muestra es la cama. Un escenario presente en la vida de los individuos desde el nacimiento hasta su muerte. En ella se abrigan sueños, nos destapamos enteros, plantamos bandera, combatimos cuerpo a cuerpo, convalecemos y también velamos.
"ARTS FOTOGRÁFICA"
Fisiogramas.com
Fotógrafo Digital
Welcome to Strobist. Strobist is the world's most popular resource for photographers who want how to learn to use their flashes like a pro. Want to learn how to light? Scroll down to Strobist's huge library of (free) core educational modules, below. Or you can check out our most recent posts, here: Latest: Manufactured Opportunities
Strobist
La Revista: Fotografía. El hombre que detuvo el tiempo
Onyx Earth
Visiones de Vanguardia
Cámara X
andrewfphoto on deviantART
NIGHT OF SELF-PORTRAIT (Noche de Autoretratos)
Lighting For Photo
fashion production
ALTFoto