Tutos
Summer Garden Granny Square. I love making Granny Squares.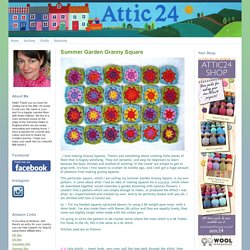 There's just something about creating little stacks of them that is hugely satisfying. They are versatile, and easy for beginners to learn because the basic stitches and method of working "in the round" are simple to get to grips with. DIY – Le mobile Cloud and Bird (les moineaux ont la tête dans les nuages) - Carnets Parisiens. Il y a des jours où je n'arrive vraiment pas à trouver l'inspiration pour vous écrire quelques lignes avant de vous mettre des photos.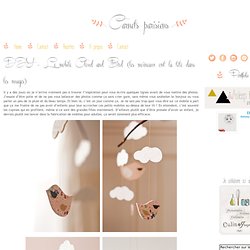 J'essaie d'être polie et de ne pas vous balancer des photos comme ça sans crier gare, sans même vous souhaiter le bonjour ou vous parler un peu de la pluie et du beau temps. Et bien là, c'est un jour comme ça. Je ne sais pas trop quoi vous dire sur ce mobile à part que ça me frustre de ne pas avoir d'enfants pour leur accrocher ces petits mobiles au-dessus de leur lit ! En attendant, c'est souvent les copines qui en profitent, même si ce sont des grandes filles maintenant. DIY - Bird Cage Lanterns. ~on a silhouette kick~ I made these, because.....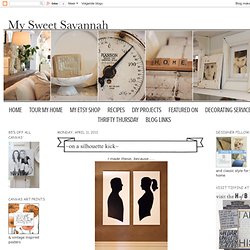 I saw these and fell in love, and thought, Tutorials. Mitsy from Artmind has a little tutorial she's offered to post here for us today.
A fun Sunday detour. Check below for a link to her blog as she'll be giving away some of them from there. A while ago, I received this awesome leather punch set from EviesToolEmporium as part of the Totally Tutorials Exchange program and I could hardly wait to make something with my new toys! Happy Hippity Hop! We're taking a long weekend off here for the Easter break (we're working on a new website with hopes of getting a bit more done with the extra day tucked in there).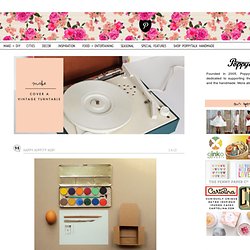 So we're bidding you farewell early with a few links and this cute little picture tutorial (see more below) sent to our e-mail from the folks at Present&Correct. Happy wishes for your Easter and Passover break. Handmade stencils and silhouettes. My new friend, Heika DeHart, shared these images of her daughter Aspen's adorable bedroom.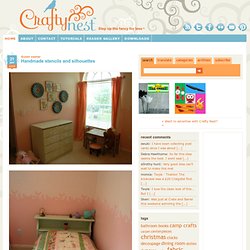 Nearly every decoration in the room was created from scratch by Heika herself. My favorite project is the stunning dresser. I loved the result so much, I asked her to share her instructions. She tells how she made her own stencils, how she cut silhouettes of her daughter, and more. Thanks, Heika! Crafty Nest. Easter Egg BLING! MADE: TUTORIALS. By Dana on July 2, 2008 Click an image below for step-by-step instructions and easy sewing projects.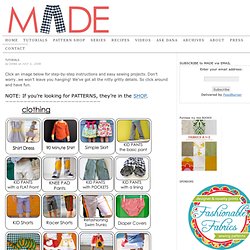 Don't worry…we won't leave you hanging! Something quick for the Easter Bunny. No you aren't seeing things this is a repost of my fabric carrots from last year .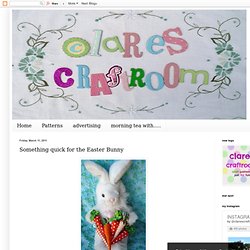 I lot of blogs have added my carrots to their listings and included a link directly to me , thankyou ! A Quick Way to Make Everyday Bottles Display Worthy Canadian House and Home | Apartment Therapy San Francisco. A Super Easy Kitchen Backsplash Update | Apartment Therapy Re-Nest. Design*Sponge » Blog Archive » diy wednesdays: table lanterns. With the crazy heat wave we're having in san francisco this week, all we can think about is spending as much time as possible outside. and since balmy evenings especially are a rarity in sf, we plan to take advantage of the warm weather and prepare a few dinners to eat up on the roof in the upcoming days. these paper lanterns are a snap to make, and will add a nice festive glow to our outdoor picnic table. click here for the full project or just click "read more" below. have fun!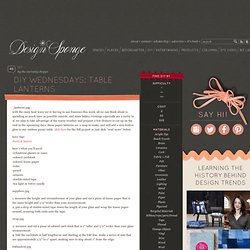 Derek & lauren here's what you'll need: -cylindrical glasses or vases -colored cardstock -colored tissue paper -ruler -pencil -scissors -double-sided tape -tea light or votive candle 1. measure the height and circumference of your glass and cut a piece of tissue paper that is the same height and 1/4″ wider than your measurement. 2. put a strip of double-sided tape down the length of your glass and wrap the tissue paper around, securing both ends onto the tape. Design*Sponge » Blog Archive » sewing 101: zippered case. It's back-to-school time, and it's hard not to have school supplies on the brain even if school days are nowhere in sight for some of us!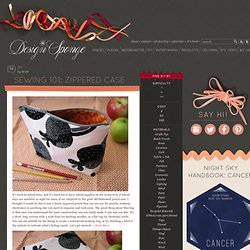 Inspired by the good old-fashioned pencil case, I thought it would be fun to sew a lined, zippered pouch that you can use for pencils, makeup, electronics or anything else you need to organize and tuck away. The great thing about this bag is that once you understand the basic construction, you can easily make it any size you like. Try a short, long version with a wide base for knitting needles, or a flat bag for electronic cords. You can use oilcloth for the lining to create a waterproof makeup bag, or try stitching a label to the outside to indicate what's hiding inside.
Design*Sponge » Blog Archive » paper scrap recycling. Today's projects are ones that use up old bits of paper scraps I can't bear to throw away. I save these pieces of paper (gift wrap, envelope liners, art papers, origami papers, etc.) and then wonder what can I do with them? I have covered pencils and jar lids to brighten them up a bit here. The jars are ones I have salvaged from the recycling bin and the pencils are just plain ones you can buy at a dollar store.
The pencils would make a lovely gift especially if given in a matching box or pencil bag. The jars are great for organizing or gift packaging. Design*Sponge » Blog Archive » diy project: paper bag lanterns. The bbbcraft sisters love parties! And what's more important at a party than lighting? With a couple of photographers in our family, we have always had to focus on both indoor and outdoor lighting at parties, making it soft and cozy and above all, inviting. nothing captures this more than a little bit of diffused candle light. we wanted to create an inexpensive way of creating our own indoor and outdoor lighting and came up with these paper bag lanterns. Design*Sponge » Blog Archive » diy wednesdays (part 1): felted nesting bowls.
Before we get to our regular weekly post, we just wanted to share this awesome set of felted nesting bowls that lauren's younger sister jessie made for us. the pattern for the medium-sized bowl came from a book called "oneskein" by leigh radford. jessie adapted the pattern to create the small and large versions, so the three bowls fit together perfectly. this is a great project for knitters of all level (especially those who are sick and tired of making scarves and hats!)
Putting what basically looks like a gigantic ski cap into a hot washing machine and pulling out a felted bowl is like magic! Click here for more info and photos or just click "read more" below. have fun! -derek and lauren ps- we've got knitting on the brain! Design*Sponge » Blog Archive » diy idea: bird mobile. A just found out another friend of mine is having a baby so i've got nursery decorations on the brain lately (which isn't helping my baby-crazy-late-20s phase). i saw this fun mobile at spool a while back and have had it bookmarked for ages, hoping i'd find an excuse to make one. and now i have one! You can download the pattern for each fabric bird right here and then pick up some (clean, fallen) twigs from your backyard and use clear fishing wire to hang each bird. it's a great way to use up leftover fabric (or those super-fun fabric packs from purl) and give a homemade, customized gift. click here for the full post at spool.
Design*Sponge » Blog Archive » diy project: alexandra hedin's family portraits. Design*Sponge » Blog Archive » diy wednesdays: drawer divider. Design*Sponge » Blog Archive » diy project: eco-friendly notebooks.
---