Youth Work
British Youth Council Home Page - BYC
Federation for Detached Youth Work
Compass :: "Helping to solve problem drug and alcohol use, creating healthier lives and safer communities"
The status of high-risk behaviors among youth today are defined and discussed, and suggestions offered for strategies to promote healthy behavioral choices for youth. Maria R. de Guzman, Extension Adolescent Specialist; and Kathy R. Bosch, Extension Family Life Specialist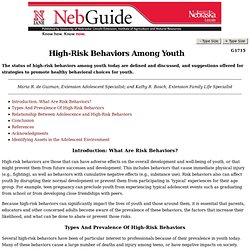 Publication: High Risk Behavior Among Youth
Alcohol and young people
FRANK
contents @ the informal education homepage
Positive for Youth - Children and young people
contents @ the informal education homepage
O2 learn - Dr Maths presents: Getting Triggy With It
Community Services Consultancy
youthwork ethics: Dress for success!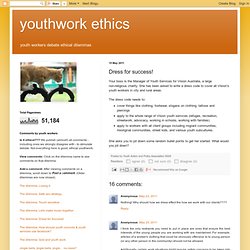 Your boss is the Manager of Youth Services for Vision Australia, a large non-religious charity.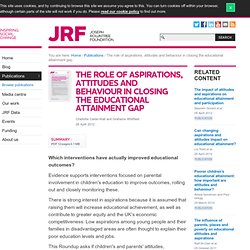 The role of aspirations, attitudes and behaviour in closing the educational attainment gap
Charlotte Carter-Wall and Grahame Whitfield
Rebecca Saxe: How we read each other's minds