Youth Work
British Youth Council Home Page - BYC. Federation for Detached Youth Work. Compass :: "Helping to solve problem drug and alcohol use, creating healthier lives and safer communities" Publication: High Risk Behavior Among Youth. The status of high-risk behaviors among youth today are defined and discussed, and suggestions offered for strategies to promote healthy behavioral choices for youth.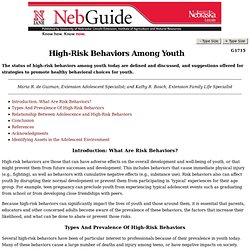 Maria R. de Guzman, Extension Adolescent Specialist; and Kathy R. Bosch, Extension Family Life Specialist. Alcohol and young people. FRANK. Contents @ the informal education homepage. Positive for Youth - Children and young people. This set of documents describes all of the government's policies for young people aged 13 to 19 in England within the context of a vision for a society which will enable all young people to succeed.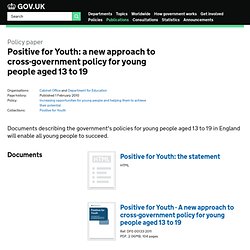 They set out a new partnership approach for giving young people more opportunities and better support - with young people themselves as influencers and with voluntary and community groups and local businesses drawn in as full partners. A number of the policies covered apply across the United Kingdom, such as those of the Home Office, the Ministry of Justice, the Department for Work and Pensions, and the Ministry of Defence. The government will work with the devolved administrations on areas of shared interest. There has been an extensive period of collaboration and consultation with young people and those who work with them to develop these materials. Contents @ the informal education homepage. O2 learn - Dr Maths presents: Getting Triggy With It. Community Services Consultancy. Youthwork ethics: Dress for success! Your boss is the Manager of Youth Services for Vision Australia, a large non-religious charity.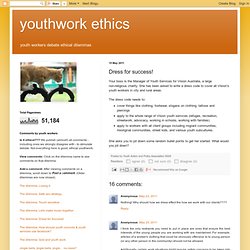 She has been asked to write a dress code to cover all Vision's youth workers in city and rural areas. The dress code needs to: cover things like clothing, footwear, slogans on clothing, tattoos and piercingsapply to the whole range of Vision youth services (refuges, recreation, streetwork, advocacy, working in schools, working with families)apply to workers with all client groups including migrant communities, Aboriginal communities, street kids, and various youth subcultures.
She asks you to jot down some random bullet points to get her started. The role of aspirations, attitudes and behaviour in closing the educational attainment gap. Charlotte Carter-Wall and Grahame Whitfield 26 April 2012 Which interventions have actually improved educational outcomes?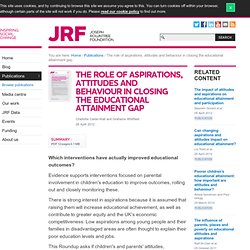 Evidence supports interventions focused on parental involvement in children's education to improve outcomes, rolling out and closely monitoring these. Rebecca Saxe: How we read each other's minds. Ken Robinson says schools kill creativity.
---