Fun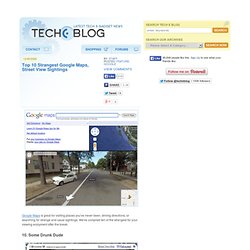 Google Maps is great for visiting places you've never been, driving directions, or searching for strange and usual sightings. We've compiled ten of the strangest for your viewing enjoyment after the break. 10. Some Drunk Dude
Top 10 Strangest Google Maps, Street View Sightings
Top 10 Urban Legends & Myths
You are here: Home / Bizarre / Top 10 Urban Legends & Myths We've all heard them. Usually, they happened to a friend of a friend's second cousin, and in almost every case they're completely untrue. Still, some urban legends have managed to gain a remarkable amount of credibility. From creepy folklore to rumors about celebrities and politicians, here are the top ten urban legends that have managed to gain a popular following. 10.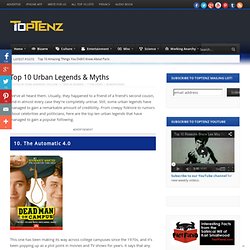 Only in Pakistan - Part 3 | Engrish Brog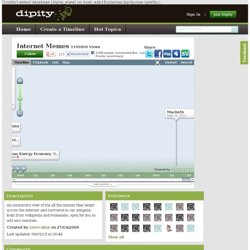 Trololololololololololo man Feb 28, 2010 6:00 PM Added to Youtube in November of 2009 the Video "Я очень рад, ведь я, наконец, возвращаюсь домой" had only few views until it was posted into several music blogs in march of 2010.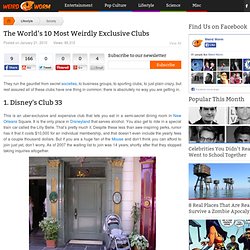 The world's 10 most weirdly exclusive clubs
They run the gauntlet from secret societies , to business groups, to sporting clubs, to just plain crazy, but rest assured all of these clubs have one thing in common: there is absolutely no way you are getting in. Disney's Club 33 This is an uber-exclusive and expensive club that lets you eat in a semi-secret dining room in New Orleans Square. It is the only place in Disneyland that serves alcohol. You also get to ride in a special train car called the Lilly Belle. That's pretty much it.
Many of us grew up playing a variety of different video games, and that those that didn't have since accepted their importance in mainstream culture. These games are perhaps some of the most unique and less well-known games ever created…but believe me there is a real reason for that. Michael Jackson's Moonwalker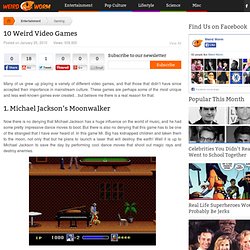 10 Weird Video Games
3 of the Most Bizarre Micronations in the World | Design + Ideas
Small, Strange and Surreal: 3 of the Most Bizarre Micronations in the World Article by Urbanist , filed under Travel & Places in the Global category. Have you ever wanted to rule your very own country? A micronation is an area of land claimed by one or more persons to be independent from any major recognized nation in the world.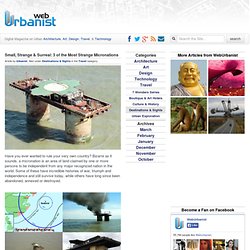 25 Cringeworthy Websites We Love to Hate