Empresas
EGEO
A posição de líder do sector em Portugal aliada a uma atitude pró-activa direccionada para a procura de soluções eficazes faz da EGEO um parceiro na relação com o cliente. Com o objectivo de reforçar a nossa eficiência e de promover uma marca única, a EGEO decidiu proceder à fusão das suas duas principais sociedades operacionais, a IPODEC e a AUTO-VILA, alterando a denominação social para a partir de 1 de Julho de 2010 A união numa só marca permite reforçar todas as competências e oferecer múltiplas soluções na gestão dos Resíduos Sólidos Urbanos (RSU), Resíduos Industriais Banais (RIB), Resíduos Industriais Perigosos (RIP), Resíduos Marítimos, Recuperação/ Regeneração de Solventes, LMI- Limpezas e manutenção Industrial, Saneamento.
SISAV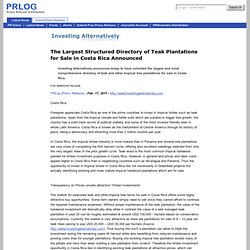 PRLog (Press Release) - Feb. 17, 2011 - http://www.investingalternatively.com Costa Rica Foreigner appreciate Costa Rica as one of the prime countries to invest in tropical timber such as teak plantations.
The Largest Structured Directory of Teak Plantations for Sale in Costa Rica Announced
Andrew Skeene and Omari Bowers researched the concept of forestry investments during the time of the property market slump, and bought 1000 hectares of land in the Mato Grosso state – the third largest area in Brazil. "What fascinated us at the time," said Bowers, "was how farmland as an asset class had been historically overlooked by investors and yet over the past 20 years forestry investments had grown at a rate of 20 per cent per annum. It was as if we had stumbled upon a whole new property market – but instead of developing houses it was all about growing trees". Global Forestry Investments invests in woodland to grow trees, such as timber. In particular, Bowers and Skeene were keen on Brazil as it offered an ideal environment for the growth of teak wood, which was in high demand but had a slump in supply. The Brazilian rainforest is a subject of high tension among environmentalists – and some would say it's the main battleground in the fight against climate change.
Property Entrepreneurs turn into Green Advocates - Energy Digital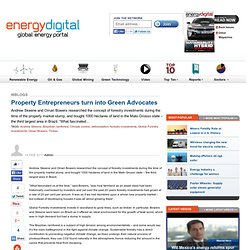 About Us Main Page IAs Platform Buyers and Investors Sellers Timber Opportunities
Investing Alternatively - Buy / Sell Teak, Tropical Tree Plantations or any other Forestry Assets
O MIF - Manuel Inácio & Filhos, um dos principais grupos nacionais na área agroalimentar, passou a ser controlado pelo Fundo Recuperação da ECS Capital, que assume, assim, a gestão de marcas como a Izidoro e a Progado. A operação, que começou a ser negociada no final de 2009, visa a recuperação, reestruturação e modernização deste grupo de raiz familiar, centrado nos suínos e na carne de porco, com 23 empresas, vendas de €124,6 milhões, 1800 postos de trabalho diretos e indiretos, problemas financeiros e um passivo cujo valor não foi divulgado. Com o acordo, o fundo assumiu o controlo de 86% do capital do MIF, enquanto a família fundadora deixava a estrutura acionista do negócio, que soma unidades industriais e explorações de suinicultura em várias zonas do país, com destaque para o Montijo, onde está sediada a unidade de carnes, e Rio Maior, sede dos ativos relativos à produção animal e rações. Aposta na internacionalização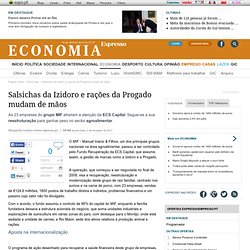 Salsichas da Izidoro e rações da Progado mudam de mãos
Poderá não conseguir aceder a esta página devido a: um favorito web está desatualizado Um registo desatualizado para este site num motor de pesquisa um erro de escrita no endereço Não possui permissões de acesso a esta página O recurso solicitado não foi encontrado. Ocorreu um erro ao processar o seu pedido. Por favor tente uma das seguintes páginas:
Capital - Apresentação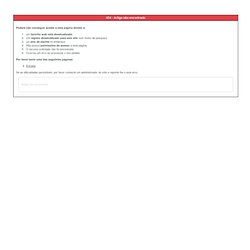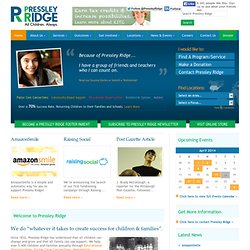 Welcome to Pressley Ridge We do "whatever it takes to create success for children & families". Since 1832, Pressley Ridge has understood that all children can change and grow and that all family can use support.
Pressley Ridge - Portugal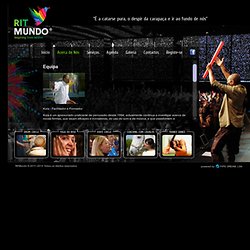 Kula - Facilitador e Formador Kula é um apaixonado praticante de percussão desde 1994, actualmente continua a investigar acerca de novas formas, que sejam eficazes e inovadoras, do uso do som e da música, e que possibilitem à humanidade qualidade de vida e Bem-Estar. Sofia Monteiro - Coach e formadora Acredito no poder que cada um de nós possui para tornar a vida uma caminhada inesquecível.
Rit'Mundo - Equipa
BMW