Art
The Story of a Sign
creativacultural.com
Patty Griffin - Rain
onedotzero_adventures in motion 2010 preview on Vimeo
José Luís Peixoto confessou às paredes de quem gosta
Mi nombre es Chema Madoz soy fotógrafo - Historias de una actitud
Anaced - Associação Nacional de Arte e Criatividade de e para Pessoas com Deficiência
Riverdance Finale
Connexion
Eric Lewis rocks the jazz world
Visual Effects: 100 Years of Inspiration
real human interface
galerias de arte em portugal
mental_floss Blog » When Pigs Fly
SLAYER CHRISTMAS LIGHTS LIGHTORAMA 2009
l.php?u=http%3A%2F%2Fwww.serralves
School of Visual Arts MFA Design - Potential Energy Exhibition on Vimeo
Stateless - 'Ariel' (Official Video)
Tim Burton's Cadavre Exquis
Project ended Dec 6th, Thank you for playing! 1 BurtonStory tweeted on Nov. 19th, 2010 Stainboy, using his obvious expertise, was called in to investigate mysterious glowing goo on the gallery floor #BurtonStory 2 Stefan Ronge tweeted on Nov. 20th, 2010 He felt his heart pounding hard against his ribs. As he bent down, he saw his own reflection on the surface of the puddle.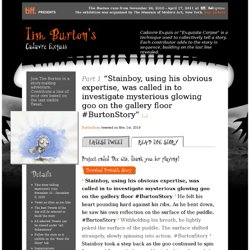 25 Accidents Waiting to Happen
Chefs na RTP1
Art houses: Lisbon graffiti - in pictures | Travel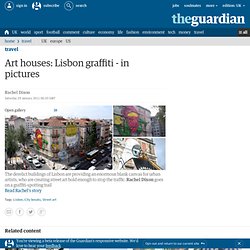 Lisbon: Cafe Pois A warm welcome after a marvelous walk in Lisbon! Cafe Pois is a very relaxing and friendly place, just what you want after a hot morning of walking around… Posted by sintra 13 Jul 2012 Lisbon: Avoiding coin accepting ticketing machines(trams) Some trams have machines which issue tickets (only coins accepted). Avoid these totally (advice from ticket inspectors). Pickpockets (carteiristas) working… Posted by blackjock 27 Jun 2012 Lisbon: Casa da Terrina Only 40 minutes from Lisbon you reach Sesimbra, a fishing village. The restaurant's service is very nice and the fish is so fresh.
Google Art Project gives a detailed view of paintings such as Pieter Bruegel's 1565 painting, The Harvesters. Photograph: Tomas Abad /Alamy Even the director of the Tate was unaware that if, with patience, you look really close up at Pieter Bruegel's world-famous 16th century painting The Harvesters, which hangs in the Metropolitan Museum, then you will see a family enjoying a jolly game of throwing sticks at the tied-up goose, a pastime more usually associated with Shrove Tuesday [see footnote].
Google Art Project aims to shed new light on classic works of art | Technology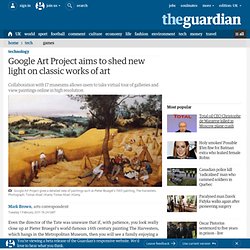 Theo Jansen creates new creatures
Sampled Room on Vimeo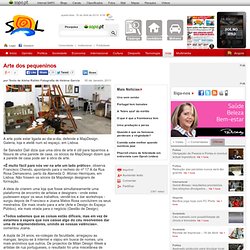 Arte dos pequeninos
A arte pode estar ligada ao dia-a-dia, defende a MapDesign. Galeria, loja e ateliê num só espaço, em Lisboa. Se Salvador Dalí dizia que uma obra de arte é útil para taparmos a fissura de uma parede de casa, os sócios da MapDesign dizem que a parede de casa pode ser a obra de arte. «É muito fácil para nós ver na arte um lado prático» , observa Francisco Chendo, apontando para o recheio do nº 17 A da Rua Rosa Damasceno, perto da Alameda D. Afonso Henriques, em Lisboa.
Art houses: Lisbon graffiti - in pictures | Travel