Using the Caribbean Collections
Other Caribbean Collections. National Archives (Caribbean HIstories Revealed) Help for Researchers (Caribbean) Newspaper Collections. Newspapers in The British Library British Library Newspapers at Colindale has now closed, and the majority of printed material is under embargo.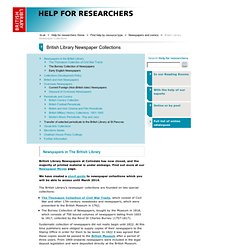 Find out more at our Newspaper Moves page. We have created a short guide to newspaper collections which you will be able to access until March 2014. The British Library's newspaper collections are founded on two special collections: The Thomason Collection of Civil War Tracts, which consist of Civil War and other 17th-century newsbooks and newspapers, which were presented to the British Museum in 1762;The Burney Collection of Newspapers, bought by the Museum in 1818, which consists of 700 bound volumes of newspapers dating from 1603 to 1817, collected by the Revd Dr Charles Burney (1757-1817). Francophone Caribbean Collections. France was at the forefront of the "Scramble for Africa" and accounts of the exploration and colonisation by France can be found in the Library's collections.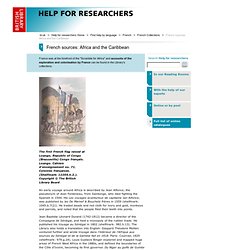 The first French flag raised at Loango, Republic of Congo (Brazzaville) Congo français. Loango. India Office Records. On the abolition of slavery in the early 19th century, owners of plantations in the British and French colonies of the Caribbean began to search for a new supply of labour.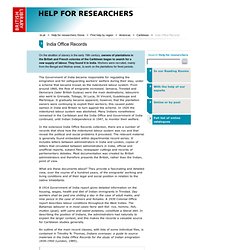 They found it in India. Workers were recruited, mainly from the Bengal and Madras areas, to work on the plantations for fixed periods. British Library Catalogue (Primo) EThOS (Doctoral Thesis Catalogue) The British Newspaper Archive. British C19th Newspapers (JISC) Electronic Databases. To help you with your research we have over 800 electronic databases.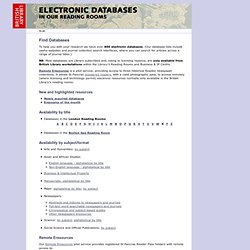 (Our database lists include useful websites and journal collection search interfaces, where you can search for articles across a range of journal titles.) NB: Most databases are Library subscribed and, owing to licensing reasons, are only available from British Library workstations within the Library's Reading Rooms and Business & IP Centre. Remote Eresources is a pilot service, providing access to three historical Readex newspaper collections.
British Records on the Atlantic World, 1700-1900 from Microform Academic Publishers. Slavery, Abolition and Social Justice portal. Manuscripts (Primo Catalogue) India Office Select Materials. The main focus of the catalogues is on the countries of South Asia, although there are also considerable holdings relevant to other parts of Asia and the Middle East.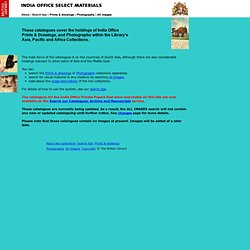 You can: • search the Prints & drawings or Photographs collections separately. • search for visual material in any medium by selecting All images. • read about the scope and history of the two collections. For details of how to use the system, see our search tips. The catalogues for the India Office Private Papers that were searchable on this site are now available on the Search our Catalogues: Archive and Manuscripts service. Sound Archive Catalogue. Archival Sound Recordings. Catalogue of Photographically Illustrated Books. Catalogue of Photographs. The photograph catalogues provide a detailed searchable database for locating photographs, photographically-illustrated books and texts relating to photography held in all departments of the British Library.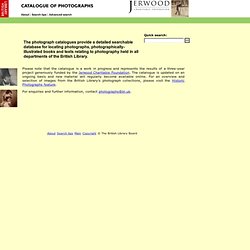 Please note that the catalogue is a work in progress and represents the results of a three-year project generously funded by the Jerwood Charitable Foundation. The catalogue is updated on an ongoing basis and new material will regularly become available online. For an overview and selection of images from the British Library's photograph collections, please visit the Historic Photographs feature. Endangered Archives Programme. Americas Collections Blog. As a historian I get very excited about old letters, diaries, account books and inventories – but once in a while there are other 'records' that trump almost everything else.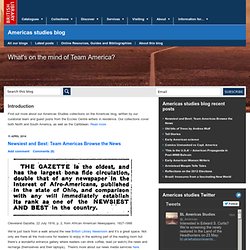 I had one of those moments this week when I returned to George Washington's Mount Vernon. Over the past six years I have been many times to Washington's estate in Virginia (just south of Washington DC) – first to research my book Founding Gardeners and then to give talks about the book. By now I go there to see the changes in the gardens (of which there are many, such as the fabulous restoration of the Upper Garden) and to meet my friend Dean Norton who is the Director of Horticulture there. Caribbean views: the full collection. Head of American Collections Unlike most of the other collections in the Online Gallery, 'Caribbean Views' is not drawn from a single British Library collection.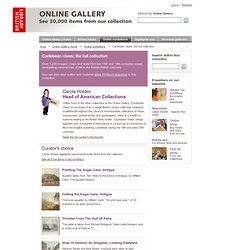 However, scattered throughout the Library's incomparable collections of maps, manuscripts, printed books and newspapers, there is a wealth of material relating to the British West Indies. 'Caribbean Views' brings together over a hundred of these items to conjure up a vivid picture of life in the English-speaking Caribbean during the 18th and early 19th centuries. Americas Collections Blog: Caribbean. Ernest Hemingway relaxing in Cuba in the 1940s, sans Martha.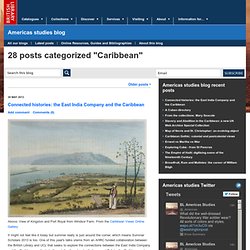 Photo: Wikimedia Commons/JFK Library, Boston. I wonder whether Ernest Hemingway, as he chewed his meal of moose after marriage to Martha Gellhorn in November 1940, hadn't quite understood his new wife's taste for war. He may also not have fully understood how his third wife's taste for combat probably far surpassed her taste for him. Such a thought might have made the wedding moose all the chewier. Both Ernest and Martha had been war correspondents during the Spanish Civil War from 1937-39.
Americas Collections Blog: Latin America. Our colleague Dr Barry Taylor reports: Although the British Library has important collections of books from colonial Latin America, including the earliest extant book printed in the Americas, Zumárraga's Dotrina breve de las cosas que pertenecen a la fe catholica (Mexico, 1543/44, BL shelfmark C.37.e.8), such books are now all too often prohibitively expensive for us to acquire.
The recent acquisition of two seventeenth-century Mexican imprints is therefore particularly noteworthy. Esteban García, El máximo limosnero, mayor padre de pobres, grande arçobispo de Valencia, provincial de la Andaluzia, Castilla, y Nueva-España, de la orden de san Augustin, S. Thomas de Villanueva… (México: por la viuda de Bernardo Calderón, 1657). [8], 95 leaves.
---