Skirt
Wp-content/uploads/2008/06/proj76-project-tiered_peasant_skirt.pdf. Jersey Mini Sport Skirt DIY from a T-shirt. Www.taunton.com/besewstylish/media/SSBlogPeasantSkirt.pdf. Handkerchief Skirt w/ Roll Down Waistband from hand-me-down t shirts. Supplies:-scissors-sewing machine-thread-measuring tape-sewing pins -Choosing a Material:So you're going to need material.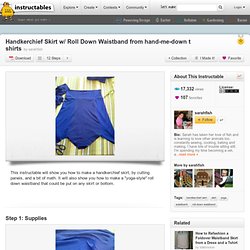 You can buy fabric, I'd suggest a cotton/lycra blend, or something that's a bit stretchy. In this, I use hand-me-down t shirts. -Amount of Material:For a size 6ish women's, I use 3 mens shirts in this, but I would suggest at least one more so that it flows a bit better.More panels = more frills. Make a Gypsy Skirt. Many costumes call for a gypsy skirt.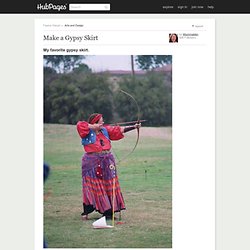 It's great for belly dancing, peasants, gypsy costumes, prairie looks, romantic skirts, folk dancing, pirating, and witchy wear. You can use earth tones, dark blues, and forest greens for Renaissance faires. Gothic belly dancing (raks Gothique) has basic black as a given, but you can also go with deep purple or burgundy (blood red). Here's how to make your own pattern. Get a tape measure. How to Make a Gathered Skirt with Knit Waistband. Knee-length skirt with 4" (10 cm) knit waistband (shown folded over) and gathered cotton voile skirt body.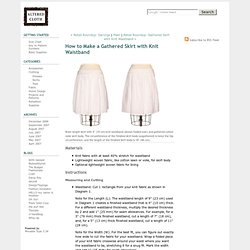 The circumference of the finished skirt body (ungathered) is twice the hip circumference, and the length of the finished skirt body is 18" (46 cm). Knit fabric with at least 40% stretch for waistband Lightweight woven fabric, like cotton lawn or voile, for skirt body Optional lightweight woven fabric for lining Waistband: Cut 1 rectangle from your knit fabric as shown in Diagram 1. Note for the Length (L): The waistband length of 9" (23 cm) used in Diagram 1 creates a finished waistband that is 4" (10 cm) thick. For a different waistband thickness, multiply the desired thickness by 2 and add 1" (25 mm) for seam allowances.
For example, for a 3" (76 mm) thick finished waistband, cut a length of 7" (18 cm), and, for a 5" (13 cm) thick finished waistband, cut a length of 11" (28 cm). 5-minute skirt* Here's the 5-minute skirt how to I have been meaning to post.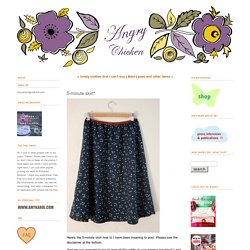 Please see the disclaimer at the bottom. And are you annoyed trying to read all this while at your sewing machine? I am! So get the PDF version right here. Totally Stitchin Project. XOX SKIRT. Featured: Victoria Secret Peasant Skirt You'll ♥ this easy-to-sew skirt…XOX.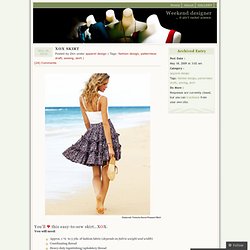 You will need: Approx. 1 ½ to 3 yds. of fashion fabric (depends on fabric weight and width)Coordinating threadHeavy-duty topstitching/upholstery thread Waist – measure around narrowest part of torso (just above navel level) HANDKERCHIEF SKIRT. A handkerchief pointed-hem skirt is flattering to all, but especially for short-legged people because the points break up that horizontal hemline.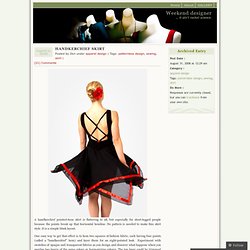 No pattern is needed to make this skirt style. It is a simple block layout. One easy way to get that effect is to hem two squares of fashion fabric, each having four points (called a "handkerchief" hem) and layer them for an eight-pointed look. Simple Skirt. I've been wanting to try and make some of my own clothes for about 10 years.
This coincides with around the time I moved out on my own and away from my genius seamstress mother. Alanis might consider it ironic, I think it's tragic. But maybe it makes sense. When I was at home I didn't need to do it myself- she could do it faster and far better. The Shirt Skirt | Sew Like My Mom. July 28, 2010 I'm so excited to post about this!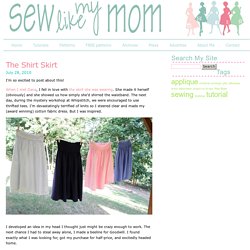 When I met Dana, I fell in love with the skirt she was wearing. She made it herself (obviously) and she showed us how simply she'd shirred the waistband. The next day, during the mystery workshop at Whipstitch, we were encouraged to use thrifted tees.
---