Language
mental_floss Blog & The Quick 10: 10 Things You Didn't Know Had Names - StumbleUpon
1. You know how it smells after it rains? That clean, greenish smell when rain lands on dry ground?
Following on from our first list of words you don't know, we present another 25. Learn one a day and impress your friends! Words 25 – 21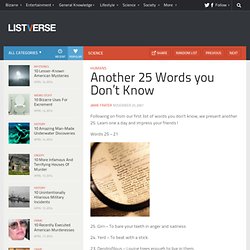 Another 25 Words you Don't Know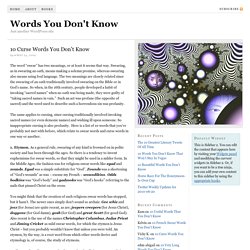 10 Curse Words You Don't Know | Words You Dont Know
The word "swear" has two meanings, or at least it seems that way. Swearing, as in swearing an oath, means making a solemn promise, whereas swearing also means using foul language. The two meanings are closely related since the swearing of an oath traditionally involved swearing on the Bible or in God's name. So when, in the 16th century, people developed a habit of invoking "sacred names" when no oath was being made, they were guilty of "taking sacred names in vain."
Carl Honoré ( In Praise of Slow ) says Canada's Baffin Island Inuit "use the same word—'uvatiarru'—to mean both 'in the distant past' and 'in the distant future.'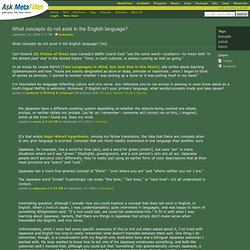 Another 25 Words you Don't Know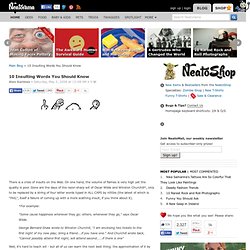 There is a crisis of insults on the Web. On one hand, the volume of flames is very high yet the quality is poor.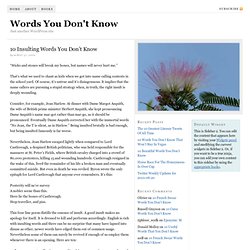 10 Insulting Words You Don't Know | Words You Dont Know
"Sticks and stones will break my bones, but names will never hurt me." That's what we used to chant as kids when we got into name calling contests in the school yard. Of course, it's untrue and it's disingenuous. It implies that the name callers are pursuing a stupid strategy when, in truth, the right insult is deeply wounding. Consider, for example, Jean Harlow. At dinner with Dame Margot Asquith, the wife of British prime minister Herbert Asquith, she kept pronouncing Dame Asquith's name mar-got rather than mar-go, as it should be pronounced.