Consciousness
Card trick reveals the subconscious mind is on watch - life - 16 November 2011. Video: Princess card trick Take a look at this video.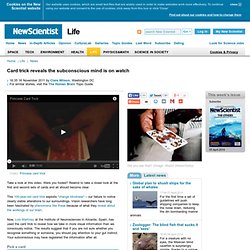 Were you fooled? Rewind to take a closer look at the first and second sets of cards and all should become clear. Banishing consciousness: the mystery of anaesthesia - health - 29 November 2011. Read full article Continue reading page |1|2|3 I WALK into the operating theatre feeling vulnerable in a draughty gown and surgical stockings.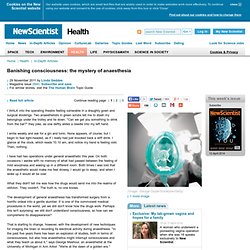 Two anaesthetists in green scrubs tell me to stash my belongings under the trolley and lie down. "Can we get you something to drink from the bar? " they joke, as one deftly slides a needle into my left hand. Zoned-out rats may give clue to consciousness - life - 12 October 2011. HUMAN minds wander when they have nothing else to do.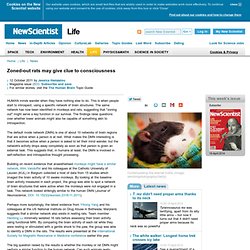 This is when people start to introspect, using a specific network of brain structures. The same network has now been identified in monkeys and rats, suggesting that "zoning out" might serve a key function in our survival. The findings raise questions over whether lower animals might also be capable of something akin to introspection. Why free will may be an illusion. MacGregor Campbell, consultant Does free will actually exist?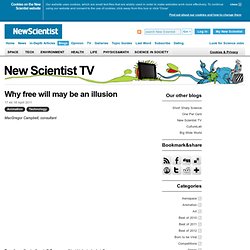 Or are we all just biological robots? Time on the Brain: How You Are Always Living In the Past, and Other Quirks of Perception. I always knew we humans have a rather tenuous grip on the concept of time, but I never realized quite how tenuous it was until a couple of weeks ago, when I attended a conference on the nature of time organized by the Foundational Questions Institute.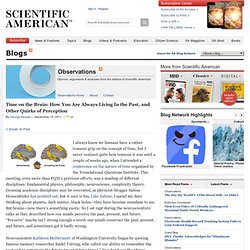 This meeting, even more than FQXi's previous efforts, was a mashup of different disciplines: fundamental physics, philosophy, neuroscience, complexity theory. Crossing academic disciplines may be overrated, as physicist-blogger Sabine Hossenfelder has pointed out, but it sure is fun. Like Sabine, I spend my days thinking about planets, dark matter, black holes—they have become mundane to me. But brains—now there's something exotic. Card trick reveals the subconscious mind is on watch - life - 16 November 2011. The period of the brain pretending to be the mind. The mind is different from the brain , just as psychology is different from biology.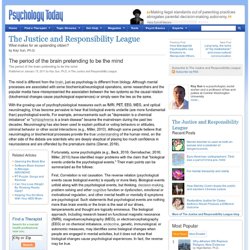 Although mental processes are associated with some biochemical/neurological operations, some researchers and the popular media have misrepresented the association between the two systems as the causal relation (biochemical changes cause psychological experiences) or simply seen the two as the same. With the growing use of psychophysiological measures such as fMRI, PET, EEG, MEG, and optical neuroimaging, it has become pervasive to hear that biological events underlie (are more fundamental than) psychological events. For example, announcements such as "depression is a chemical imbalance" or " schizophrenia is a brain disease" became the mainstream during the past two decades. Neuroimaging has also been used to explain political or voting behaviors or attitudes, criminal behavior or other social interactions (e.g., Miller, 2010).
Where is The Mind?: Science gets puzzled and almost admits a non-local mentalscape. This will be the last "home-produced" blog entry for a while [save the short "Everyday Spirituality" which will follow it as a sign-off] .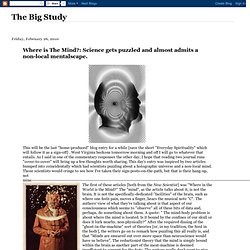 West Virginia beckons tomorrow morning and off I will go to whatever that entails. As I said in one of the commentary responses the other day, I hope that reading two journal runs "cover-to-cover" will bring up a few thoughts worth sharing. Anesthesia May Leave Patients Conscious—and Finally Show Consciousness in the Brain | The Crux.
Vaughan Bell is a clinical and research psychologist based at the Institute of Psychiatry, King's College London and currently working in Colombia.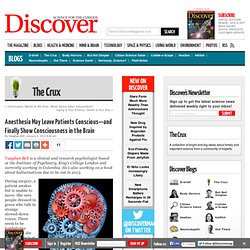 He's also working on a book about hallucinations due to be out in 2013. During surgery, a patient awakes but is unable to move. She sees people dressed in green who talk in strange slowed-down voices. There seem to be tombstones nearby and she assumes she is at her own funeral. Consciousness: Mind Over Matter. The Blog : The Mystery of Consciousness II.
(Photo by h.koppdelaney) The universe is filled with physical phenomena that appear devoid of consciousness.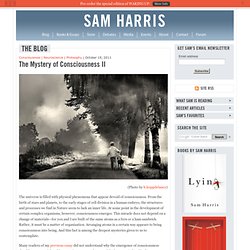 From the birth of stars and planets, to the early stages of cell division in a human embryo, the structures and processes we find in Nature seem to lack an inner life. At some point in the development of certain complex organisms, however, consciousness emerges. Test measures spark of consciousness. Consciousness: Mind Over Matter. How does anesthesia disturb self-perception? An Inserm research team in Toulouse, led by Dr Stein Silva (Inserm Unit 825 "Brain imaging and neurological handicaps"), working with the "Modelling tissue and nociceptive stress" Host Team (MATN IFR 150), were interested in studying the illusions described by many patients under regional anaesthetic.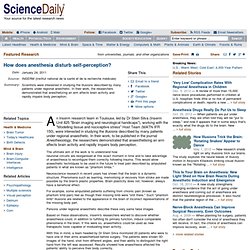 In their work, to be published in the journal Anesthesiology, the researchers demonstrated that anaesthetising an arm affects brain activity and rapidly impairs body perception. The ultimate aim of the work is to understand how neuronal circuits are reorganised at this exact moment in time and to take advantage of anaesthesia to reconfigure them correctly following trauma. This would allow anaesthetic techniques to be used in the future to treat pain described by amputated patients in what are known as "phantom limbs. " Neuroscience research in recent years has shown that the brain is a dynamic structure. Think time flies? Well actually, you may be right - Technology & science - Tech and gadgets - Gizmodo.
Time flies when you're having fun. But you're at work, and work sucks. So how is it 5 p.m. already? When we talk about "losing time," we aren't referring to that great night out, or that week of wonderful vacation, or the three-hour film that honestly didn't feel like more than an hour. Consciousness of subjective time in the brain — PNAS. Author Affiliations Contributed by Endel Tulving, November 9, 2010 (sent for review June 13, 2010) Abstract "Mental time travel" refers to conscious experience of remembering the personal past and imagining the personal future. Little is known about its neural correlates.
---