Mercadeo y Publicidad
TENDENCIAS Y APLICACIONES BTL. Start With Why. Puro Marketing, Diario Digital Líder de Marketing, Publicidad y Social media en Español. Real Estate Marketing Ideas | Best Marketing Ideas for Small Business Owners. Under Armour taking grassroots marketing approach. When Pittsburgh and Arizona square off Sunday in Super Bowl XLIII, it will be the finale to weeks of anticipation and media coverage, and one Baltimore company is looking to again cash in on the buzz.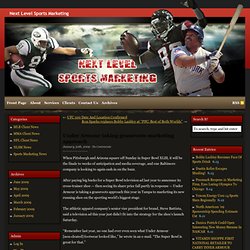 After paying big bucks for a Super Bowl television ad last year to announce its cross-trainer shoe — then seeing its share price fall partly in response — Under Armour is taking a grassroots approach this year in Tampa to marketing its new running shoe on the sporting world's biggest stage. The athletic apparel company's senior vice president for brand, Steve Battista, said a television ad this year just didn't fit into the strategy for the shoe's launch Saturday. "Remember last year, no one had ever even seen what Under Armour [non-cleated] footwear looked like," he wrote in an e-mail. "The Super Bowl is great for that." 6 Grassroots Marketing Success Stories. How to Market Pro Sports. Advertise Your Sports Team | Turnstile Bars with Adsleeve Armcovers | Outdoor Advertising.
The Marketing Strategy Process: Developing a Marketing Strategy. Having a strong marketing strategy process in place helps to ensure that your marketing activities remain aligned with your business goals, maximizing the business return from your marketing efforts.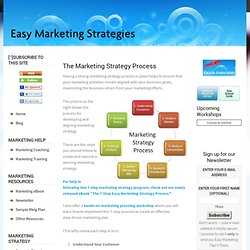 The picture on the right shows the process for developing and aligning marketing strategy. These are the steps you should follow to create and execute a winning marketing strategy. For help in following this 7-step marketing strategy program, check out our newly released eBook "The 7-Step Easy Marketing Strategy Process. " Marketing Plan - What is a Marketing Plan? Definition: A marketing plan is a business document written for the purpose of describing the current market position of a business and its marketing strategy for the period covered by the marketing plan.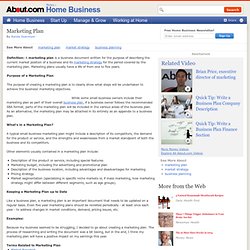 Marketing plans usually have a life of from one to five years. Purpose of a Marketing Plan The purpose of creating a marketing plan is to clearly show what steps will be undertaken to achieve the business' marketing objectives. How To Develop A Strategic Marketing Communications Plan. As Branding and marketing professionals, we have an in-depth understanding of the importance of a marketing plan.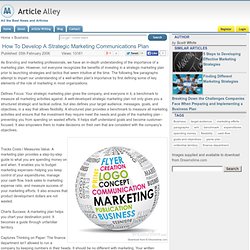 However, not everyone recognizes the benefits of investing in a strategic marketing plan prior to launching strategies and tactics that seem intuitive at the time. The following few paragraphs attempt to impart our understanding of a well-written plan's importance by first defining some of key elements of the role of marketing in most organizations. Defines Focus: Your strategic marketing plan gives the company, and everyone in it, a benchmark to measure all marketing activities against. A well-developed strategic marketing plan not only gives you a structured strategic and tactical outline, but also defines your target audience, messages, goals, and objectives, in a way that allows flexibility. What is Strategic Marketing Planning?
What is Strategic Marketing Planning?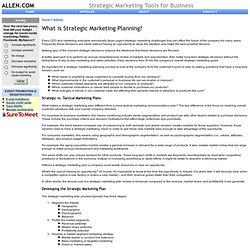 Every CEO and marketing executive periodically faces urgent strategic marketing challenges that can affect the future of the company for many years. Frequently these decisions are made without having an opportunity to study the situation and make the best possible decision. Making spur of the moment strategic decisions reduces the likelihood that these decisions are the best. A better approach is to perform an annual comprehensive review of markets and opportunities, then make long-term strategic decisions without the distractions of day-to-day marketing and sales activities. Glosario Interactivo |  B. Simon Sinek: How great leaders inspire action | Video on TED.com - StumbleUpon. Redalyc.uaemex.mx/redalyc/pdf/819/81915723022.pdf. Strategic planning. Strategic planning is an organization's process of defining its strategy, or direction, and making decisions on allocating its resources to pursue this strategy.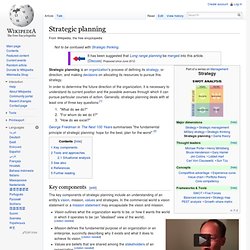 In order to determine the future direction of the organization, it is necessary to understand its current position and the possible avenues through which it can pursue particular courses of action. Generally, strategic planning deals with at least one of three key questions:[1] "What do we do? ""For whom do we do it? "" All About Strategic Planning. Simply put, strategic planning determines where an organization is going over the next year or more, how it's going to get there and how it'll know if it got there or not.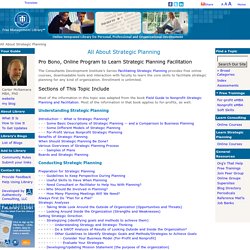 The focus of a strategic plan is usually on the entire organization, while the focus of a business plan is usually on a particular product, service or program. There are a variety of perspectives, models and approaches used in strategic planning. The way that a strategic plan is developed depends on the nature of the organization's leadership, culture of the organization, complexity of the organization's environment, size of the organization and expertise of planners. If you need more help, see our strategic planning services. Marketing strategy. Marketing strategy is defined by David Aaker as a process that can allow an organization to concentrate its resources on the optimal opportunities with the goals of increasing sales and achieving a sustainable competitive advantage.[1] Marketing strategy includes all basic and long-term activities in the field of marketing that deal with the analysis of the strategic initial situation of a company and the formulation, evaluation and selection of market-oriented strategies and therefore contribute to the goals of the company and its marketing objectives.[2] Developing a marketing strategy[edit] Marketing strategies serve as the fundamental underpinning of marketing plans designed to fill market needs and reach marketing objectives.[3] Plans and objectives are generally tested for measurable results.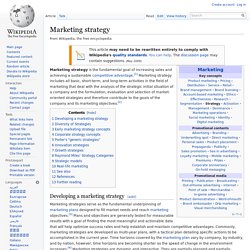 Commonly, marketing strategies are developed as multi-year plans, with a tactical plan detailing specific actions to be accomplished in the current year. Marketing plan. A marketing plan may be part of an overall business plan.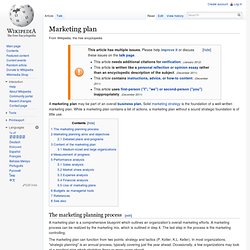 Solid marketing strategy is the foundation of a well-written marketing plan. While a marketing plan contains a list of actions, a marketing plan without a sound strategic foundation is of little use. The marketing planning process[edit]
---