WebDesign
e-artsup - ecole de multimedia - école de création numérique - école de graphisme
Graphiste créatif freelance. Création presse, pub, web, identité visuelle, photographie - Directrice artistique à Paris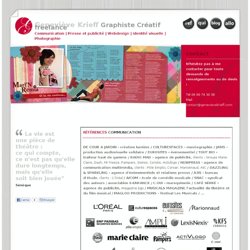 RÉFÉRENCES Communication DE COUR A JARDIN - création lumière / CULTURESPACES - muséographie / JARIS - production audiovisuelle solidaire / EUROSITES - événementiel / TOUT BIO - traiteur haut de gamme / RADIO MAD - agence de publicité, clients : Groupe Marie-Claire, Dash, Mr Freeze, Pampers, Seines, Coriolis, Activlogo / NEWPRESS - agence de communication multimédia, clients : Pôle Emploi, Corsair, Marionnaud, AIIC / DAZZLING & SPARKLING - agence d'événementiels et relations presse / A3IS - bureau d'étude , clients : L'Oréal / AICOM - école de comédie musicale / SNAC - syndicat des auteurs / association E-ENFANCE / C.OUI - maroquinerie / CAFÉ SÉRRÉ - agence de publicité, magazine Ego / MUSICALS MAGAZINE l'actualité du théâtre et du film musical / MAGLOO PRODUCTIONS - festival Les Musicals / ... SPECTACLE (depuis 2006) Montand (Théâtre Mogador), 1939 (de S. Métro et C.
Freelance Designers: Graphic Design | Web Designers | Photographers | Writers
Freelances Communication Marketing Graphistes | GlamFree | GLAM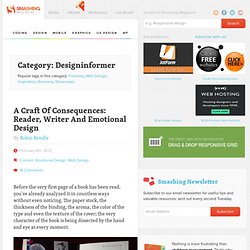 A Craft Of Consequences: Reader, Writer And Emotional Design Before the very first page of a book has been read, you've already analyzed it in countless ways without even noticing. The paper stock, the thickness of the binding, the aroma, the color of the type and even the texture of the cover; the very character of the book is being dissected by the hand and eye at every moment. In this brief second there is a dialogue between the reader and the object. This conversation is subtle and complex, but for most people it is entirely subconscious. This is because we rarely think about these things — we feel them instead.
HTML Email Template Design and Coding Service — EmailCraft.com
Best Practices Designing A Better Mobile Checkout Process A record number of shoppers are turning to their smartphones to research potential purchases . Meanwhile, the bigger question — are those same users willing to complete the purchases on their mobile device? — is quickly being answered.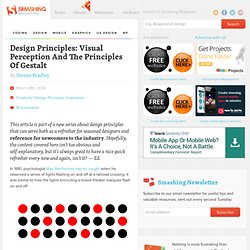 Smashing Magazine - Page 2
Graphiste freelance Paris Bordeaux et infographiste free-lance indépendant
Web Designers 123
Webdesigner Freelance / Indépendant - Flash designer - actionscript 2 et 3 - Typolight / Contao - Elgg
Webdesigner Freelance / Directeur Artistique Web / Infographiste Paris - design216 - Site Internet de Benjamin Laible