WebDesign
E-artsup - ecole de multimedia - école de création numérique - école de graphisme. ANGIE. Etapes.com | Le magazine du design graphique. La cuisine du graphiste. Freelance Designers: Graphic Design | Web Designers | Photographers | Writers. Freelances Communication Marketing Graphistes | GlamFree | GLAM. Design Informer - The Latest in Web and Graphic Design. A Craft Of Consequences: Reader, Writer And Emotional Design Before the very first page of a book has been read, you've already analyzed it in countless ways without even noticing.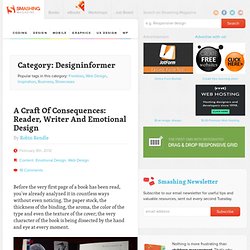 The paper stock, the thickness of the binding, the aroma, the color of the type and even the texture of the cover; the very character of the book is being dissected by the hand and eye at every moment. In this brief second there is a dialogue between the reader and the object. This conversation is subtle and complex, but for most people it is entirely subconscious. This is because we rarely think about these things — we feel them instead. Buy and Sell Graphic Design Templates | Download Templates | Inkd. HTML Email Template Design and Coding Service — EmailCraft.com. Smashing Magazine - Page 2. Design Principles: Visual Perception And The Principles Of Gestalt This article is part of a new series about design principles that can serve both as a refresher for seasoned designers and reference for newcomers to the industry.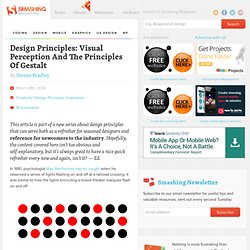 Hopefully, the content covered here isn't too obvious and self-explanatory, but it's always great to have a nice quick refresher every now and again, isn't it? — Ed. Find Freelance Jobs & Freelancers - iFreelance.com. Graphiste freelance Paris Bordeaux et infographiste free-lance indépendant. ScriptLance.com Custom Freelance Programming. Outsource web projects to programmers and designers. Freelancer.com is the world's largest freelancing, outsourcing, and crowdsourcing marketplace for small business.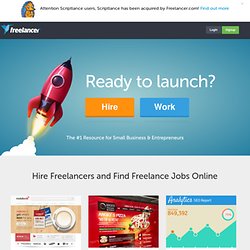 With over 10 million users, you can hire a freelancer to do your contract work at a fraction of the cost. Whether you need PHP developers, web designers, or content writers, you can outsource jobs within minutes. Browse through hundreds of skills including copywriting, data entry, and graphic design or more technical areas like coding HTML, programming MySQL, and designing CSS. Web Designers 123. Webdesigner Freelance / Indépendant - Flash designer - actionscript 2 et 3 - Typolight / Contao - Elgg. Webdesigner Freelance / Directeur Artistique Web / Infographiste Paris - design216 - Site Internet de Benjamin Laible.
---