Legal theory / philosophie du droit
Resources, thoughts and links compiling issues of jurisprudence - in it's ambivalent interpretations - legal theory, legal philosophy, "Rechtsphilosphie".
Anything discussing the essence, interpretation and evolution of norms or inquiring the social, political anthropological (and you name it) reasons and logic behind following or applying a rule - will have it's place here. Riggs v Palmer. Philo Riggs, as Guardian ad litem et al., Appellants,vElmer E.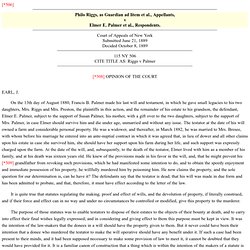 Palmer et al., Respondents. Court of Appeals of New York Submitted June 21, 1889 Decided October 8, 1889 115 NY 506 CITE TITLE AS: Riggs v Palmer On the 13th day of August 1880, Francis B. Legal Theory Lexicon. UCB Rhetoric - The central question for the philosophy of law is, What is law?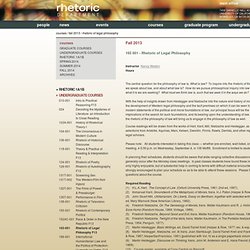 To inquire into the rhetoric of the philosophy of law is, then, to ask, How do we speak about law, and about what law is? How do we pursue philosophical inquiry into law ‑‑ and what can this pursuit reveal about what it is we are seeking? What must we think law is, such that we seek it in the ways we do? With the help of insights drawn from Heidegger and Nietzsche into the nature and history of moral and legal thought, we will examine both the development of Western legal philosophy and the tacit premises on which it can be seen to be conducted. In looking to classic and modern statements of the political and moral foundations of law, our principal focus will be the question of the source, nature and implications of the search for such foundations, and its bearing upon the understanding of law.
The Supreme Court . Expanding Civil Rights . Landmark Cases . Miranda v. Arizona (1966) A mug shot of Ernesto Miranda, whose wrongful conviction led to the landmark case Miranda v.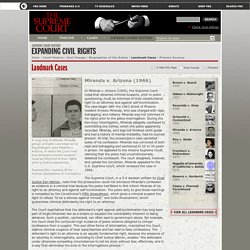 Arizona, in which the Court held that detained criminal suspects must be informed of their rights prior to police questioning. Reproduction courtesy of the Arizona Department of Corrections Miranda v. Legalism (Chinese philosophy) Legalism was a philosophy emphasizing strict obedience to the legal system.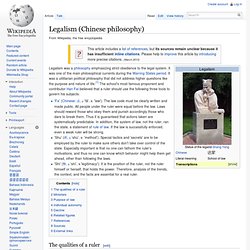 It was one of the main philosophical currents during the Warring States period. It was a utilitarian political philosophy that did not address higher questions like the purpose and nature of life.[1] The school's most famous proponent and contributor Han Fei believed that a ruler should use the following three tools to govern his subjects: Primarily members of the ruling class, the Legalists emphasized that the head of state was endowed with shi, the "mystery of authority", and as such his decisions must always command the respect and obedience of the people. The state (country) comes first, not the individual. Dr. Fozia Lone | International Law Observer | A blog dedicated to reports, commentary and the discussion of topical issues of international law.
Book Review: Noam Lubell, Extraterritorial Use of Force against Non-State Actors Book Review: Noam Lubell, Extraterritorial Use of Force against Non-State Actors (Oxford: OUP, 2010) ISBN 978-0-19-958484-0 Dr.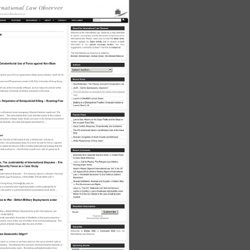 Fozia Nazir Lone (Assistant Professor and Programme Leader LLB, City University of Hong Kong, fnlone@cityu.edu.hk) Noam Lubell, Reader in the School of Law at the University of Essex, and an Adjunct Lecturer at the Irish Centre for Human Rights at the National University of Ireland, presents in this book … India Army Major Avtar Singh- Perpetrator of Extrajudicial Killing – Roaming Free in California. The Law In These Parts - שלטון החוק. Can a modern democracy impose a prolonged military occupation on another people while retaining its core democratic values?
Since Israel conquered the territories of the West Bank and Gaza Strip in the 1967 war, the military has imposed thousands of orders and laws, established military courts, sentenced hundreds of thousands of Palestinians, enabled half a million Israeli "settlers" to move to the Occupied Territories and developed a system of long-term jurisdiction by an occupying army that is unique in the entire world. The men entrusted with creating this new legal framework were the members of Israel's military legal corps. Translate. Archives - lesoir.be. Les assises se relèvent-elles?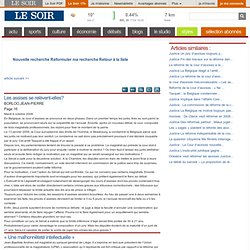 Page 16 Mardi 6 octobre 2009. (Belgian) Jury Trial System Counter to ECHR. The Court's judgment on Tuesday in the case of Taxquet v.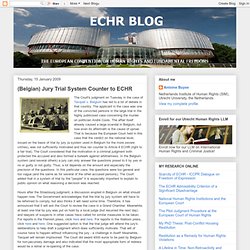 Belgium has led to a lot of debate in that country. The applicant in the case was one of the convicted persons in the large trial in the highly publicised case concerning the murder on politician André Cools. Digitalcommons.liberty.edu/cgi/viewcontent.cgi?article=1230&context=gov_fac_pubs. KarlJaspers: Die geistige Situation der Zeit | Feuilleton | DIE ZEIT Archiv | Ausgabe 24/1983. Aktualisiert 10.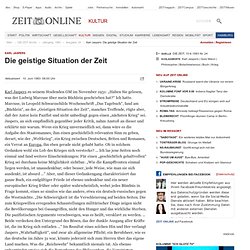 Juni 1983 08:00 Uhr Speichern Drucken. Karl Jaspers' vier Schuldbegriffe (1946) Karl Jaspers' vier Schuldbegriffe (1946) In seiner 1946 erschienenen Schrift "Die Schuldfrage" setzte sich der Heidelberger Philosoph Karl Jaspers ausführlich mit der Frage von Schuld und Verantwortung für die Verbrechen des Nationalsozialismus auseinander.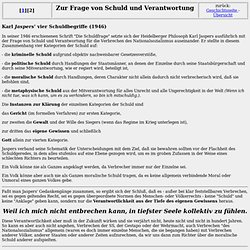 Er stellte in diesem Zusammenhang vier Kategorien der Schuld auf: - die kriminelle Schuld aufgrund objektiv nachweisbarer Gesetzesverstöße, Critical legal theory. Critical legal studies (CLS) is a theory that challenges and overturns accepted norms and standards in legal theory and practice. Proponents of this theory believe that logic and structure attributed to the law grow out of the power relationships of the society. The law exists to support the interests of the party or class that forms it and is merely a collection of beliefs and prejudices that legitimize the injustices of society. The wealthy and the powerful use the law as an instrument for oppression in order to maintain their place in hierarchy.
The basic idea of CLS is that the law is politics and it is not neutral or value free. Www.ucl.ac.uk/laws/jurisprudence/llm-01/docs0607/LLM01_syllabus.pdf. Www.ucl.ac.uk/laws/jurisprudence/docs/2012/2012_cecile_laborde.pdf. Lptforum.wordpress.com. Law, Philosophy of  Philosophy of law (or legal philosophy) is concerned with providing a general philosophical analysis of law and legal institutions. Issues in the field range from abstract conceptual questions about the nature of law and legal systems to normative questions about the relationship between law and morality and the justification for various legal institutions. Topics in legal philosophy tend to be more abstract than related topics in political philosophy and applied ethics. UCB Rhetoric - UCB Rhetoric - Spring 2012. Understanding law as a matter of language requires attending to the ways that law hears and is heard.
Exploring the hearing of law leads into issues of experience and temporality to which speech act "theory" gives short shrift. Such a turn reorients both current models of legal positivism and contemporary representations of impartial justice which overemphasize issues of blindness and sight. As the readings of this seminar show, the turn to hearing also allows one to negotiate the materiality of the human condition while taking history seriously. Leiter on Dworkin on "Justice for Hedgehogs" Brian Leiter (University of Chicago) has posted The Empire Strikes Back: Errors and Mistakes in "Justice for Hedgehogs" on SSRN. Here is the abstract: In "The End of Empire: Dworkin and Jurisprudence in the 21st Century," I demonstrated that the seven most distinctive Dworkinian theses about the nature of law and adjudication have been extensively and decisively criticized over the past three decades, so much so that Dworkin himself has abandoned several of them.
Dworkin has now responded to my essay in a new monograph, "Justice for Hedgehogs. " In this short paper, I demonstrate that "Justice for Hedgehogs" fails to redeem any of the seven major Dworkinian theses. In many cases, Dworkin abandons his prior arguments for his distinctive claims, substituting new, but much weaker arguments, for prior positions that, while demonstrably false, at least had the virtue of some philosophical interest. Justice for Hedgehogs | Further comments by Ronald Dworkin. Justice: What's The Right Thing To Do? Episode 01 "THE MORAL SIDE OF MURDER". JEAN-MARC TRIGEAUD. Collections I.
---