Sides
Garlic Knots Most of my early food memories had to do with all the garlic dishes that my grandmother made. Preschool-me was so fascinated by the fact that Grandma smelled like garlic 24/7 and I was always so amazed that something so small could create so much flavor. My grandmother's native Shangdong province uses a lot of garlic in their cooking so it wasn't surprising to see my mom or my grandmother use up an entire bulb of garlic for a small dinner. Loving garlic is in my blood.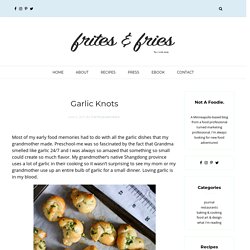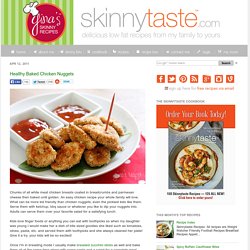 Chunks of all white meat chicken breasts coated in breadcrumbs and parmesan cheese then baked until golden. An easy chicken recipe your whole family will love. What can be more kid friendly than chicken nuggets, even the pickiest kids like them.
Roasted Root Vegetables - RTÉ.ie Food
Its looking like we cant find the page your looking for You may have followed a broken link, an outdated search result, or there may be an error on our site. If you typed in a URL, please make sure you have typed it in correctly.
Its looking like we cant find the page your looking for You may have followed a broken link, an outdated search result, or there may be an error on our site. If you typed in a URL, please make sure you have typed it in correctly. In particular, make sure that the URL you typed is all in lower case. Use your RTE ID to Join Upload your style photos Create and save recipies Review, comment and join group Have your say on our forums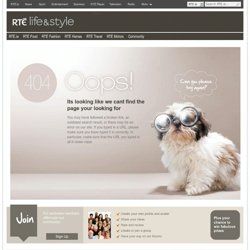 Chilli Sprouts with Sesame Oil - RTÉ.ie Food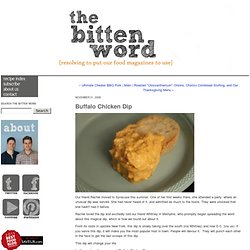 The Bitten Word: Buffalo Chicken Dip
Our friend Rachel moved to Syracuse this summer. One of her first weeks there, she attended a party where an unusual dip was served. She had never heard of it, and admitted as much to the hosts. They were shocked that she hadn't had it before. Rachel loved the dip and excitedly told our friend Whitney in Memphis, who promptly began spreading the word about this magical dip, which is how we found out about it. From its roots in upstate New York, this dip is slowly taking over the south (via Whitney) and now D.C.
I like the simple things in life. Simple ingredients, simple techniques, maximum flavor. But I guess you know that by now. Especially when you hand me a recipe that doubles as an appetizer or side dish, you just reel me in.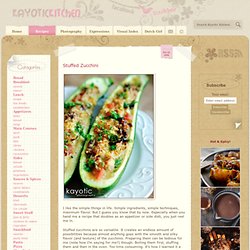 I don't think I can remember a time when some form of spinach artichoke dip didn't appear on every restaurant menu. It seems to have become a standard American pre-meal munchie, a quintessential appetizer. Not that I mind. Who doesn't love the thought of eating something healthy (spinach and artichokes) wrapped in mounds of cheese, butter and heavy cream?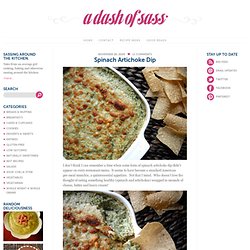 Spinach Artichoke Dip | A Dash of Sass
Place the garlic in a small dish (or custard cup). Add enough water to just cover the garlic (about 3 tablespoons). Cover the dish with plastic wrap and microwave for 1 minute at full power; discard water. When cool enough to handle, squeeze the garlic into the food processor.
Spiced Red-Pepper Hummus
Spinach Dip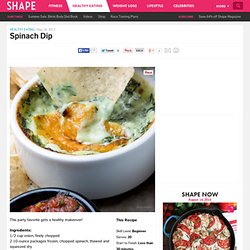 Lightly coat a skillet with cooking spray. Cook and stir onion over medium heat until transparent (about 5 minutes). Add spinach. Cook until thoroughly heated (about 1-2 minutes). Reduce heat; add cream cheese.
The GOOD Lunch: Morrocan Roasted Carrot Chickpea Quinoa Salad - Lifestyle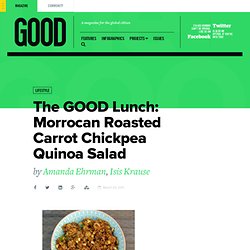 Today's GOOD Lunch salad was prepared by Carla Fernandez and was inspired by Closet Cooking (tagline: "Cooking in a Closet-Sized Kitchen"). Moroccan Roasted Carrot Chickpea Quinoa Salad Ingredients : Makes 10 servings • 8 large carrots, cut into thin slices • 3 tablespoons olive oil • 2 teaspoons each of paprika, turmeric, cumin, cinnamon, black pepper, and salt (or any combination thereof) • 2 cups red quinoa • 4 cups water or vegetable broth • 2 cups canned chickpeas (drain first!)
Today's GOOD Lunch soup was prepared by Amanda Ehrman and inspired by Smitten Kitchen's Black Bean Soup . Black Bean Soup The Ingredients : Makes 8 servings 2 tablespoons olive oil 2 medium-sized red onions, chopped (I used a food processor) 2 medium-sized bell peppers, any color, chopped 4 garlic cloves, minced 4 teaspoons ground cumin 6 15-oz cans of black beans 3 jalapeño peppers, chopped 5 cups hot water (I just used very hot tap water) 2 tablespoons fresh lime juice 2-3 teaspoons coarse kosher salt Ground black pepper to taste Avocado, shredded cheese, and sour cream to top!
The GOOD Lunch: Black Bean Soup - Lifestyle
Whenever my husband sees that I'm cooking quinoa, his eyes light up and he asks if I'm making "The Salad." It's our favorite quinoa dish, but for a while I made it only on special occasions because I couldn't figure out how to make it without using olive oil. I was just afraid that it wouldn't be as tasty–and who can stand to see a favorite dish diminished?
International Quinoa Salad
Roasted Butternut Squash Recipe
One of my favorite Fall ingredients is butternut squash. It's incredibly versatile and lends an autumnal, pumpkin-ish flavor to everything from salad to soup to macaroni and cheese . Unlike the seasonal produce of Summer, many cold-weather vegetables can not be enjoyed raw. However, once you know the simple steps to roasting butternut squash you can put it to use in just about anything.
7 Red Bliss potatoes (skin on and quartered) 3-4 tablespoons extra virgin olive oil 1/2 teaspoon salt (or to taste) 1 teaspoon freshly ground black pepper 2 teaspoons garlic powder or 3 cloves fresh garlic (finely minced) 2 teaspoons dried rosemary or 2-3 sprigs of fresh rosemary (stem removed) Preheat oven to 350°F. Quarter potatoes with the skin on and place in a medium sized mixing bowl. Add olive oil, salt, pepper, garlic and rosemary and toss in bowl until evenly coated. Transfer seasoned potatoes to a nonstick baking dish or a baking sheet covered with aluminum foil. Place in oven for about 30-35 minutes or until golden brown and tender.. then ENJOY!
Rosemary-Garlic Roasted Red Potatoes