MEGAUPLOAD
MegaRetrieval. Megaupload: A Lot Less Guilty Than You Think. The recent Department of Justice decision to indict Megaupload for copyright infringement and related offenses raises some very thorny questions from a criminal law perspective.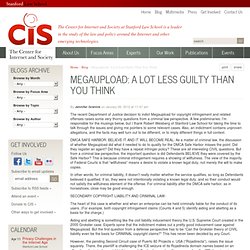 A few preliminaries: I'm responsible for the musings below, but I thank Robert Weisberg of Stanford Law School for taking the time to talk through the issues and giving me pointers to some relevant cases. Also, an indictment contains unproven allegations, and the facts may well turn out to be different, or to imply different things in full context. DMCA SAFE HARBOR: BELIEVE IT AND IT WILL BECOME REAL: As a matter of criminal law, the discussion of whether Megaupload did what it needed to do to qualify for the DMCA Safe Harbor misses the point. Did they register an agent? Did they have a repeat infringer policy? MegaUpload Alternatives See Surge in Traffic After Shutdown. After losing access to their favorite file-hosting service last week, millions of former MegaUpload users have fled to the many alternatives available.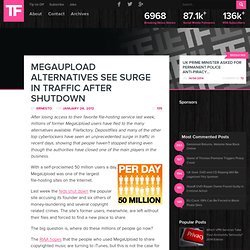 Filefactory, Depositfiles and many of the other top cyberlockers have seen an unprecedented surge in traffic in recent days, showing that people haven't stopped sharing even though the authorities have closed one of the main players in the business. With a self-proclaimed 50 million users a day, MegaUpload was one of the largest file-hosting sites on the Internet. Pixelart-wolrd-war-web.png (834×501) Les données hébergées sur Megaupload effacées ce jeudi ? Certains vont sans doute stresser à la lecture de ce qui suit : selon d'insistantes rumeurs, l'intégralité des données hébergées sur Megaupload, ou plutôt, sur ce qu'il en reste, auraient de grandes chances de se voir effacer de manière définitive ce jeudi.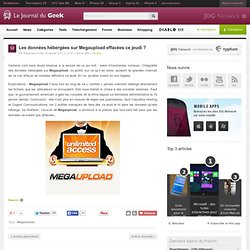 Et ce, qu'elles soient ou non légales. Explications : Megaupload n'aura tout au long de sa « carrière » jamais vraiment hébergé directement les fichiers que les utilisateurs lui envoyaient. Elle sous-traitait la chose à des sociétés externes. Sauf que, le gouvernement américain a gelé les comptes de la firme depuis sa fermeture administrative le 19 janvier dernier. Conclusion : elle n'est plus en mesure de règler ses prestataires, dont Carpathia Hosting et Cogent Communications, les 2 entités menaçant de faire dès ce jeudi le tri dans les données qu'elle héberge. We live in a fucked up world. via reddit.com.
---