Personality
Free Basic Hand Writing Analysis Course from Handwriting Insights 5 Minute Handwriting Analysis Kit Reveals Personality Test Traits Inventory. Free Basic Handwriting Analysis Course Take this course and you will learn basic handwriting analysis principles and three writing traits: Size, Slant, and Baseline.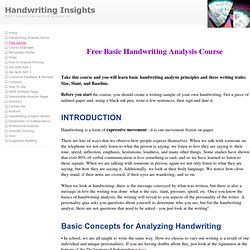 Before you start the course, you should create a writing sample of your own handwriting. PersonalDNA | Your True Self Revealed - Fast Fun Free Personality Tests. Personality Quiz. Personality Tests. Index of free personality tests and intelligence tests.
PersonalityLab - Online Personality Tests. Free Personality Test by LearnMyself. Test color : free of charge personality test. Personality Test - 41 Questions. 1 Personality. 100% Free. The REAL Personality Types Made Relevant.
---