Pilysole
pilar
Jackson Pollock by Miltos Manetas, original design by Stamen, press any key to s. Catalog of girly 25 t-shirts. Unique, cool and funny tees. Browsing graphic. Inicio. AutoLiniers. El titular de los datos personales tiene la facultad de ejercer el derecho de acceso a los mismos en forma gratuita a intervalos no inferiores a seis meses, salvo que se acredite un interés legítimo al efecto conforme lo establecido en el artículo 14, inciso 3 de la Ley N° 25.326.La DIRECCION NACIONAL DE PROTECCION DE DATOS PERSONALES, Órgano de Control de la Ley N° 25.326, tiene la atribución de atender las denuncias y reclamos que se interpongan con relación al incumplimiento de las normas sobre protección de datos personales.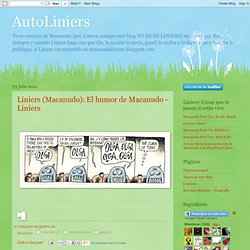 Copyright 2010 SA LA NACION | Todos los derechos reservados. BranchOut on Facebook. Tutorial: Homemade Sidewalk Chalk | oh my! handmade goodness - StumbleUpon. By Michelle Vackar, Modern Handmade Child One of our favorite outside activities at our home is drawing with chalk on the driveway.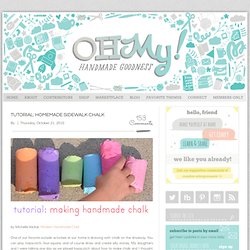 You can play hopscotch, four-square, and of course draw and create silly stories. My daughters and I were talking one day as we played hopscotch about how to make chalk and I thought to myself, let's try it! It ended up being quite a lot of fun. What you will need: • Toilet paper or paper towel tubes • Scissors • Duct tape • Wax paper • Small bucket or disposable container to make the recipe • ¾ cup of warm water • 1 ½ cups Plaster of Paris • 2-3 tablespoons of tempera paint • Paper bag or a "mess mat" This to That (Glue Advice) - StumbleUpon.
When They Were Young. In a Perfect World… | SadAndUseless.com.
Music
The Technique Zone: Acrylic Paint Transfer - StumbleUpon. Supplies needed: Acrylic dabbers, photocopy of an image, water spritzer bottle, paintbrush, card stock, craft sheet and heat tool (optional) Take the lid off the dabbers and brush the paint onto the card stock, ensure you get a good coverage Take your photocopied image ( remember that you will get a reverse of the image, so don't use bold words), flip it over and place it in the acrylic.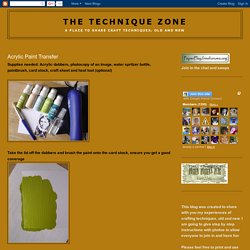 Lightly press it down making sure it's smooth and not wrinkled Leave to air dry for at least 15 minutes and then if you wish give it a blast with the heat tool. StumbleUpon.
Pearltrees videos
Getting started.
---