Language
What's new? Alphabets and other writing systems Writing & Speech | Types of writing systems | Abjads | Alphabets | Alphasyllabaries | Syllabaries | Semanto-phonetic scripts | Undeciphered scripts | Alternative scripts | A-Z index | Direction index Languages Language learning advice | Articles | Celtic languages | Chinese | French | A-Z index | Index by writing system | Videos | Learn Hebrew online Multilingual pages Phrases | Numbers | Colours | Time expressions | Kinship terms | Language names | Country names | Idioms | Proverbs | Tongue twisters | Signs | UDHR | Tower of Babel | Songs
« previous post | next post » Those familiar with our history of "No word for X" posts will appreciate Haider Ala Hamoudi's essay "The Dangers of Pop Linguistics: Arab Bluffs and Arab Compromise", posted at Islamic Law in Our Times, 3/6/2012. Some useful background is provided by Geoff Nunberg's Fresh Air commentary "Meetings of the minds", 5/29/2003, which discusses the original claim that Arabic has no word for compromise.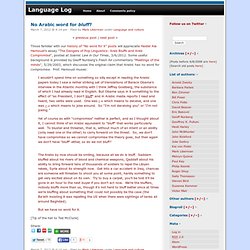 No Arabic word for bluff?
Frequency lists/Turkish
Manisa Turkish - Learn Turkish free - online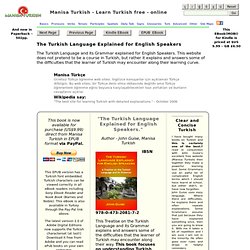 This EBook(MOBI) for Kindle is priced at $US 9.99 – GB £6.50 And now in Paperback – 502pp. The Turkish Language and its Grammar explained for English Speakers. This website does not pretend to be a course in Turkish, but rather it explains and answers some of the difficulties that the learner of Turkish may encounter along their learning curve.