Réseaux sociaux universitaires
The power of networks for social change | Public | Public. Before setting out to change the world, politicians should first of all look at how to interpret it correctly - says a leading UK economist.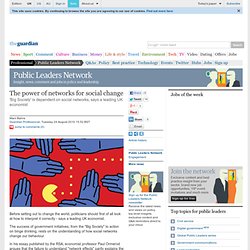 The success of government initiatives, from the "Big Society" to action on binge drinking, rests on the understanding of how social networks change our behaviour. In his essay published by the RSA, economist professor Paul Ormerod argues that the failure to understand "network effects" partly explains the economic crisis and ineffectiveness of policies in delivering change. N squared - Public policy and the power of networks follows on from the governments's new research into so-called 'nudge' based policies from its behavioural insight team.
It addresses how many implemented policies ignore networks - resulting in misleading results. BallState_SocialMediaPolicy. Manuel Canévet (directeur associé de l'agence Campus Communication) : « Les réseaux sociaux peuvent aider, enfin, à créer un sentiment d'appartenance à un établissement » Propos recueillis par Virginie Plaut | Publié le , mis à jour le Où en sont les établissements d'enseignement supérieur avec les réseaux sociaux ?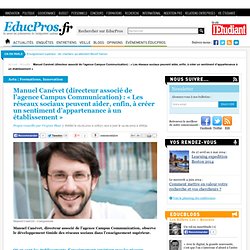 Nous ne sommes pas encore au stade de la maturité. Il y a beaucoup d'établissements volontaires, notamment l'UPMC, l'université d'Avignon, l'EM Strasbourg, l'EM Rennes ou encore les Mines ParisTech. Tarek Moutawakkil (fondateur de Yupeek) : "Notre réseau social permettra aux écoles de suivre en temps réel l'employabilité de leurs jeunes diplômés" Actu | Relations entreprises Propos recueillis par Sandrine Chesnel | Publié le , mis à jour le Qu'est-ce que Yupeek.fr ?