Data journalisme
Données publiques sur les réseaux sociaux Les données sont précieuses. L'accès aux données a le pouvoir d'apporter des réponses et de provoquer des réactions.
Données publiques sur les réseaux sociaux - Guide du datajournalisme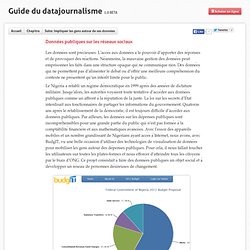 Bienvenue - Guide du datajournalisme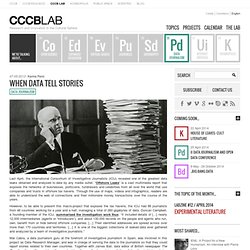 When Data Tell Stories
Last April, the International Consortium of Investigative Journalists (ICIJ) revealed one of the greatest data leaks obtained and analysed to date by any media outlet. "Offshore Leaks" is a vast multimedia report that exposes the networks of businesses, politicians, fundraisers and celebrities from all over the world that use companies and trusts in offshore tax havens. Through the use of maps, videos and infographics, readers are able to understand the web of connections and their millionaire money transactions over the course of the years. However, to be able to present this macro-project that exposes the tax havens, the ICIJ had 86 journalists from 46 countries working for a year and a half, managing a total of 260 gigabytes of data.
List of data journalism tools | Jerry Vermanen
Journalism, code and data
Welcome - The Data Journalism Handbook
Une expérimentation de data journalisme, ou journalisme de données, vient d'être lancée au sein de l' Institut de journalisme de Bordeaux Aquitaine . L'opération, conçue et coordonnée par l'IJBA et AEC, doit durer trois mois.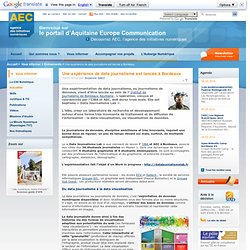 Une expérience de data journalisme est lancée à Bordeaux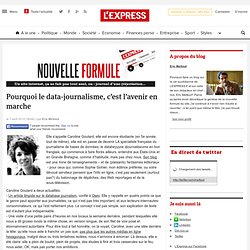 Pourquoi le data-journalisme, c'est l'avenir en marche | Nouvelle formule
Elle s'appelle Caroline Goulard, elle est encore étudiante (en 5e année, tout de même), elle est en passe de devenir LA spécialiste française du journalisme de bases de données, le databeyyyse djournaliseume en bon franglais, qui commence à faire florès ailleurs, entendre aux Etats-Unis et en Grande Bretagne, comme d'habitude, mais pas chez nous.
datajournalismelab
WeDoData @ "Datajournalisme" @ Etalab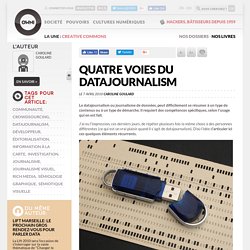 Le datajournalism ou journalisme de données, peut difficilement se résumer à un type de contenus ou à un type de démarche.
Quatre voies du datajournalism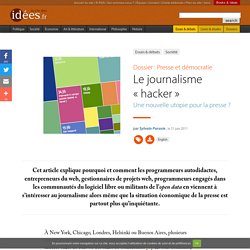 À New York, Chicago, Londres, Helsinki ou Buenos Aires, plusieurs centaines de personnes se rencontrent régulièrement, souvent dans des arrières salles de bars ou des salles de conférences [1].
Le journalisme « hacker »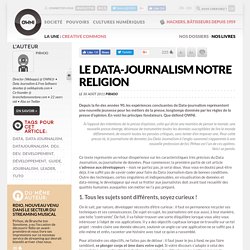 Le Datajournalisme notre religion
Depuis la fin des années 90, les expériences concluantes de Data-journalism représentent une nouvelle jeunesse pour les métiers de la presse, longtemps dominée par les règles de la presse d'opinion. En voici les principes fondateurs. Que défend OWNI.
7 études de cas en data journalism et visualisation de données «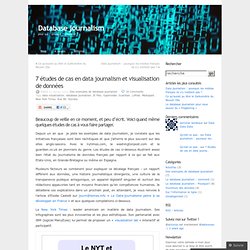 Beaucoup de veille en ce moment, et peu d'écrit. Voici quand même quelques études de cas à vous faire partager. Depuis un an que je piste les exemples de data journalism, je constate que les initiatives françaises sont bien rachitiques et que j'atterris le plus souvent sur des sites anglo-saxons.
Data journalism for beginners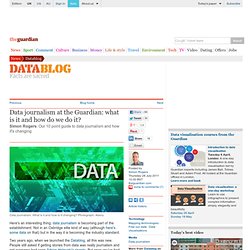 Here's an interesting thing: data journalism is becoming part of the establishment. Not in an Oxbridge elite kind of way (although here's some data on that) but in the way it is becoming the industry standard. Two years ago, when we launched the Datablog, all this was new. People still asked if getting stories from data was really journalism and not everyone had seen Adrian Holovaty's riposte.
Data journalism at the Guardian: what is it and how do we do it? | News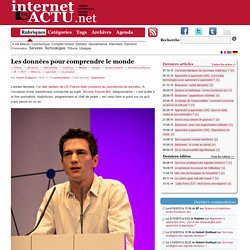 Les données pour comprendre le monde
Par Hubert Guillaud le 19/07/11 | 3 commentaires | 2,793 lectures | Impression
I've been working for some time on picking apart the many processes which make up what we call data journalism.
The inverted pyramid of data journalism