Analyse
Jusqu'où va la démocratie sur Internet ? Interview de Dominique Cardon. Dominique Cardon, chercheur au laboratoire des usages de France Télécom R&D, a publié La Démocratie Internet.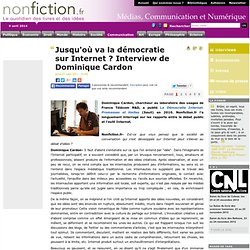 Promesses et limites (Seuil) en 2010. Nonfiction.fr l'a longuement interrogé sur les rapports entre le débat public et l'outil Internet. Nonfiction.fr- Est-ce que vous pensez que la société de conversation qui s'est développée sur Internet peut s'élever au débat d'idées ? La décision par consensus apparent. Nature et propriétés. Hype Cycle Research Methodology. Interpreting Technology Hype When new technologies make bold promises, how do you discern the hype from what's commercially viable?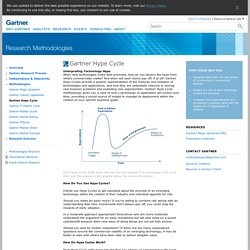 And when will such claims pay off, if at all? Gartner Hype Cycles provide a graphic representation of the maturity and adoption of technologies and applications, and how they are potentially relevant to solving real business problems and exploiting new opportunities. Gartner Hype Cycle methodology gives you a view of how a technology or application will evolve over time, providing a sound source of insight to manage its deployment within the context of your specific business goals. Qu'est-ce qui est hype en 2010 et qu'est-ce qui ne l'est plus. Comme chaque année, l'institut Gartner publie son Hype Cycle.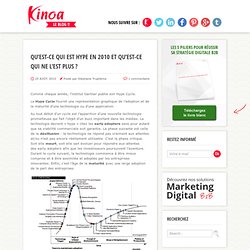 Le Hype Cycle fournit une représentation graphique de l'adoption et de la maturité d'une technologie ou d'une application. Au tout début d'un cycle est l'apparition d'une nouvelle technologie prometteuse qui fait l'objet d'un buzz important dans les médias. La technologie devient « hype » chez les early adopters sans pour autant que sa viabilité commerciale soit garantie. La phase suivante est celle de la désillusion : la technologie ne répond pas vraiment aux attentes et/ou n'est pas encore réellement utilisable. C'est la phase critique.
---