Microblog
Dans le guide démarrage rapide que vous pouvez télécharger sur ce blog (http://www.guide-twitter.com), je parle de manière assez succincte des Hashtags alors nous allons les observer plus en détail. Les bases : qu'est-ce que c'est ? Un hashtag est un moyen de regrouper les tweets qui parlent d'un même sujet donné. Il permet donc de classer certaines informations pour les retrouver et les suivre plus facilement.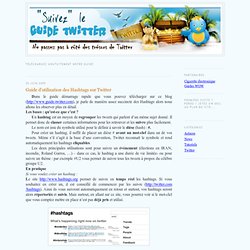 Twemes.com is Shutting Down In January 2008 a weekend experiment with hashtags turned into Twemes.com. While it was a side project, we upgraded and maintained it over the years but it has languished for quite some time and we have decided to shut it down.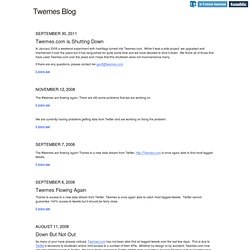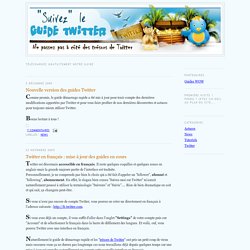 Twitter s'est doté d'une nouvelle fonction dans son interface : la gestion des listes. Vous pouvez y accéder depuis la page de votre profil. Pour en créer une, c'est très simple (comme d'habitude), il vous suffit de cliquer sur « Nouvelle liste », de donner un nom à votre liste et de décider si vous souhaitez rendre cette liste publique ou non.