Drugs
The Good Drugs Guide - Honest Drug Information on Use and Treatment. Retreats.
Experience Reports
Psychedelic Medicine News » Blog Archive » Two new scientific studies reveal hallucinogens are good for your mental health. LSD and ketamine, two powerful hallucinogens, are also potential cures for depression, OCD, and anxiety.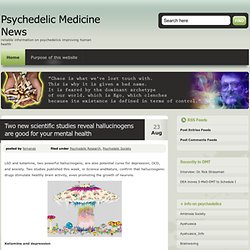 Two studies published this week, in Science andNature, confirm that hallucinogenic drugs stimulate healthy brain activity, even promoting the growth of neurons. Ketamine and depression. Lycæum - Entheogenic Database & Community.
---