Webcomics: Alternate Victorian
The Phoenix Requiem. Gunnerkrigg Court. The Watcher of Yaathagggu - Updates Mondays. Happy Halloween!
I know I've been updating here, so I thought I'd give you guys a Halloween treat! Click here to download the special Halloween wallpaper! Comic Update: I've been working on redoing Chapter 10! It seems a number of you got lost, so I wanted to make things a bit clear writing-wise. Life Update: My house is officially less pink! The Becoming - A Gothic Steampunk Fantasy Graphic Novel. Girl Genius Online Comics! Girl Genius is written by Professors Phil & Kaja Foglio of TPU, with drawings by Prof.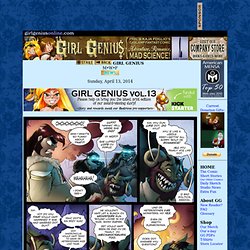 P. Foglio. Volume One was inked by Brian Snoddy.
---