Webcomics: Alternate Victorian
Happy Halloween! I know I've been updating here, so I thought I'd give you guys a Halloween treat! Click here to download the special Halloween wallpaper! Comic Update: I've been working on redoing Chapter 10! It seems a number of you got lost, so I wanted to make things a bit clear writing-wise. Life Update: My house is officially less pink!
The Watcher of Yaathagggu - Updates Mondays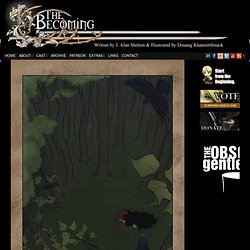 The Becoming - A Gothic Steampunk Fantasy Graphic Novel
Okay, right off the bat, let's get this out of the way since it's what you're all wondering: Chapter 6 will resume updating February 10th and will continue to do so every week until it's conclusion in March. Yay! At that point, however, we'll be taking another break throughout April and then return in May with a new story, 'The Paladin', that will give a different perspective on a few things, set up where we're going and help us segue into some big changes coming in 2015. In a bit more detail: February through March will see us finish off the first volume of The Becoming. Or rather, the rough cut of volume 1.
Girl Genius is written by Professors Phil & Kaja Foglio of TPU, with drawings by Prof. P. Foglio. Volume One was inked by Brian Snoddy.