Webcomics: Adult Theme/Humor
ATLAND By Nate Piekos
I went to the Ottawa Pop Expo last weekend, figuring I'd get a small dose of geekness and check out the guests, cosplayers and attend a few panels. There were a number of apparently famous Montreal cosplaying beauties walking around the con (girls like Bianca Beauchamp, Ariane St-Amour, Marie-Claude Bourbonnais, etc.), but I didn't expect to run into one of my fantasy pin-up girls: Jenny Poussin herself. I'm not sure if she was dressed as a character from a particular show, but she was wearing a small (undersized!)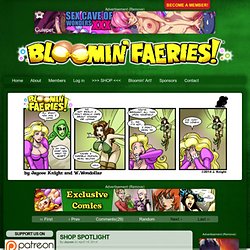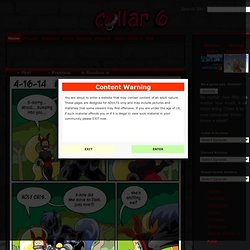 On an unrelated note, I did a series of sketches of Sixx having fun with various partners I thought you all might enjoy : Well folks, as you probably noticed, there's no new comic up for Friday. For the first time since I started this comic way back when, I'm going to have to take a sick day. I woke up this morning very sick, very nauseous, and vomitting up my carpet something bad.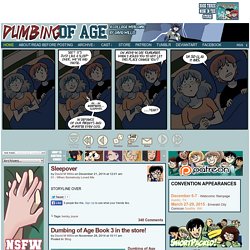 It's not strictly Dumbiverse (and by "strictly" I mean "not at all"), but Walky Performs a Sex is being followed up by another sexytimes story set in my Vintage Webcomics Universe, the Walkyverse, by way of Shortpacked!. "My Lesbian" or "Once We Hit 88mph We're Going to See Some Serious [blank]" features (SPOILERS???) soon-to-be-wed couple Leslie and Robin DeSanto, whose Dumbing of Age doppelgangers are our favorite gender studies teacher and Roz's congresswoman sister. It's sixteen pages and it's going live at midnight the morning of Valentine's Day on Slipshine.
Menage a 3
Walking the Lethe
As much as I hate leaving Walking the Lethe there, that's where the story will have to rest for now as I have no more pages to post. Thank you all for reading this story and your support. I feel very guilty about ending this story, but I still feel it's the right thing to do for both myself and my family. I've learned so much writing WtL that I want the time to apply those lessons to other projects. I'd also like to extend a special thanks to Adwarr, who has been a wonderful artist on this project.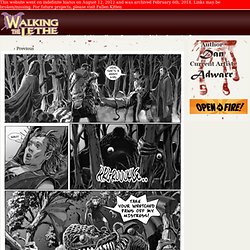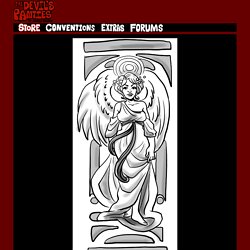 In the online, screw meat-space spirit of ComfyCon, I'm happy to announce that The Devil's Panties volumes 1-7 are now available for download. Now you can enjoy the entire collection of graphic novels on whatever bleep-bloop you have handy! If you've never read the graphic novels, there are a ton of goodies that were never posted online, along with lots of polish and editing.
Day by Day Cartoon by Chris Muir
Conventions and other Horror Stories June 28, 2013 Holy crap, the year's half over. I better get back to making blos, huh?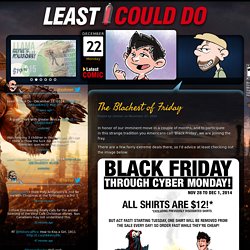 Posted by sohmer on January 7, 2014 It's safe to say that I have somewhat more than a passing interest in the 'Interwebs', especially when it comes to viewing habits. Over the last decade, I've seen a great deal of ridiculous shite capture people's attention for brief moments, only to be eclipsed and forgotten when the next thing comes along. It's only recently that the culmination of all this aforementioned shite has combined and formed something new, something terrifiying. It's as if Youtube, Twitter, Facebook, TMZ and Gawker were all pieces of Voltron. And together;