Fiber
Yarnshop « Insubordiknit
Let It Rain Yarn, Mukilteo WA 98275 -- MerchantCircle.com
You are going to love this new bag! It is classy and gorgeous. It can easily accommodate all your purse essentials, knitting tools, and a bulky knitting project! Look for it in the Tools and Accessories category and be sure to watch the video link to see all the features in action! What a great holiday gift this will make for someone you love! On the 1st and 3rd Wednesday of every month we will keep the shop open until 8:00 pm and invite you to come, sit, knit or crochet, and relax with us.
Great Yarns (Everett, WA)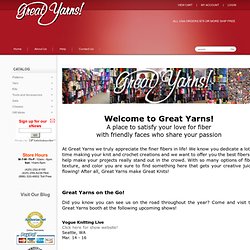 Home
Stitch Nation by Debbie Stoller 100% Natural 100% Affordable Yarn
Faroe Island Wool Yarn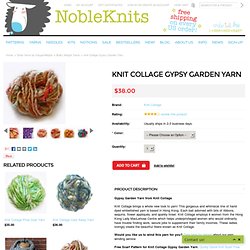 Gypsy Garden Yarn from Knit Collage Knit Collage brings a whole new look to yarn! This gorgeous and whimsical line of hand dyed embellished yarn is based in Hong Kong. Each ball adorned with bits of ribbons, sequins, flower appliqués, and sparkly tinsel. Knit Collage employs 4 women from the Hong Kong Lady MacLehose Centre which helps underprivileged women who would ordinarily have trouble finding work, secure jobs to supplement their family incomes.
Knit Collage Gypsy Garden Embellished Yarn