AJAX
AJAX Tutorial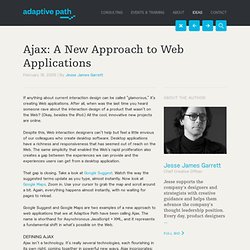 If anything about current interaction design can be called "glamorous," it's creating Web applications. After all, when was the last time you heard someone rave about the interaction design of a product that wasn't on the Web? (Okay, besides the iPod.) All the cool, innovative new projects are online.
AJAX/Dynamic Content and Interactive Forms in Joomla! | Packt Pu
Share this page via Facebook, Twitter or LinkedIn. Your message has been sent. How would you like to send this article: Save this article to your account for easy access.