Rendu blender
▶ Blender 2.69 - Animating a Curve and Depth of Field Focus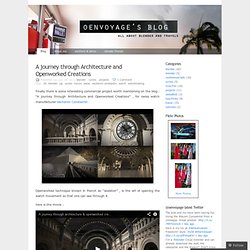 Oenvoyage de Blender Blog
Hello mouse lovers! Today's blogpost is one about a lovely clever animal: the mouse. And especially about one called Spike. He is the hero of our 3d movie that we produced during our sparetime this summer.
Tutorials | Creativity Hunter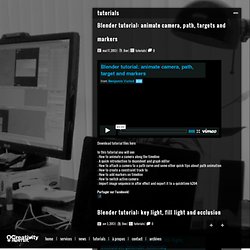 L'intégration 3D dans une image 2D est fondamentale pour obtenir une bonne image, rien de pire qu'une belle modélisation et un beau rendu mal insérer dans une photo, ça gâche tout et on remarque le « fake » tout de suite. Télécharger les fichiers du tutorial ici Voici le premier cas d'une série de tutorial destiné à l'intégration d'éléments 3D dans des décors photo. Dans ce tutorial vous apprendrez à: Analyser une image et sa construction (point de fuite, lignes de force)Intégrer une image en backgroundUtiliser tout les paramètres caméra permettant de se calquer sur le cadrage de l'imageIlluminer la scène correctementParamétrer les matériaux
Transparent shadows for glass in cycles render
In this quick tutorial I will describe how we are using group instances, in a way to decrease our poly count. For this example we are going to use a table model as shown below: Original Model: At this point the table has 125k poly's which is too many for our purpose (which is just one half or the table). When this table was created, only one half of it was modeled and the mirror modifier was applied to it to project the other half. Since we applied the mirror modifier we have doubled the poly count and it's all calculated when we render.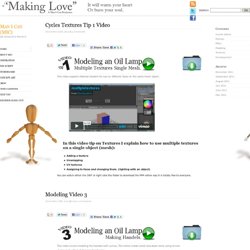 Man I Can (MIC) »3D Man Projet d'animation I Can (MIC)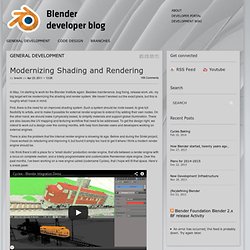 In May, I'm starting to work for the Blender Institute again. Besides maintenance, bug fixing, release work, etc, my big target will be modernizing the shading and render system. We haven't worked out the exact plans, but this is roughly what I have in mind:
Modernizing Shading and Rendering | Blender Code
Bienvenue dans le monde Chris!Blender »CG 3D
I used blender 2.49a and this java project(http://sites.google.com/site/gfcaprojects/openstereogram). With these tools you too can trick people into staring at a bunch of dots. I'm just going to give you the gist for now. Stereograms need to be somewhat simple to be effective so when you're modeling your scene think simple big shapes and use depth with strong foreground and background elements. We are aiming to obtain something called a depth map.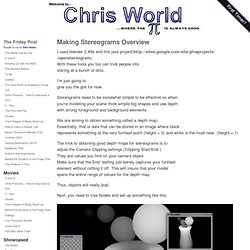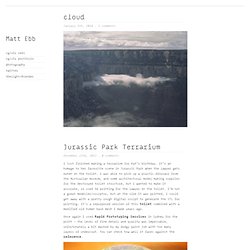 »Matt Ebb 3Delight/Blender.cg / VFX
December 4th, 2013 . Although the 3Delight/blender addon is mostly abandoned due to lack of time to keep it maintained, I want to at least bring it up to date with the latest 3Delight release, which has had a lot of good updates in the pathtracing/physically based rendering department. 3Delight's approach to the problem has been to extend some of the commonly used shadeops, seemingly with the intention of making it simple to convert over old shaders, or create simple shaders from scratch. It definitely has advantages in terms of the amount of work required to get something set up, but imo it's also a bit messy and confusing how it all fits together, especially if you're familiar with a more common and organised physically based shading infrastructure as in pbrt. » Read the rest of this entry «
Blender 2.64 is now using tools with sRGB enabled by default. It means that Blender will always expect a linear input from YafaRay, which means YafaRay Gamma Output should be equal to . This is essentially more correct if we are passing HDR data over the Blender compositor for edition. With this workflow, Blender will always show and edit YafaRay renders correctly on the compositor (Nodes and Image Viewer) and will save both and YafaRay works with the correct gamma applied each: and respectively.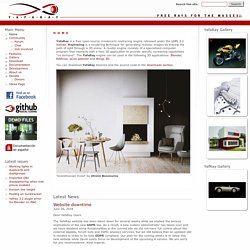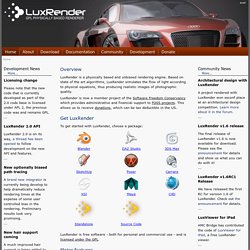 LuxRender is a physically based and unbiased rendering engine. Based on state of the art algorithms, LuxRender simulates the flow of light according to physical equations, thus producing realistic images of photographic quality. To get started with LuxRender, choose a package: LuxRender is free software - both for personal and commercial use - and is licensed under the GPL. Physically based spectral rendering