Hadopi VPN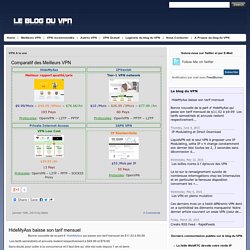 Bonjour, Suite à pas mal de posts traitants de connexion VPN a partir d'un Syno, j'ai remarqué que presque personne ne se soucie de l'aspect sécurité. Lorsque le NAS passe par un tunnel VPN en vue d'être anonyme sur internet, le fait d'avoir une IP publique vous expose complètement. La sécurité apportée par un routeur/box/… est inefficace car le NAS est connecté et visible directement sur internet, un peu comme si le câble réseau du syno était publique. Le DSM (4.1 dans mon cas) propose une interface pour configurer le firewall mais celle ci ne reprends pas l'interface virtuelle créée lors de l'établissement du tunnel VPN. Il n'est donc pas possible d'appliquer des règles pour bloquer les ports ouverts sur votre NAS et son interface VPN.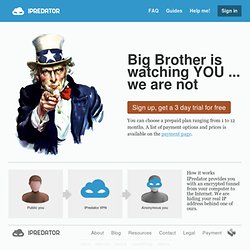 <div class="container"> IPredator.se requires JavaScript to work properly. </div> Big Brother is watching YOU ... we are not
Surf the web anonymously and secure
<div class="container"> IPredator.se requires JavaScript to work properly. </div> Big Brother is watching YOU ... we are not Sign up, get a 3 day trial for free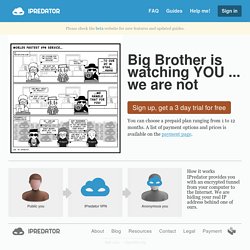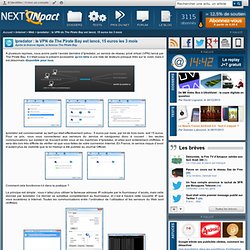 À plusieurs reprises, nous avons parlé l'année dernière d'Ipredator, un service de réseau privé virtuel (VPN) lancé par The Pirate Bay. Il n'était jusqu'à présent accessible qu'en bêta à une liste de testeurs presque triés sur le volet, mais il est désormais disponible pour tous. Ipredator est commercialisé au tarif qui était effectivement prévu : 5 euros par mois, par lot de trois mois, soit 15 euros. Pour ce prix, vous vous connecterez aux serveurs du service et naviguerez donc à couvert : les seules communications qui existent se trouvent entre vous et les machines d'Ipredator, et elles sont entièrement chiffrées. Il sera dès lors très difficile de vérifier ce que vous faites de votre connexion Internet.
Ipredator : le VPN de The Pirate Bay est lancé, 15 euros les 3 m