Hadopi VPN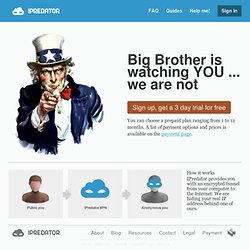 IPredator offers you not only to surf anonymously, but also to use clients and applications anonymously on the internet. How it works: You'll exchange the IP address you get from your ISP to an anonymous IP address.
Surf the web anonymously and secure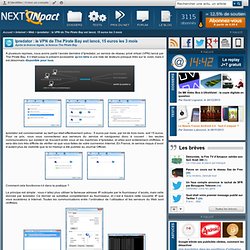 À plusieurs reprises, nous avons parlé l'année dernière d'Ipredator, un service de réseau privé virtuel (VPN) lancé par The Pirate Bay. Il n'était jusqu'à présent accessible qu'en bêta à une liste de testeurs presque triés sur le volet, mais il est désormais disponible pour tous . Ipredator est commercialisé au tarif qui était effectivement prévu : 5 euros par mois, par lot de trois mois, soit 15 euros. Pour ce prix, vous vous connecterez aux serveurs du service et naviguerez donc à couvert : les seules communications qui existent se trouvent entre vous et les machines d'Ipredator, et elles sont entièrement chiffrées. Il sera dès lors très difficile de vérifier ce que vous faites de votre connexion Internet.
Ipredator : le VPN de The Pirate Bay est lancé, 15 euros les 3 m