Bricolage interieur
Literary gold mine for CNC millers. From 1976 to 1983, Popular Science magazine, along with the American Plywood Association, ran an annual plywood panel project design contest for its readership.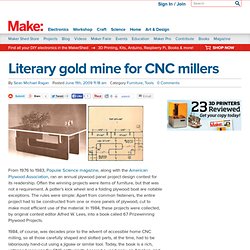 Often the winning projects were items of furniture, but that was not a requirement. A potter's kick wheel and a folding plywood boat are notable exceptions. The rules were simple: Apart from common fasteners, the entire project had to be constructed from one or more panels of plywood, cut to make most efficient use of the material. In 1984, these projects were collected, by original contest editor Alfred W. Lees, into a book called 67 Prizewinning Plywood Projects. Stu's Shed. Craftgawker | look to inspire. Newspaper Wood. The collection was presented in the AutoOfficina courtyard across the way from us in Ventura Lambrate during Milan Design Week 2011.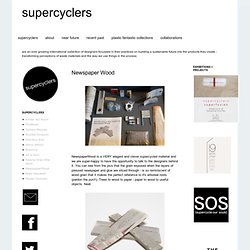 Mieke Meijer: My work is the result of an ongoing investigation into the unperceived aesthetics of everyday life. No matter the starting point - from products we daily use like newspapers to industrial machinery, I try to filter the essence and transform ideas into designs that appeal to the imagination for the long term. Reading Light by Christian Kocx. Furniture made from Recycled Newspapers. Vij5 has launched a unique collection of furniture and home decor objects made partially with newspaper wood.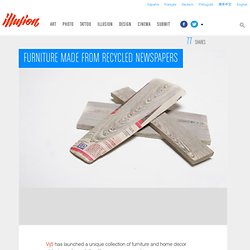 Notes about "NewspaperWood" (published at Vij5′s website): Every day, piles of newspapers are discarded and recycled into new paper. Mieke Meijer has devised a solution to use this surplus of paper into a renewed material. When a NewspaperWood log is cut, the layers of paper appear like lines of a wood grain or the rings of a tree and therefore resembles the aesthetic of real wood. The material can be cut, milled and sanded and generally treated like any other type of wood.In april 2011 the first prototypes have been presented in Milan of which a selection will be included in the Vij5 collection. Rolled paper chess set. October 17, 2010 § I am indisputably an advocate of handmade presents.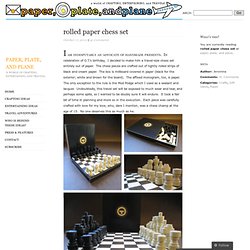 In celebration of O.T.'s birthday, I decided to make him a travel-size chess set entirely out of paper. The chess pieces are crafted out of tightly rolled strips of black and cream paper. The box is millboard covered in paper (black for the exterior; white and brown for the board). DIY $5 Flower Vase! | So, I finally just changed all the burnt out light bulbs in my house.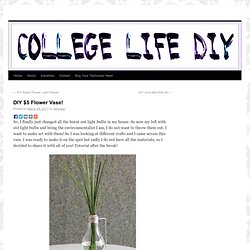 So now my left with old light bulbs and being the environmentalist I am, I do not want to throw them out. I want to make art with them! So I was looking at different crafts and I came across this vase. I was ready to make it on the spot but sadly I do not have all the materials, so I decided to share it with all of you! Tutorial after the break! Do-it-Yourself DIY String Wedding Lanterns Yarn Chandeliers - StumbleUpon. Jessica of Wednesday Inc shows us how to make those gorgeous twine chandeliers from the inspiration shoot she shared with us this morning.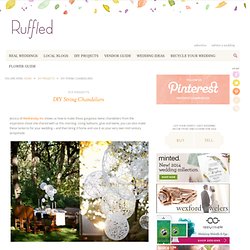 Using balloons, glue and twine, you can also make these lanterns for your wedding – and then bring it home and use it as your very own mid century lampshade. What you will need are: balloons, glue, yarn, tray for glue, corn starch 1/2 cup of Corn starch, 1/4 cup of Warm water, clear fast drying spray paint, hanging lamp cord or fishing line (depending on your desired final product), and a lighting kit if you're looking for a fully functional lantern.
Jessica recommends using a sharpie to mark on the inflated balloon how much room you need to leave for the lighting cord. She also recommends coating the balloon with vaseline prior to wrapping the yarn coated with glue so it doesn't stick on the balloon once it's dry. Tillandsia. Flowering Tillandsia and daughter plant The thinner-leafed varieties grow in rainy areas and the thick-leafed varieties in areas more subject to drought.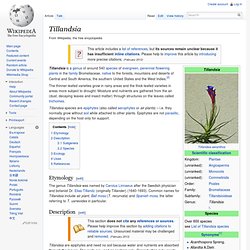 Moisture and nutrients are gathered from the air (dust, decaying leaves and insect matter) through structures on the leaves called trichomes. Tillandsia species are epiphytes (also called aerophytes or air plants) – i.e. they normally grow without soil while attached to other plants. Epiphytes are not parasitic, depending on the host only for support. The Hipster Home » Blog Archive » How to Make a Tiny Terrarium in a Light Bulb.
Ahoy there Hipster Homers!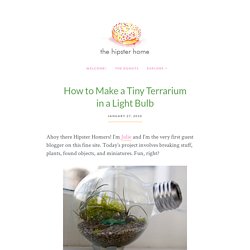 I'm Julie and I'm the very first guest blogger on this fine site. Today's project involves breaking stuff, plants, found objects, and miniatures. Fun, right? Let's get started! Weekend Art Project « The New Domestic. E made a painting this weekend!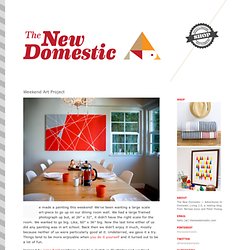 We've been wanting a large scale art-piece to go up on our dining room wall. We had a large framed photograph up but, at 26″ x 32″, it didn't have the right scale for the room. Weekly wrap up + paper scrap light. It's a whopping 70 degrees in Brooklyn right now, so I'm going to get out from under the pile of packing boxes in our house and get some fresh air.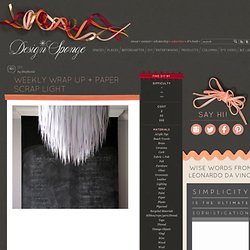 Before I head out, I wanted to share this beautiful (and totally genius) DIY light project that graphic designer Gabrielle Guy created for a friend. After moving into a new house and finding an old lantern left behind, Gabrielle decided to cut strips from scrap paper and glue them onto the shade. Paper Starburst Pendant Light. So I had a different project that I was going to post today, an update version of my Book Pages Pendant Lantern from Project 19, but then I started working on this light idea, and I am so excited by the results I just couldn't wait to show you guys! My inspiration and guide was this light from Design*Sponge, that I spotted on Pinterest.
I really liked the idea, and I had a roll of white vellum lying around left over from college that I thought would look beautiful. So I started cutting triangles. And then I started glueing. The 3 R's blog | 30 Projects x 30 Weeks x 3 Principles. Unique Lighting Pendant Lamps Wall Sconces and by Zipper8Lighting. Featuring Original Pendant Lamps and Wall Sconces which are eco-friendly, use unusual materials, give off a soft light, are ruffled and feminine, or hip and modern.
These are statement pieces for your amazing home. Follow me on Pinterest: Make sure to check out my How-Tuesday video for the Etsy Blog: How to Make an Outdoor Water Garden - Outdoor Projects. Unfortunately we had to shutdown our sister site, Fresh Home Ideas. But don't worry; we have all the home repair, remodeling and design ideas you need.
Browse around and check out our selection of DIY projects and tips to help you around the house. Terrarium How-To. My sister, Laura lives in Boston and has the green thumb in the family. She makes beautiful terrariums but since I've always lived far away, I miss out on ever receiving one of these lovely, low maintenance creations. So I get my fix at Garden, an impeccably designed and curated garden shop on the west side of Atlanta. Chad Wellbrock, the Manager at Garden, offered me a few tips for creating your own terrarium. First, look for any plants that are slow growing that do not like a lot of moisture. Succulents often work best, but just remember that they will need a lot of sunlight to thrive. Most gawked all-time.
---