Lessons
Get flash to fully experience Pearltrees
Last but not least, no sweep picking method would be complete without the Diminished 7th arpeggios.
Interested in improving your guitar playing ability? This collection of resources contains hundreds of free guitar lessons designed for guitarists of all levels of proficiency. Beginner Guitar Lesson One Have you always wanted to play guitar, but never got around to actually getting started?
Following up and expanding on a post about learning music theory with Auto-tune . See also a post about the major scale modes and an intro to minor keys . So maybe you want to write a song or an instrumental in a particular mood or style, and you're feeling overwhelmed by all the scales.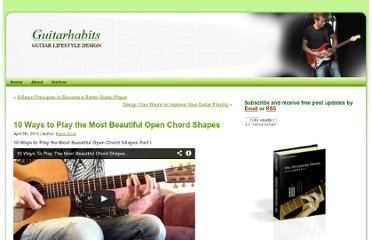 10 Ways to Play the Most Beautiful Open Chord Shapes Part I A great way to make your chord progressions and songs sound awesome is to use open chord shapes. I always love to use these chords to add some flavor to my chord progressions. One of my favorite chords is Fsus2.That chord has got the whole package for me.
Another tool for guitar players are arpeggios. Arpeggios can be used to get away from scalular sounds.
Photo by John W. Tuggle If I have to name two things that took my guitar playing to the next level I would say music theory and memorizing the fingerboard. It made me understand the big picture. Combining music theory (understanding scales, modes, chord structure, improvising over chord progressions, etc, etc.) and knowing all the notes on the fingerboard will open up a whole new world.
Introduction Hello there, you may have seen me around The Escapist and most know me as The Rockerfly, I am a musician. I have been playing music for about 10 years and have been writing for 3 years.