InDesign resource
Follow me as I jump from one feature to the other in Adobe InDesign, some older and some new.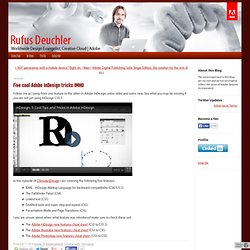 Five cool Adobe InDesign tricks IMHO - Rufus Deuchler
See this animation? I know what you're thinking…Illustrator to Flash, right? Think again.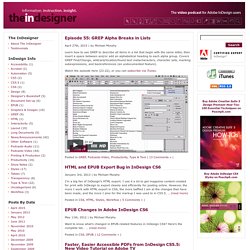 The InDesigner » Blog Archive » Episode 54: A First Look at InDesign CS5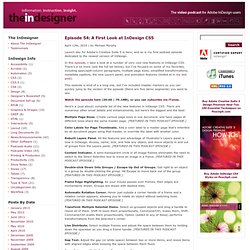 Launch day for Adobe's Creative Suite 5 is here, and so is my first podcast episode dedicated to the newest version of InDesign. In this episode, I take a look at a number of very cool new features in InDesign CS5. There's a lot more (see the full list below), but I've focused on some of my favorites, including span/split-column paragraphs, multiple page sizes, simplified transformations, metadata captions, the new Layers panel, and animation features (hinted at in my last post).