InDesign resource
Five cool Adobe InDesign tricks IMHO - Rufus Deuchler. Follow me as I jump from one feature to the other in Adobe InDesign, some older and some new.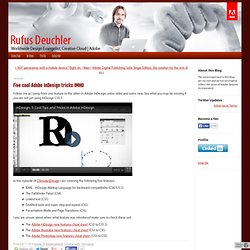 See what you may be missing if you are not yet using InDesign CS5.5. In this episode of CSInsider|Design I am covering the following five features: IDML - InDesign Markup Language for backward compatibility (CS4/5/5.5)The Pathfinder Panel (CS4)Linked text (CS5)Gridified tools and super step-and-repeat (CS5)Presentation Mode and Page Transitions (CS5) I you are unsure about when what feature was introduced make sure to check these out: InDesign. InDesign Secrets: Tutorials, Tips, Templates, Blog, Podcast, and More. The InDesigner. See this animation?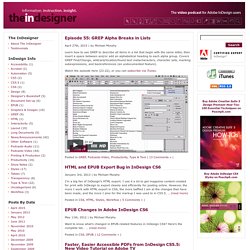 I know what you're thinking…Illustrator to Flash, right? Think again. The InDesigner » Blog Archive » Episode 54: A First Look at InDesign CS5. Launch day for Adobe's Creative Suite 5 is here, and so is my first podcast episode dedicated to the newest version of InDesign.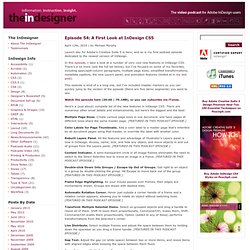 In this episode, I take a look at a number of very cool new features in InDesign CS5. There's a lot more (see the full list below), but I've focused on some of my favorites, including span/split-column paragraphs, multiple page sizes, simplified transformations, metadata captions, the new Layers panel, and animation features (hinted at in my last post).
---