Business Cards
40 Cool Business Card Examples With Beautiful Typography | DesignBeep
Business Card Portfolio | Business Card Gallery at Taste of Ink Studios
Business Cards
Learn how to earn $125 or more per hour as a freelancer - Click Here Today I would like to share 53 best business card designs for your inspiration. This post is to inspire you (and me) with the fresh inspiring designs submitted by designers worldwide. If you would like to share your work and being published on DzineBlog.com, feel free to email us at mywork@dzineblog.com. I may publish your […]
Business Card at DzineBlog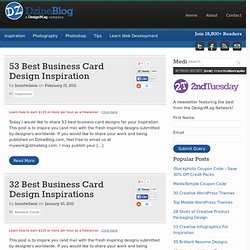 Inspiration: Unique Business Cards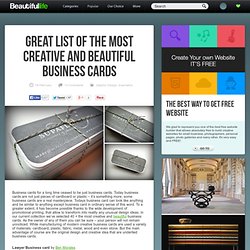 Business cards for a long time ceased to be just business cards. Today business cards are not just pieces of cardboard or plastic – it's something more, some business cards are a real masterpiece. Todays business card can look like anything and be similar to anything except business card in ordinary sense of this word. To a greater extent, it has become possible thanks to the wide development of promotional printing, that allow to transform into reality any unusual design ideas.
Great List of the Most Creative and Beautiful Business Cards
50 Highly Creative Business Card Designs
Business Cards
Amuse brochure - Brochures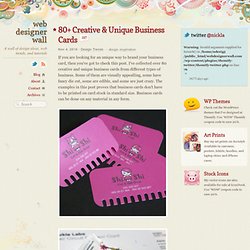 If you are looking for an unique way to brand your business card, then you've got to check this post. I've collected over 80 creative and unique business cards from different types of business. Some of them are visually appealling, some have fancy die cut, some are edible, and some are just crazy.
80+ Creative & Unique Business Cards
Glenn Says: March 18th, 2009 at 8:21 PM sir i have just twit about this post.. wish i will win on this contest.. i want these beautiful card designs. :)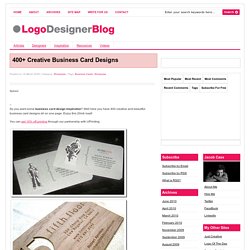 100 Creative and Unique Business Cards
Recent Work… Latest Prints Graphic, Print Pyrgos Corporate Identity
Blackjack - Graphic Basement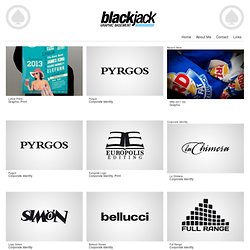 TutorialBlog.org
There is no doubt that all graphic designers are internet-savvy; many conduct their marketing efforts with social media and online portfolios. However, the need to personally establish business connections comes up once in while. Without a virtual art gallery to showcase your skills, what do you do?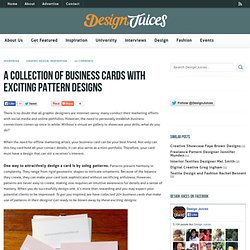 A Collection of Business Cards with Exciting Pattern Designs
There are many different ways to attack a business card design. Clean & corporate is always nice. But why not get a little wild? This tutorial will walk you through setting up a vertical grungy business card template, front to back and ready to print. It's important to set up our PSD file correctly right off the bat.