Foto
Rund ein Jahr nach Erscheinen der Nikon Coolpix P510 Digitalkamera bringt Nikon nun die P520 heraus und hofft an alte Erfolge anknüpfen zu können.Für den interessierten Käufer stellt sich hierbei jedoch die Frage, welche der beiden Kameras die bessere ist. Die P510, die es aktuell für einen Preis von rund 290 € gibt oder die neuere P520, die aktuell um die 400 € kostet?Beide Kameras hatte ich im Test und möchte im Folgenden nun meine Eindrücke mit der P520 im direkten Vergleich mit der P510 schildern. Hier hat sich gegenüber dem Vorjahresmodell (P510) nicht viel verändert. Der Käufer kann zwischen den Farben Schwarz, Rot und Anthrazit wählen. Die Kamera ist überwiegend im matten Kunststoff gehalten, nur wenige Teile sind mit glänzendem Kunststoff oder Chromelementen versehen.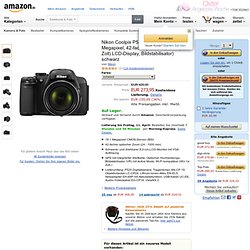 Nikon Coolpix P520 Digitalkamera 3,2 Zoll schwarz: Amazon.de: Elektronik
Third-party lenses are sometimes looked down upon by the sort of photographers who insist you can only take a good photo if your lens says Canon or Nikon on it. But, not only do some outperform their branded counterparts, others do something which mean they don't even have first-party rivals. The new Sigma 18-35mm F1.8 DC HSM Art, for example, is the world's only zoom lens to achieve a maximum aperture F1.8 throughout the entire range. Most constant aperture zooms, even those targeted at pros, peak at F2.8 – with exceptions including the Olympus 14-35 mm F2. This is why many photographers also have faster prime lenses in their kit bag for when they need those extra light gathering properties or an ultra-shallow depth of field.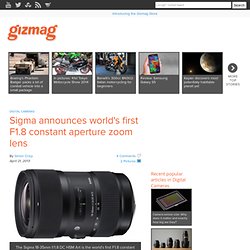 Sigma announces world's first F1.8 constant aperture zoom lens - (Private Browsing)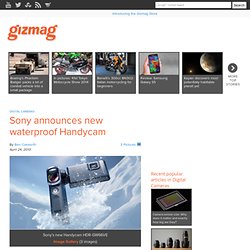 Sony's new everything-proof Actioncam is definitely a worthy opponent to the likes of the GoPro HERO, although sometimes people just want a user-friendly video camera that can go in the water. Well, that's where the Sony Handycam HDR-GW66VE comes into the picture. It's a compact HD camcorder that can be submerged to a depth of 10 meters (33 feet) for up to an hour. Along with its imperviousness to water, the HDR-GW66VE is also dust- and dirt-proof, shockproof to a drop height of 1.5 meters (4.9 feet), and can operate in temperatures down to -10ºC (14ºF). The camera shoots at a maximum resolution of 1080p (50 fps), in a choice of AVCHD, MPEG2 or MP4 formats. It's also able to capture 20-megapixel stills.
Sony announces new waterproof Handycam - (Private Browsing)
While DSLRs give photographers great creative freedom and image quality, the cameras themselves don't cope too well with being exposed to excessive amounts of sand, mud, water or snow – which can be a pain if you get your kicks from shooting things like extreme sports. Outex is a weather and modular waterproof housing system for DSLRs that works much like a drysuit for your camera, and can protect your gear underwater to a depth of 10 meters (33 feet). The new "Big O" adds a big Outex LCD viewfinder window to the system.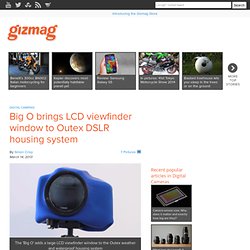 Big O brings LCD viewfinder window to Outex DSLR housing system
SteadyWheel takes a circular approach to stabilizing video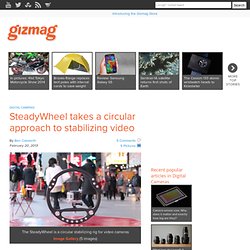 The SteadyWheel is a circular stabilizing rig for video cameras Image Gallery (5 images) As can be seen by the increasing number of stabilizing rigs available for DSLRs and small camcorders, people don't like shaky hand-held video. Most of those rigs are inspired by the Steadicam Smoothee, utilizing a counter-weighted arm that extends below the gimbal-mounted camera. It's an effective set-up, but one that's also kind of fiddly. Fabricator and machinist Robert Stone has created something much more simple, in the form of the SteadyWheel.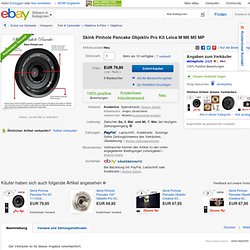 Skink Pinhole Pancake Objektiv Pro Kit Leica M M6 M5 MP
Hinweis: Ihr Gebot ist bindend. Wenn Sie auf Gebot bestätigen klicken und Höchstbietender sind, gehen Sie einen rechtsverbindlichen Vertrag mit dem Verkäufer ein. Die vollständige Artikelbeschreibung finden Sie unten. Bieten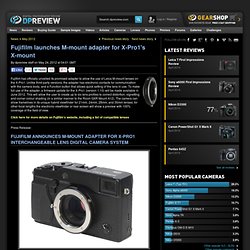 Fujifilm launches M-mount adapter for X-Pro1's X-mount
Fujifilm has officially unveiled its promised adapter to allow the use of Leica M-mount lenses on the X-Pro1. Unlike third-party versions, the adapter has electronic contacts for communication with the camera body, and a Function button that allows quick setting of the lens in use. To make full use of the adapter, a firmware update for the X-Pro1 (version 1.10) will be made available in June 2012. This will allow the user to create up to six lens profiles to correct distortion, vignetting and corner colour shading (in a similar manner to the Ricoh GXR Mount A12).
Feeling pretty good about last year's Capture Camera Clip, Peak Design is back with another camera-hauling accessory. The Leash is a versatile strap that carries and holds your camera in all kinds of convenient ways. View all Peak Design originally envisioned the Leash as a safety tether for the Capture clip. While working on that design, the company realized that it had much more potential.
Peak Design looks to put cameras on a Leash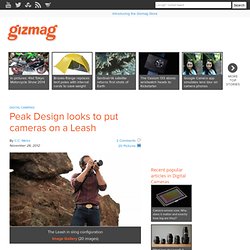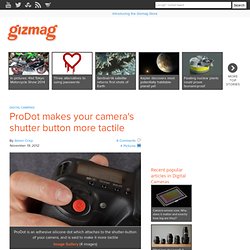 ProDot is an adhesive silicone dot which attaches to the shutter-button of your camera, and is said to make it more tactile Image Gallery (4 images) Can a little silicone dot which attaches over your camera's shutter button really help you take better photos?
ProDot makes your camera's shutter button more tactile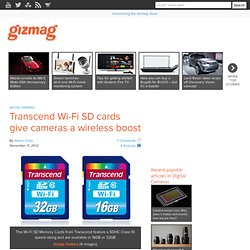 The Wi-Fi SD Memory Cards from Transcend feature a SDHC Class 10 speed rating and are available in 16GB or 32GB Image Gallery (4 images) While many cameras now pack Wi-Fi connectivity for the wireless sharing and transferring of captured images, those owning cameras without such capabilities need not necessarily have to shell out cash for an entirely new camera to get wireless connectivity.
Transcend Wi-Fi SD cards give cameras a wireless boost
The Stow-Away lens cap holder attaches under your camera and gives you somewhere to stow your lens cap Image Gallery (6 images) The Stow-Away lens cap holder is a DSLR accessory which addresses the problem of what to do with your lens cap while taking photos. While the majority of photographers simply slip their lens cap into their pocket, others (nudist photographers perhaps?) apparently need an alternative. The Stow-Away lens cap holder attaches under your camera and gives you somewhere to stow your lens cap.
Stow-Away keeps your lens caps under your DSLR
Leica reveals the Leica M and the stripped back M-E
Since the introduction of the Leica M3 in 1954, the German camera manufacturer has generally distinguished its flagship rangefinders with numbers – prompting generations of photographers to lust after the M4, M6 or M9. However, each new generation of M camera will now simply be known as the "Leica M". But the camera formerly known as the M10 isn't all about the name change, it's also the first M-series to boast a CMOS sensor, Live View and HD video. View all Lecia also used Photokina 2012 to announce the release of an "affordable" rangefinder, the Leica M-E, which is essentially a slightly stripped back M-series camera. Leica M
When Fujifilm unveiled its new line-up ahead of CES 2012, there was a feeling among enthusiasts that the company was holding something back. Sure enough, the Japanese photography behemoth has now pulled back the curtain to reveal a new interchangeable lens digital camera system called the X-Pro1. The 16 megapixel camera will be initially joined by three prime lenses when made available next month, with more to follow later on. It features a number of new digital photography developments, including a brand new sensor, a film-like color filter array and the second generation hybrid multi viewfinder first seen in the FinePix X100. View all With the success of the X100 and the X10, it was only a matter of time before Fujifilm added a top end, pro-level mirrorless interchangeable lens cameras to the range.
Fujifilm announces X-Pro1 interchangeable lens camera system
Ragnar Axelsson photographer
HOME | FUJIFILM X10
Fujifilm adds X10 to retro digital compact range
Fujifilm X10 is designed for demanding amateurs or semi-professionals who require a small, lightweight and fast camera with retro looks Image Gallery (7 images) Fujifilm has announced a follow up to the retro Fujifilm X100 released earlier this year. The Fujifilm X10 compact digital camera features an optical zoom viewfinder, a 12 megapixel EXR-CMOS sensor, 28-112mm equivalent F2.0 -2.8 Fujinon lens and continuous shooting at up to 7 fps at 12 megapixels.
Panasonic unveils its smallest and lightest interchangeable lens camera yet
Panasonic has added to its ever growing - yet ever shrinking - stable of Lumix Micro Four Thirds cameras with what it claims is the world's smallest and lightest digital interchangeable lens camera with a built-in flash. The new DMC-GF3 is 16.7 percent smaller and 16.2 percent lighter than its predecessor, the DMC-GF2, which was itself 19 percent smaller and seven percent lighter than the preceding DMC-GF1. The GF3's size and weight reductions are largely thanks to the elimination of an optical viewfinder and mirror-box, which also means there's no electronic viewfinder. View all The GF3 is smaller than Sony's latest NEX series of mirrorless interchangeable lens cameras, and offers a larger "DSLR-sized" 12.1-megapixel Live MOS sensor in comparison to the NEX C3's APS-C sized sensor.
Deutschland - Digitale Kameras - Spiegelreflex - Consumer - D7000 - Digital Cameras, D-SLR, COOLPIX, NIKKOR Lenses
Design and Control | FUJIFILM FinePix X100