Choses amusantes
Vie de Parisien
INCREDIBOX
chewieroxx.gif | SUCK MON GIF | 1857 gifs and still counting
Fanfare
Drum Kit
Start making some music right now
Seaquence
My Cat is a Dick.
:: procatinator ::
Doggelganger
Rastatronic : la démo du simulateur de cannabis sans cannabis...
Ugly Renaissance Babies
Le Memé
—–Email—– People do care… and you're not the only one who has had that thought. I owe my life to my Duke friends and my therapist at Duke's counseling center… —–Email—– I live in the next town over (Chapel Hill), and I care very much about how much you're hurting.
PostSecret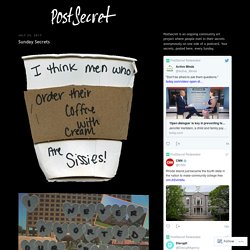 Sleeveface - people holding vinyl record sleeves and covers in front of their faces