Lit / writing
SO MUCH TO TELL YOU: the 100 club. These are the 100 most beautiful words in the English language, apparently.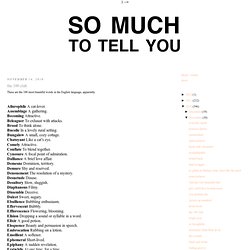 All the Words. Sesquipedaedalus: Prettiest Words: All of Them. 23 Pages. Could Always Use More, Though. Prettiest Words, Alphabetized (1,027) Abattoir: a slaughterhouse; massacre Absinthe: wormwood liquor of a bright-green color Acciaccatura: grace note, an embellishing note usually written in smaller size Acedia: ennui; state of torpor or listlessness; spiritual apathy.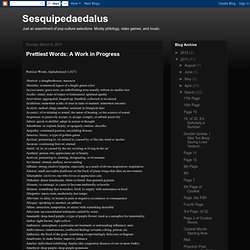 The Cambridge History of English and American Literature: An Encyclopedia in... - StumbleUpon. Thought Catalog. PANK Magazine.
---