Wicca
The Realm of White Magic. Witches Moon- Purveyor of fine Books of Shadows. Witchcraft Supplies, Witchcraft and Occult Store, Wicca Supplies, Witchcraft Spells, Crystal Balls. The Broomstick, Liberty NY. CyberMoon Emporium WitchCraft Supplies, Premier WitchCraft Store, WitchCraft Supplies, witchcraft supply, Wicca Supplies, Wicca Store, wiccan, wiccan supplies, wiccan store, wiccan jewelry, Witch Supplies, Witch Store, witch jewelry, Pagan Supplies Store, Welcome to CyberMoon Emporium WitchCraft Supplies Site Index!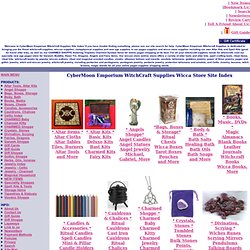 If you have trouble finding something, please see our site search for help. CyberMoon Emporium Witchcraft Supplies is dedicated to bringing you the finest witchcraft supplies, wiccan supplies, metaphysical supplies and new age supplies in our pagan supplies and wicca store supplies including our own Altar Kits and Spell Kits (great for travel altar kits), as well as our CHARMED SHOPPE featuring Triquetra Charmed Symbol items for online pagan shopping at its best.
Witchcraft supplies - wicca supplies - book of shadows - Bell Book & Candle Supply.
Books
---