Educational Tech, Equity and Social Justice
I'm interested in discussions regarding the collision that occurs when Educational Technology meets Equity and Social Justice:

* How is "digital equity" usually defined? Who gets to define it?
* How are educational technologies used to address educational and social inequities?
* How do educational technologies contribute to these inequities?
* How can teachers, in classrooms, use technology to address equity and social justice issues?
* How can schools and school districts ensure that, when they say they are adopting technology to address "digital equity" issues, they actually are addressing educational and social equity problems? Mar 19
Digital Tools Demos Helsinki As media becomes more prevalent in kids' lives, parents are grappling with the potential benefits and pitfalls of screen time — what's just the right amount, what's truly educational, what's beneficial, and what's detrimental.
How Do Parents Think 'Educational' Screen Time Affects Learning?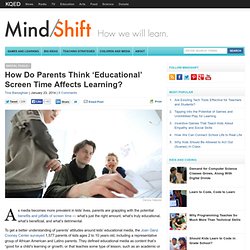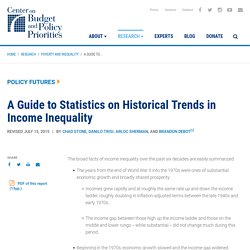 The broad facts of income inequality over the past six decades are easily summarized: The years from the end of World War II into the 1970s were ones of substantial economic growth and broadly shared prosperity. Incomes grew rapidly and at roughly the same rate up and down the income ladder, roughly doubling in inflation-adjusted terms between the late 1940s and early 1970s. The income gap between those high up the income ladder and those on the middle and lower rungs — while substantial — did not change much during this period. Beginning in the 1970s, economic growth slowed and the income gap widened. Income growth for households in the middle and lower parts of the distribution slowed sharply, while incomes at the top continued to grow strongly.
A Guide to Statistics on Historical Trends in Income Inequality
Edutopia 2014
Reclaiming the Conversation on Education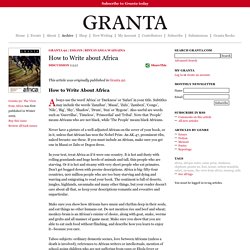 Page 1 | How to Write about Africa | Granta 92: The View from Africa | Archive
This article was originally published in Granta 92. Always use the word 'Africa' or 'Darkness' or 'Safari' in your title. Subtitles may include the words 'Zanzibar', 'Masai', 'Zulu', 'Zambezi', 'Congo', 'Nile', 'Big', 'Sky', 'Shadow', 'Drum', 'Sun' or 'Bygone'. Also useful are words such as 'Guerrillas', 'Timeless', 'Primordial' and 'Tribal'. Note that 'People' means Africans who are not black, while 'The People' means black Africans. Never have a picture of a well-adjusted African on the cover of your book, or in it, unless that African has won the Nobel Prize.
A Simple Way to Send Poor Kids to Top Colleges
Internet Access and the New Divide
Such numbers may seem proof that America is, indeed, online. But they mask an emerging division, one that has worrisome implications for our economy and society. Increasingly, we are a country in which only the urban and suburban well-off have truly high-speed Internet access, while the rest — the poor and the working class — either cannot afford access or use restricted wireless access as their only connection to the Internet.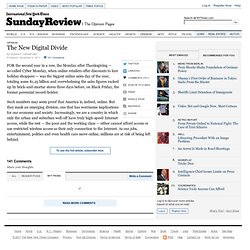 RSVPs now closed. Helena Puig Larrauri is a freelance peacebuilding practitioner. Her work focuses on the use of technology for conflict transformation and social cohesion. She's currently working on projects in Sudan, Iraq, Libya, Cyprus, Macedonia and Romania.
Civic Media Lunch: Technology for Peacebuilding in Sudan and Cyprus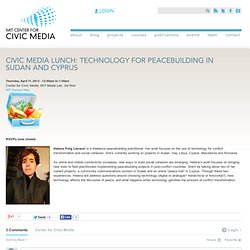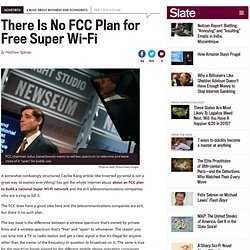 FCC super Wi-Fi plan: There is no plan.
Photo by Mark Wilson/Getty Images A somewhat confusingly structured Cecilia Kang article (the inverted pyramid is not a great way to explain everything) has got the whole Internet abuzz about an FCC plan to build a national Super Wi-Fi network and the evil telecommunications companies who are trying to kill it. The FCC does have a good idea here and the telecommunications companies are evil, but there is no such plan. The key issue is the difference between a wireless spectrum that's owned by private firms and a wireless spectrum that's "free" and "open" to whomever. The reason you can tune into a TV or radio station and get a clear signal is that it's illegal for anyone other than the owner of the frequency in question to broadcast on it. The same is true for the spectrum bands owned by the different mobile phone operating companies.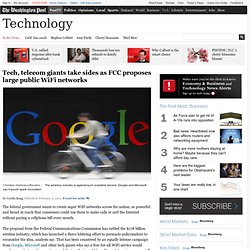 The airwaves that FCC officials want to hand over to the public would be much more powerful than existing WiFi networks that have become common in households. They could penetrate thick concrete walls and travel over hills and around trees. If all goes as planned, free access to the Web would be available in just about every metropolitan area and in many rural areas. The new WiFi networks would also have much farther reach, allowing for a driverless car to communicate with another vehicle a mile away or a patient's heart monitor to connect to a hospital on the other side of town. If approved by the FCC, the free networks would still take several years to set up.
Tech, telecom giants take sides as FCC proposes large public WiFi networks
There Is No FCC Plan For Free Nationwide Super WiFi, Why Won't This Story Die?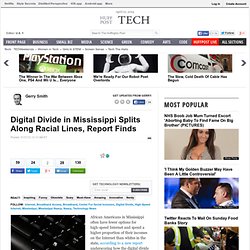 African Americans in Mississippi often have fewer options for high-speed Internet and spend a higher proportion of their incomes on the Internet than whites in the state, according to a new report underscoring how the digital divide splits along racial lines. Mississippi ranks among the worst states in the nation in terms of broadband availability, and residents must choose among older, slower and less-reliable Internet technologies than people in other states, according to a report released Tuesday by the Center for Social Inclusion and the Mississippi NAACP. "We must implement aggressive and fair broadband infrastructure policies in order to bring Mississippi into the 21st century economy," Derrick Johnson, state president of the Mississippi State Conference NAACP, said in a statement.
Digital Divide in Mississippi Splits Along Racial Lines, Report Finds
Bringing a Nation Online-The Role of Federal Leadership fi… - bringing_a_nation.pdf
(this post was originally published on MAG-Net for the #NotLovinIt Week of Action) By Simran Noor, Coordinator of Advocacy From eighth grader, Joshua Edwards in Citronelle, Alabama to Daryl Bingham in Oak Brook, Illinois, people in communities without Internet access rely on third parties, in these cases a local McDonald's, to access the Internet and leverage its many social, economic, educational and health benefits. No American should be forced to access Internet through a fast food restaurant. But for many, like Joshua and Daryl, this is their only option. The FCC's Eighth Broadband Progress Report found that 19 million Americans still lack access to broadband.
Community-Scale Broadband Solutions Are Critical | Center for Social Inclusion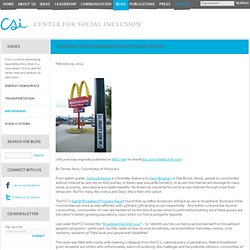 National Broadband Plan Vital to Closing Digital Divide, FCC Tells Senate Committee
Advocates Urge Increased Broadband Access for Minority Communities
Universal broadband should be about control, not just access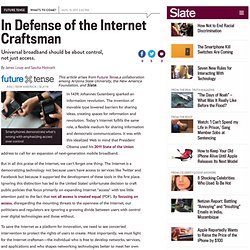 In 1439, Johannes Gutenberg sparked an information revolution. The invention of movable type lowered barriers for sharing ideas, creating spaces for reformation and revolution. Today's Internet fulfills the same role, a flexible medium for sharing information and democratic communications. It was with this idealized Web in mind that President Obama used his 2011 State of the Union address to call for an expansion of next-generation mobile broadband. But in all this praise of the Internet, we can't forget one thing: The Internet is a democratizing technology not because users have access to services like Twitter and Facebook but because it supported the development of these tools in the first place. Ignoring this distinction has led to the United States' unfortunate decision to craft public policies that focus primarily on expanding Internet "access" with too little attention paid to the fact that not all access is created equal (PDF).
Broadband access in the United States is even worse than you think
Given the dismal state of broadband connections in America, it was illuminating recently to hear a major telecom executive paint a rosy picture of where the country stands. When Wall Street Journal Deputy Managing Editor Alan Murray asked how the United States ranks in broadband, Verizon CEO Ivan Seidenberg didn't hesitate: "One. Not even close." To support his statement, Seidenberg claimed that "in the U.S., there is greater household penetration of access to the Internet than any country in Europe." Compare that with what Federal Communications Commission Chairman Julius Genachowski recently told a Senate committee: "Our record shows roughly 65 percent adoption in the U.S. compared to significantly higher adoption percentages—up to 90 percent or more—for some countries in Asia and Western Europe."
MediaShift . Technology in Schools Still Subject to Digital, Income Divides
Education technology — "Edtech" — has become an area of intense innovation and debate — with topics like Massive Open Online Courses, coding for kids, and tablets constantly attracting attention and sparking debate every day.
From time to time, I'll give an overview of one broad MediaShift topic, annotated with online resources and plenty of tips. The idea is to help you understand the topic, learn the jargon, and take action.
MediaShift . Your Guide to the Digital Divide
Poverty in America - The Living Wage Calculator
The Living Wage Calculator is a website developed and maintained by Dr.
Poor Students Struggle as Class Plays a Greater Role in Success
"My Teacher Is an App"
(This is a long one.) So I hope no one minds if I continue to try to document the ways in which "education" is being reframed in this country at the peril, I think, of losing everything that is best about schools and teachers and classrooms. If you're not up to speed with these reframing efforts, the above titled article in the Wall Street Journal this morning should do the trick.
Why is digital inclusion essential?
Social Justice & Technology
Connecting the Digital Divide to Digital Literacies
New 'Digital Divide' Seen in Wasting Time Online
You Can't Get There from Here « The Core Knowledge Blog
Equity and social justice from the inside-out: Ten commitments of a multicultural educator « Fedcan Blog
Poverty and Education – The Challenge of Improving Schools
Poverty Is Rooted In US Education System, Research Finds
11 Facts about Education and Poverty in America
Digital Inclusion Network Home: E
The National Broadband Plan - Broadband.gov
Student's Social-Media-Fueled Campaign Propels Him Into Office