Pgouveia
Paul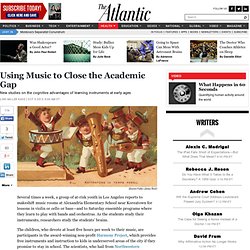 Several times a week, a group of at-risk youth in Los Angeles reports to makeshift music rooms at Alexandria Elementary School near Koreatown for lessons in violin or cello or bass—and to Saturday ensemble programs where they learn to play with bands and orchestras.
Using Music to Close the Academic Gap - Lori Miller Kase
Cascadia Now!
The deprofessionalization of teaching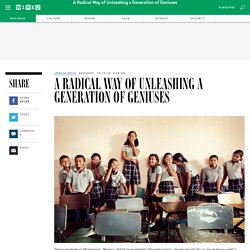 He started by telling them that there were kids in other parts of the world who could memorize pi to hundreds of decimal points. They could write symphonies and build robots and airplanes.
Free Cool Math Games for Kids - Online Math Games – Math Blaster
Home | Education Evolving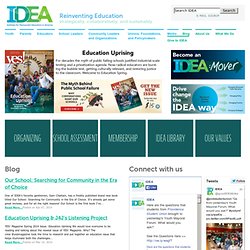 IDEA: Institute for Democratic Education in America
Profound Conversation on Impact of ESEA On January 22nd, IDEA held our first "Network Learning Call." The goal of these calls are to bring our extended community together to discuss and learn about topics key to democratic education and school and community change efforts. Our initial...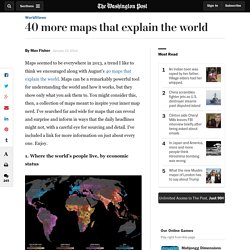 Maps seemed to be everywhere in 2013, a trend I like to think we encouraged along with August's 40 maps that explain the world. Maps can be a remarkably powerful tool for understanding the world and how it works, but they show only what you ask them to. You might consider this, then, a collection of maps meant to inspire your inner map nerd. I've searched far and wide for maps that can reveal and surprise and inform in ways that the daily headlines might not, with a careful eye for sourcing and detail. I've included a link for more information on just about every one. Enjoy.
All Tech Considered
Hip Hop Remixes Science
▶ Wu-Tang's GZA drops knowledge at Bronx Compass
Academic Innovations, Publisher of Career Choices
What Work Requires of Schools is the title of the initial SCANS report. This 61 page report defines the five competencies and three-part foundation that constitute the SCANS skills.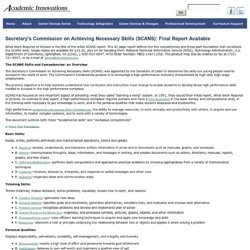 Hack Education
I wrote a thing last fall about massive open online courses (MOOCs, in the parlance), and the challenge that free or cheap online classes pose to business as usual in higher ed. In that piece, I compared the people running colleges today to music industry executives in the age of Napster.
Bad Education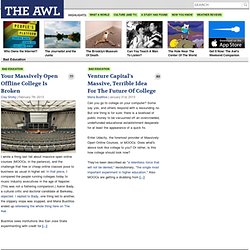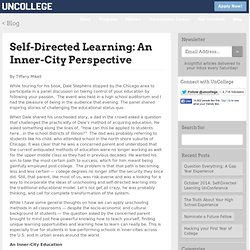 Self-Directed Learning: An Inner-City Perspective | UnCollegeUnCollege
By Tiffany Mikell
10 NEW Education Infographics We Love! EduTrends Friday
To help us grow our information network, and keep collecting the best content and new ideas for EDUcators, please LIKE US, share on Facebook, Tweet us, and scroll to the end of this post to sign up for alerts; we'll let you know when new content becomes available.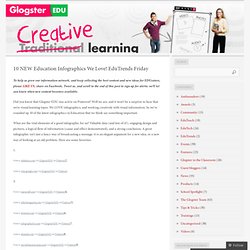 Mobile Learning Issues and Discussions | OETC Professional Learning Communities
New To Me (Still need to Organize)
Educational Tech, Equity and Social Justice
Tech Assisted Language Learning
Overseas Schools Information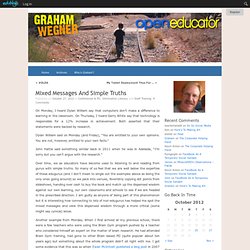 Mixed Messages And Simple Truths « Graham Wegner – Open Educator
On Monday, I heard Dylan William say that computers don't make a difference to learning in the classroom. On Thursday, I heard Gerry White say that technology is responsible for a 12% increase in achievement.
The Local Internet School
Don't say I didn't warn you.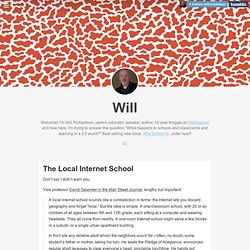 On Power, Knowledge, and the Re-Occupation of Common Sense photo by Carol Black One of the most profound changes that occurs when modern schooling is introduced into traditional societies around the world is a radical shift in the locus of power and control over learning from children, families, and communities to ever more centralized systems of authority.
blog | Schooling the World
Welcome to the Global Happiness Project! This project, which will take place throughout the spring of 2014, asks teachers and students around the world to explore the following questions: What elements contribute to a happy and healthy society? How well do our own local and global communities measure up? How can we use data, creativity, and community to make the world a happier place?
The Global Happiness Project
Over the past month I have shared many math based websites. Below, I have combined all the math websites that I have shared so far and have added seven new ones. Whether you have been following my blog, or if this is your first time, I promise you will find many great math resources for your students.Hooda Math If you are searching for math based games then look not further than Hooda Games. They have dozens upon dozens of math games for kids of all ages. Their huge games collection can be searched by math topic or by grade level.
29 great math websites for students of all ages
Image credit: iStockphoto When teachers ask how to get started with project-based learning, I acknowledge the "front-loading" that's part of project planning. Before students enter the picture, teachers need to consider the learning goals of a project, develop an assessment plan, and map out at least a rough calendar of the learning activities that will support the inquiry process. Those details may change once students dig in, but having a plan provides a roadmap for the student-directed learning ahead. Starting with a ready-made plan that you can adapt to fit your context can help you and your students get off to a faster start with PBL.
Good-to-Go Projects for 2014
Instructional Tech Resources
"We all know that education budgets are getting cut more and more, and that meaningful professional development opportunities have unfortunately become a bit of an oxymoron in education.
Video Resources for Educators