I/T as a social business
Organizational Development. Organizational Development. Microsoft SharePoint / Office 2010 Competitive Community. Books. Is a well known participant at the intersection of business, social media and marketing and speaks on these topics often.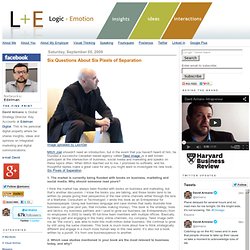 When Mitch reached out to me, I promised no softballs, and his thoughtful replies make a great case for why you might want to investigate his new book, Six Pixels of Seperation. 1. The market is currently being flooded with books on business, marketing and social media.
6a00d8341bfa9853ef014e600fc5c7970c-pi (PNG Image, 901x622 pixels) A Construct of Connectedness: The State of Community Management. Our friends over at the Community Roundtable have done a wonderful job of summarizing key insights on the state of community management as it relates to the emerging development of social business.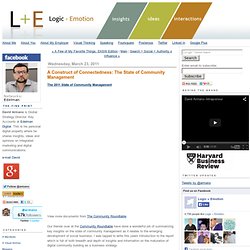 I was tapped to write this years Introduction to the report which is full of both breadth and depth of insights and information on the maturation of digital community building as a business strategy. The report is comprehensive and will take a while to absorb, but it also puts forth a tangible framework which outlines the maturation of managing communities: There are a ton of great takeaway from the report, but I found that a constant theme was the combination of both content (in the forms of aggregation, curation, and amplification) and engagement between community members and ambassadors for the organizations who help grow them as a constant storyline which re-emerged in different scenarios.
When you have a moment, download the report, grab a highlighter and spend some time with it. IBM's Strategy to Manufacture Social Networking Surprises - CIO Central - CIO Network. How To Run IT As A Business - Forbes.com. Google Image Result for. IT Service Automation | HCLISD. HCL's ITSA framework is focused at maturing IT from a cost-centre and just a technology provider to a business unit and enabling it to provide high quality services to internal and external customers.
Unlike traditional solutions, the core idea is to visualize and run IT like a business in itself. The objective of the ITSA framework is bridging the gap between Infrastructure (networks & systems) and application domains and yielding a complete end-to-end, top-to-bottom view of applications and their underlying technology. The entire framework has to be modeled & implemented in the following layers similar to any ERP implementation model, as these processes and tooling architecture will form the core "operating system" of running IT.
---