Resourcen
GadgetBox on NBCNews
Most recent posts Rosa Golijan , NBC News – 7 min. Hands on with Facebook Home: Social takes over Android Facebook revealed "Facebook Home," Thursday, a clever little way to overhaul an Android phone ... and turn it into a Facebook phone. Faceboo... Read more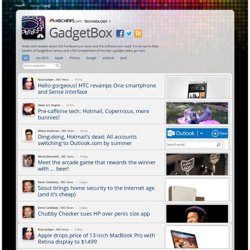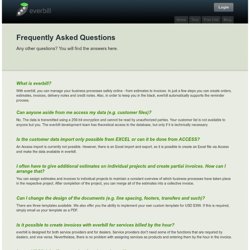 FAQs - everbill
What is everbill? With everbill, you can manage your business processes safely online - from estimates to invoices. In just a few steps you can create orders, estimates, invoices, delivery notes and credit notes. Also, in order to keep you in the black, everbill automatically supports the reminder process. Can anyone aside from me access my data (e.g. customer files) ?
Summit 2012 Europe Sponsors
Global Social Media Check-up 2012
Home | HubSpot Service Marketplace
Do Inbound Marketing for Me Starting at $2,500 You've made an investment in HubSpot software and committed to an inbound marketing effort. Now let Precision Marketing Group, your Certified HubSpot Partner, help you see a faster, bigger ROI through our Inbound Marketing Program. We have been working with HubSpot since 2008 and have had more than 50 B2B clients leverage the software with outstanding results.
Website Redesign by Precision Marketing Group | HubSpot Service Marketplace
Power Presentations - About Us
Power Presentations, Ltd offers presentation coaching to enhance corporate value. We were founded in 1988 by Jerry Weissman to coach businesspeople to become successful presenters. Based on his experience as a producer at WCBS-TV in New York City, he developed a unique methodology and a comprehensive set of techniques to help presenters and speakers clear their minds by organizing their content and deliver it as a series of conversations rather than as performances. Through Mr. Weissman's methodology we learned that control of content and control of mind would make the stressful circumstances of speaking in public or delivering presentations less onerous for business people. Our clients range from the not-for-profits to Fortune 500.
quicksilver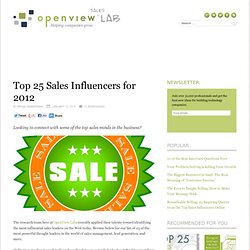 Top 25 Sales Influencers for 2012
Looking to connect with some of the top sales minds in the business? The research team here at OpenView Labs recently applied their talents toward identifying the most influential sales leaders on the Web today. Browse below for our list of 25 of the most powerful thought leaders in the world of sales management, lead generation, and more.
NENO - Preisliste