Resourcen
FAQs - everbill. What is everbill?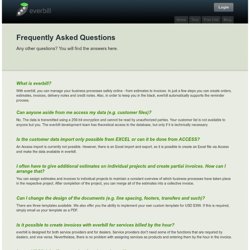 With everbill, you can manage your business processes safely online - from estimates to invoices. In just a few steps you can create orders, estimates, invoices, delivery notes and credit notes. Also, in order to keep you in the black, everbill automatically supports the reminder process. Can anyone aside from me access my data (e.g. customer files) ? Summit 2012 Europe Sponsors. Global Social Media Check-up 2012.
Home | HubSpot Service Marketplace. Website Redesign by Precision Marketing Group | HubSpot Service Marketplace. Power Presentations - About Us. The legacy approach to giving business presentations has, since its origins, been the same: A rushed and anxious presenter stands in front of a room and shows a set of unrelated, overcomplicated slides that he or she has begged, borrowed, or stolen from a colleague, and proceeds to read them verbatim to the audience for far too long.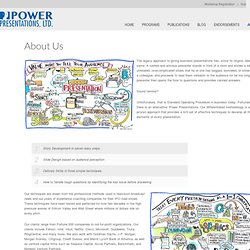 The presenter then opens the floor to questions and provides canned answers. Sound familiar? Quicksilver. Top 25 Sales Influencers for 2012. Looking to connect with some of the top sales minds in the business?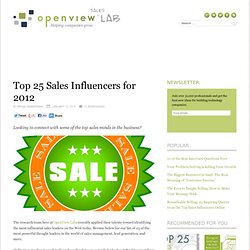 The research team here at OpenView Labs recently applied their talents toward identifying the most influential sales leaders on the Web today. Browse below for our list of 25 of the most powerful thought leaders in the world of sales management, lead generation, and more. NENO - Preisliste. Deine Premium Home Base bei NENO Wenn du einen fixen Arbeitsplatz oder –raum als Firmensitz suchst und von allen Vorteilen von NENO profitieren möchtest, ist unser STAY Membership wie für dich gemacht.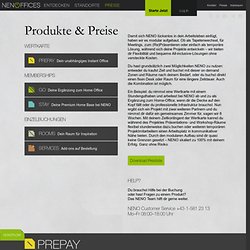 Wir bieten dir Desks, Einzel- und Doppelzimmer und Teamräume für bis zu 4-6 Personen. Firmenadresse, Schild und Postempfang sind inkludiert und mit deinem NENO KEY hast du 24/7 Zutritt. Unsere limitierten STAY Plätze sind für Einzelunternehmer und dynamischen Firmen bis 5 Mitarbeitern konzipiert, die eine One-Stop-Shop Lösung in Toplagen zu fairen Preisen suchen. All-inkl.
---