Rescue
California Los Angeles, San Diego, San Jose, San Francisco, Long Beach,Fresno, Sacramento, Oakland, Santa Ana, Anaheim, Riverside, Bakersfield, Stockton, Fremont, Glendale, Huntington Beach, Modesto,San Bernardino,Chula Vista, Oxnard Texas Houston, Dallas, San Antonio,Austin,El Paso,Fort Worth, Arlington, Corpus Christi, Plano, Garland, Lubbock, Irving, Laredo, Amarillo, Pasadena,Brownsville, Grand Prairie, Mesquite, Abilene,Beaumont New York New York City, Buffalo, Rochester, Yonkers, Syracuse, Albany, Cheektowaga, New Rochelle, Mount Vernon, Schenectady, Tonawanda, Utica, Hempstead, Niagara Falls, Brentwood,White Plains, Levittown, Irondequoit, Troy, Binghamton Florida Jacksonville, Miami, Tampa, St.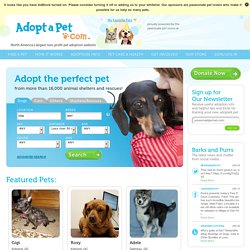 We are individuals living across the United States who have been drawn together as volunteers for the sole purpose of preserving and protecting pure breed and non-pure breed Papillons in need. The actions of this all-volunteer group are directed toward the development of a network of rescuers, transporters, foster homes, and liaisons with animal shelters and other rescue groups in order to provide information and assistance. Our group will provide veterinary medical care, spay and neuter program, rehabilitation in foster homes and careful screening for appropriate adoptive homes with our ultimate goal being the welfare and protection of these small companion animals. Working together we are making a difference - one Papillon at a time.
Papillon Haven Rescue - Rescued Papillons for immediate adoption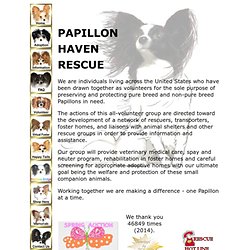 For the Holidays Give the Gift of Commitment Remember Their Names Honor Their LivesDonate to Rescue This Holiday Season will provide the opportunity for you to honor the love, loyalty and joy that Pap 911 dogs have brought to your lives.
Welcome to Papillon 911 Rescue and Adoption, Inc.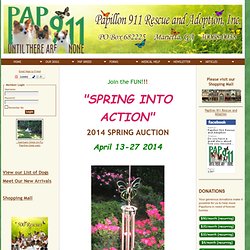 Papillon Care and Rescue Trust Homepage