Rescue
Why Adopt a Dog or Cat Over Buying? Did you know that over 1,000 people per minute run a search right here looking to adopt a pet? Pet adoption is quickly becoming the preferred way to find a new dog, puppy, cat or kitten. Best of all, there are so many benefits when you adopt a dog or adopt a cat over buying.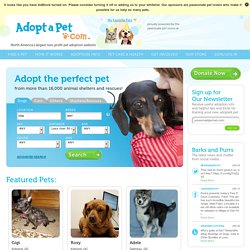 We are individuals living across the United States who have been drawn together as volunteers for the sole purpose of preserving and protecting pure breed and non-pure breed Papillons in need. The actions of this all-volunteer group are directed toward the development of a network of rescuers, transporters, foster homes, and liaisons with animal shelters and other rescue groups in order to provide information and assistance. Our group will provide veterinary medical care, spay and neuter program, rehabilitation in foster homes and careful screening for appropriate adoptive homes with our ultimate goal being the welfare and protection of these small companion animals. Working together we are making a difference - one Papillon at a time.
Papillon Haven Rescue - Rescued Papillons for immediate adoption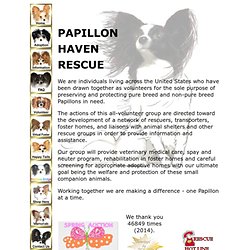 April 13-27 2014 Click on the Chime and Go to the Auction Beginning Sunday, April 13, 2014 at 8 a.m. EDT, Papillon 911's "Spring Into Action" Spring Auction will offer Gift Cards, Handcrafted Items, Pet Products, Jewelry, Books, Art, Papillon Items, Holiday Items, Home and Lawn Items, NEW clothing and much more to raise money to fund the ongoing needs of the Papillons we serve. Show your support by emailing your donation information to:
Welcome to Papillon 911 Rescue and Adoption, Inc.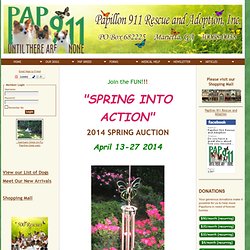 Papillon Care and Rescue Trust Homepage
Pet adoption: Want a dog or cat? Adopt a pet on Petfinder