Social_NEtworks 1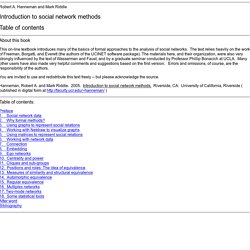 Robert A. Hanneman and Mark Riddle Introduction to social network methods Table of contents
De Wikilibros, la colección de libros de texto de contenido libre. Definición[editar] Las redes sociales son sitios o espacios en la red Internet que cuentan con una serie de herramientas tecnológicas muy sencillas de utilizar y permiten la creación de comunidades de personas en que se establece un intercambio dinámico por diferentes motivos: Espacios para conocerse, intercambiar ideas, reencontrarse con otras personas.Espacios para ofertar productos, servicios y realizar negocios.Espacios para compartir e intercambiar información en diferentes medios.Espacios para servicios sociales como la búsqueda de personas desaparecidas o intereses particulares.
Web 2.0 / Redes Sociales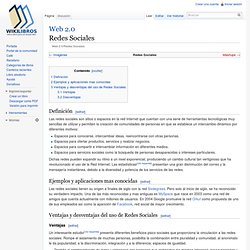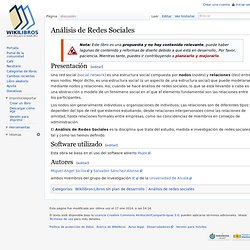 De Wikilibros, la colección de libros de texto de contenido libre. Una red social (social network) es una estructura social compuesta por nodos (nodes) y relaciones (ties) entre esos nodos. Mejor dicho, es una estructura social (o un aspecto de una estructura social) que puede modelarse mediante nodos y relaciones. Así, cuando se hace análisis de redes sociales, lo que se está llevando a cabo es una abstracción o modelo de un fenómeno social en el que el elemento fundamental son las relaciones entre los participantes. Los nodos son generalmente individuos u organizaciones de individuos. Las relaciones son de diferentes tipos y dependen del tipo de red que estemos estudiando, desde relaciones interpersonales como las relaciones de amistad, hasta relaciones formales entre empresas, como las coincidencias de miembros en consejos de administración.
Análisis de Redes Sociales
Análisis de Redes Sociales/Conceptos Fundamentales
De Wikilibros, la colección de libros de texto de contenido libre. El concepto de red social sirve para abstraer los grupos y relaciones de personas que se dan en todas las áreas de la actividad humana. Puede considerarse por ejemplo la red social constituida por las relaciones de los individuos de una familia.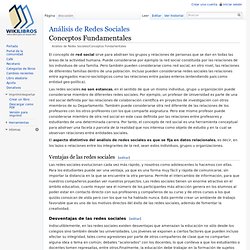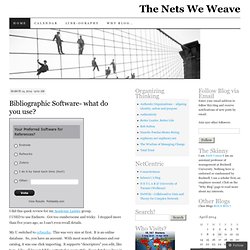 The Nets We Weave
I posted on Facebook, but I own these words, Zuckerberg. ok, so a gay football player comes out. The guys worried about this say something like "yeah, but I'm going to be naked inn front of him, in the locker room." Ok.
LasIndias.net
La red de poder mexicana. Estabilidad política y gobernabilidad :: Samuel Schmidt
Research My research involves engineering computational tools, designed to explore how the petabytes of data generated about human movements, financial transactions, and communication patterns can be used for social good. In work referred to as Engineering Social Systems, I am coupling this anonymized behavioral data from hundreds of millions of people with salient longitudinal covariates including access to health care, education, and income.
Nathan Eagle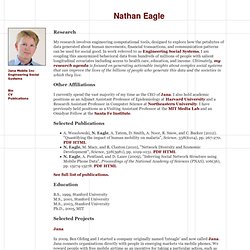 Libro Colaborativo
Descarga este libro
Descarga este libro Gracias a Elastico, desde su web ya puede accederse a la versión digital de Copia Este Libro. En cuanto a la distribución física por los quioscos, por la que me preguntáis habitualmente en el blog o por correo, las dificultades con la que algunos os habéis encontrado vienen porque hay sitios donde se ha agotado y otros donde todavía no ha llegado. En ambos casos se solucionará en breve. David Bravo a las 10:33 AM | Referencias 4 Gracias, David.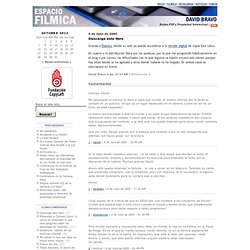 Mathematics and Society: Cooperation, Social Networks and Complexity
propuestometro » home
Java Universal Network/Graph Framework JUNG — the Java Universal Network/Graph Framework--is a software library that provides a common and extendible language for the modeling, analysis, and visualization of data that can be represented as a graph or network. It is written in Java, which allows JUNG-based applications to make use of the extensive built-in capabilities of the Java API, as well as those of other existing third-party Java libraries. The JUNG architecture is designed to support a variety of representations of entities and their relations, such as directed and undirected graphs, multi-modal graphs, graphs with parallel edges, and hypergraphs. It provides a mechanism for annotating graphs, entities, and relations with metadata. This facilitates the creation of analytic tools for complex data sets that can examine the relations between entities as well as the metadata attached to each entity and relation.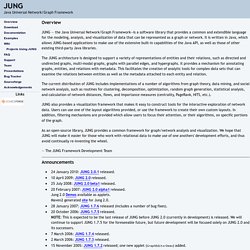 T-systems: eParticipa: Pensamos como Ciudadanos en la e-Administracion
SPREE community
spree creates a social search community where everybody shares knowledge and benefits from other users' knowledge alike. The spree technology automatically channels user questions to competent fellow users who are willing to help. spree enables real-time communication between knowledge seekers and appropriate experts via its chat interface. In addition, users may edit notebooks or store chat histories and thus contribute to a constantly growing knowledge base. Learn more about spree, watch the spree video or participate in the spree project. Register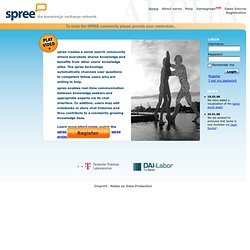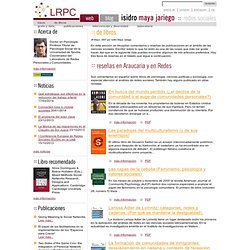 De libros » Isidro Maya Jariego
28 Mayo, 2007 por Isidro Maya Jariego En esta sección se recopilan comentarios y reseñas de publicaciones en el ámbito de las ciencias sociales. Escribir sobre lo que he leído es una de las cosas que más me gusta hacer.
Don't get Duncan Watts started on the Hush Puppies. "Oh, God," he groans when the subject comes up. "Not them." The Hush Puppies in question are the ones that kick off The Tipping Point, Malcolm Gladwell's best-seller about how trends work.
Is the Tipping Point Toast?
Servidor de identidades de los Exploradores Electrónicos
La «filé indiana» es una comunidad transnacional de personas que aseguran su autonomía y libertades mediante empresas organizadas bajo el principio de democracia económica alrededor del Grupo Cooperativo de las Indias . Es el producto de una larga evolución y debate que comienza con las primeras comunidades virtuales en lengua española y portuguesa a finales de los ochenta. Los fundamentos de nuestra identidad y acción son: Las redes distribuidas han multiplicado la productividad y las posibilidades. Sin embargo la mayoría de las iniciativas sociales y empresariales se basan en generar artificialmente escasez. Unos proponen votar, producir o cobrar por un único resultado igual para muchos, otros hacen depender sus redes de un nodo central, generando control y dependencia.
Max Tegmark
The server encountered an internal error or misconfiguration and was unable to complete your request. Please contact the server administrator, webmaster@coleccionplanta29.com and inform them of the time the error occurred, and anything you might have done that may have caused the error. More information about this error may be available in the server error log. Additionally, a 302 Found error was encountered while trying to use an ErrorDocument to handle the request.
Colección Planta29
Juan Freire: Acción política. Tecnología. Web 2.0. Blogs. 1. El presente
El título de este post no es más que una cloudtag que refleja, en el mejor de los casos, la mente de algunos políticos que empiezan a preocuparse por el papel de Internet en la política del siglo XXI. Lo que podríamos, aunque no se si deberíamos, llamar política 2.0. Hasta el momento se ha analizado el uso de la web 2.0 como herramienta de organización ciudadana, que pasa a actuar como un control mucho más activo y efectivo del poder político. Sobre este tema existe ya alguna buena reflexión como la publicada por Enrique Dans en Libertad Digital (Política 2.0). Mucho menos se ha analizado el proceso inverso (y complementario): el uso por parte de los políticos de la web 2.0 para su organización y acción; en resumen para su comunicación con los ciudadanos creando redes dinámicas.
Redes personales, redes sociales
Jornadas Ciudad Digital
Hacia las naciones transversales de uno mismo
CETEP
Ciudades Kyosei - Internet y Participación Ciudadana (e-Participación, eParticipación, e-Participa, eParticipa, e-Participação, eParticipação, e-Participation, eParticipation) - Documentos CKyosei
Juan Freire: Control social y medios de comunicación: la historia de un conflcito irresoluble
My Blog
Biblioteca de las Indias Electrónicas
Los principales expertos en análisis de redes sociales se reunirán en Madrid para analizar el futuro inmediato del marketing viral
iCities: Primeras Jornadas sobre Blogs, e-Government y Participación Digital
De bat a bat
Administraciones en Red
Presentación de GNU Social
Centrality Measures Scientific Journals JCR 2006
Sociedad de las Indias Electrónicas
Xarxes de blocs « Xarxes socials i llengües
Metodología de sistemas blandos (Checkland)
Redes. Revista hispana para el análisis de redes sociales
Réseaux sociaux : des audiences différentes selon les continents